Q1 FY21 results:
Not bad!
Welspun India promoters have increased the stake in company in two open market buys on 28 July and 29 July. Flooring business also got strategic deal which will cover their 50% of hard flooring capacity. Investing 450 odd crores into Advance textiles expansion. On charts up movement can be seen lately.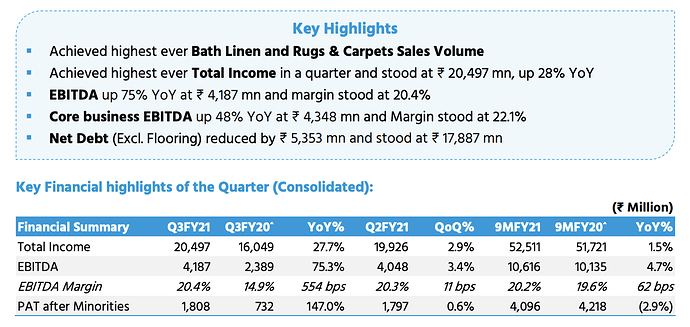 financial results of the Company for quarter ended December 31, 2020Reg33.pdf (916.2 KB)
Raising debt, what about the talks of being debt free in next few years ( refer annual report) . Any thoughts ?
disc : Invested. Thinking of increasing stake.
Lot of goods news on the counter,
Buy back at 120Rs'
Target corporation is back as a customer, it was 10% of sales in FY16
Excellent results, volumes are increasing and china volumes in textile is decreasing as per mgt
Flooring business is doing well
Lot of capacity expansion
Pls go through the below update from welspun
My Notes from Q1 concall:
We concluded the year on a positive note with Q4 year-on-year revenue and EBITDA growth of 31% and 21%, respectively. I'm delighted to report that in FY '21, we have delivered highest ever annual revenue with growth of 8% year-on-year. This has resulted in the highest ever bed linen, bath linen and rugs and carpet sales volume in a year.
We are also very proud to state that the company has crossed $1 billion income for the first time. Recent U.S. economic indicators show that the economy is on firm footing and is expected to grow fastest in the other 3 decades. Vaccinations, economic stimulus payments and tax refunds are combining to provide a substantial increase in personal income and thus purchasing power.
home textile plants situated in Vapi and Anjar operated at more than peak capacities. The capital-light expansion at both the plants, which we had announced in Q3, is on track, and the benefits from this investment will start accruing in phases from Q2 FY '22.
we believe we'll be able to grow our top line significantly over the next few years.
Our innovation-driven approach has helped us to get 32 patented technology in various jurisdictions like India and Western Europe.
China's shares in the U.S. market continues to be under pressure. As for our textile data in the last 3 years, we have seen India's market share in towels and bed sheets increase by 4% and reach up to 42% and 53%, respectively.
Our e-commerce business also witnessed similar trend and heightened demand, with growth of 84% year-on-year, contributing $34 million to the top line of FY '21. And the e-commerce channel is well set to cross $100 million by '22.
We expect annualized revenue from licensed brands to cross $100 million by FY '24.
With surge in cotton and other input costs, we are witnessing pressure on margins, and we are seeking price increase from customers, which will reflect with a lag of 3 to 4 months. However, input prices [ as of late ] softened from its peak, and this should help reduce pressures in margins.
During the quarter, flooring business grew more than 3x year-on-year and contributed 5% to the top line in FY '21. During the quarter, flooring-branded business grew 90% year-on-year. With business looking very strong in the hard flooring segment and as soft flooring starting to gain traction, we are confident that we should be able to achieve EBITDA breakeven in the second half of '22 and breakeven during FY '23.
The company has prepaid term loans of INR 374 crores as on March 31, 2021, along with other installments, which were due as on the year-end. The weighted average interest rate of loans prepaid was 8.48% per annum. Net debt of the company stood at INR 2,333 crores, a reduction of INR 629 crores over March 2020. Over the last 4 years, our net debt by equity has gone down to 0.64x as on March 31, 2021 versus 1.27x as on 31st March 2017, and there is a continuous improvement in ROC in spite of adding additional capacities in various businesses, which will yield significant cash flows in future. Net debt of the core business was reduced by INR 702 crores in the last 12 months.
The company's outflow for the buyback and dividend would be INR 265 crores, which includes the tax outflow, and this is close to 50% payout against the policy of 25% payout.
** There has been news that the US government is considering a ban on some or all products made with cotton from the Xinjiang region of China over alleged human rights violations. Many retailers in the US and Europe are likely to discourage sourcing of textile products made from the raw material (cotton / cotton yarn) produced in the region.
And when you talk about Xinjiang cotton, it's not just about apparel. I think Xinjiang actually is – contribute around 20% of the supply chain of China. And what it did actually, it laid stress on the whole supply chain of yarn. And that you can see in the price upside that we see right now in the commodities. So definitely, that has actually created a pressure on the whole supply chain as well.
The govt extends rebate on exports till March 2024. It will add to margins of the textiles cos & is earnings accretive in FY2022/23
Welspun CEO CNBC Interview part 1
Welspun CEO CNBC Interview part 2
Bullish Commentary!
Has anyone received their buyback funds? I participated in the buyback and I havent received the funds so far. Whom should I approach please?
i have received buyback funds
Notes from AR - 2020-21 -
Capex on at both Vapi and Anjar. Both plants operated at peak capacities in FY 21. Benifits to be visible by 2nd qtr of FY 22. Revenue potential from expanded capacity at Rs 1200 cr. Current capacities -
Bath linen - 80,000 mt
Bed linen - 90 mn mtrs
Rugs and Carpets - 10 mn sq mtrs
Wet Wipes - 75 mn packs
Sunplace ( advanced textiles ) - 10,000 mt - further capex to commence in Q2 FY 22. Has a potential to do a topline of 600cr by FY 23
Needle Punched fabric - 3000 mt
Flooring - 12.9 mn sq mtrs - to go upto 27 mn sq mtrs by end of Q2 FY 22
Extensive distribution in 50 + countries. Warehouses in key markets ensure seamless distribution to key retailers and retail customers
Company exports 94 pc of its home textiles. Area wise share - US - 65 pc, Europe - 25 pc, Rest - ME, Aust and Japan. In the domestic mkt, company investing behind its value brand - Welspun. Signed up Scott Living brand in Q4 FY 21. Expect revenues from Scott Living to cross 700 cr in 2-3 yrs. Martha brand is also seeing nice expansion in online and offline channels

Company really optimistic about its flooring solutions. Entered into a long term supply arrangements with one of the largest US distributors. Export contribution in flooring business stands at 50 pc. Domestic flooring business seeing descent pick up. Added business from marquee brands across both commercial and hospitality channels in domestic mkt. Expect flooring to break even at EBITDA level in FY 22.

Advanced textile division manufactures disposable Wet wipes and Disposable towels using three major technologies - sunplace, needle punch and thermobond. Advanced textiles business grew by 23 pc YoY in FY 21. Aim to clock a growth of 25 pc in FY 22.
Needle Punch textiles find applications in - Industrial Air and Liquid filtration, Cabin Filters, Engine Filters, Sound insulation in cars, Thermal liners, moisture barriers, fire blockers, fire blankets, composites for wind mills, carpet underlays. Company supplying Wet Wipes to the Japanese Baby care giant - Unicharm. Sunplace textiles - cater to medical disposable items, hygiene and cosmetic industries

Company owned Brands -
In India - Welspun, Spaces, Welspun Flooring
Global - Christy, Living by Christy, Kingsley , Welhome, Welspun basics
Licensed brands -
In India - The championships, Wimbeldon, Despicable Me, Marvel, Disney
Global - Martha Stewart, Scott Living, Stay Well, American Cotton, Wimbeldon
Domestic home textiles mkt currently at 12000 cr. Expected to go upto 23000 cr by 2025. Most of the mkt is un organised and unbranded. Company aims to do a branded business of 1000 cr by 2025. Mass mkt brand - Welspun. Premium brand - Spaces.

Project Wave - Welspun achieving value through E-commerce. Aim to improve company's B2C offerings through the E com channels. Laying foundation for future growth by building next gen technology stack for the E com business

Key innovations -
Hygrocotton - Patented spinning technology that produces softer, loftier and more absorbent towels and bed sheets that provide temperature regulation all through the year
Wel-track - Patented traceability solutions tracing fiber from source to finished product. This builds trust and enhances transparency
Charcoal - charcoal is infused into special line of textiles that make them soft, breathable and hygienic. Also have anti odour properties
Dryon - textiles infused with this technology are easy to dry and soft to touch
ResilonX - derived from re cycled polyester yarn. Helps maintain shape and texture of carpets
Disc - Holding, Tracking position, Biased
Are you still holding the stock?
The stock has retraced 43% from the peak. Are there any changes in fundamentals in the last 6 months?
Hi…
Yes I am still holding it. Also averaged it at around Rs 106 levels.
I think… the only change in Fundamentals is the pressure on margins due spiralling RM prices and the general beating of Mid-Small cap space.
IMO… the worst should be over.
Fundamentally … the business is descent. They have committed a substantial amount of capital to the flooring business which is showing nice traction. Their domestic branded business is also performing well.
I think, its just a matter of patience from here on.
Regards,
Ranvir Dehal
Will there be any positive impact or new opportunities company due to new India- Australia trade pact & economic crisis in Sri-Lanka ?
As such their exposure there is pretty less in exports
I happened to visit Shabad recently and stopped by the Welspun plant. Its HUGE, they seemed to have spent over 1100 crores on it ! I spoke to the local real estate agent there and he told me that Welpsun have already secured a number of long term contracts from a number of players in Hyd, especially all the infra developers and IT firms who would be setting up shop in Hyd (new Google data centre is being contrcuted right across Welspun) to supply tiles/flooring to them.
Note - Not invested, just sharing info.
How is the Welspun group from the corporate governance perspective?
Fetched from latest analyst meet.
The growth opportunity seems noteworthy.
The company did a buyback @120 a year ago I think. Its back to sub 80s.
No reco
Disc - Invested
Welspun India Q4 concall's key takeaways -
YoY financials -
Sales - 2195 vs 2247 cr
EBITDA - 320 vs 246 cr (margins at 14.6 vs 11 pc)
PAT - 129 vs 52 cr
Division wise performance -
Home textiles-
Sales- 2017 vs 2073 cr
EBITDA- 293 vs 240 cr (margins at 14.5 vs 11.6 pc)
Flooring -
Sales- 208 vs 189 cr (half of it- domestic)
EBITDA- 9 vs (-)3 cr (margins at 4.2 vs (-)1.5 pc)
Gross Debt - 2350 vs 3188 cr
Net Debt - 746 vs 1398 cr
Debt/Equity - 0.38 vs 0.56
Domestic consumer business grew 31 pc YoY. Now contributing to 8 pc of sales vs 4 pc LY
Total branded business @ 22 pc of sales vs 16 pc LY
Emerging businesses now contributing 34 pc of sales vs 26 pc LY
Most capex now behind. Only capex will now be to set up green energy capacities ( @ 200cr )
Welspun now the most widely distributed home textile brand in India
Investing heavily (marketing) in India business. Has hit EBITDA break even levels despite heavy marketing spends
Advanced textiles business grew 24 pc YoY
Announced buyback of shares at Rs 120/share and dividend of Rs 0.10/share. Combined - total outgo at 250 cr
Aim to achieve a topline growth of 10-12 pc in FY 24 with EBITDA margins at around 15 pc (that works out to be around 1300 cr of EBITDA)
Expect domestic business to grow at > 25 pc with positive EBITDA
Aim to bring Net Debt below 1000 cr
Finished goods inventory down by 20 pc
Lot of de-stocking has happened in US. Some residual de-stocking may continue in Q1. Europe is still soft. Should see good growth from Australia, GCC mkts and India
By FY 25, should be close to net debt free status
Flooring business EBITDA for FY 23 was 18 cr vs negative LY
Flooring business clocked aprox 800 cr revenues in FY 23. EBITDA margins should improve further in flooring business going forward
Once solar plant comes online (in H2 FY 24), it should help bring down energy costs by around 40 cr
Aim to hit 16000 cr topline by FY26
Advanced textiles grew 21 pc YoY in Q4. Should continue to grow at similar rates in FY24
Emerging business (retail own brands + retail licensed brands in US,Europe + advanced textiles + soft flooring) which is currently at 36 pc, should reach 45 pc of overall business by FY26
Disc: may initiate a tracking position
Hunch: company may end up over performing on its guidance
Do you still hold welspun living Ranvir