This is my first post in the forum and please forgive any newbie errors and point them out. I will fix them promptly.
Business
The company is majorly in two kinds of businesses. One is 'money changing' and the other is 'money transferring'. Money changing is basically over the counter currency exchange similar to any other Foreign Exchange. They also provide travel insurance. Money transferring is enabling NRIs in transferring money back to India. They have a tie up with Western Union Money Transfer for last 20 years and are now adding MoneyGram, Ria Money Transfer, Express Money and Transfast to leverage their reach. The splits for the contribution and growth trajectory for both is given in their latest AR. Please go through the same for additional information. Here is the link to the latest AR.
Financials
For FY18, total revenue increased by 29% YoY to 7,700 crore, EBITDA was higher by 20% YoY to 63 crore, and resultantly Profit After Tax was up 48% to 34 crore. Maintained strong return ratios – with ROE and ROCE of 21% and 29% respectively in FY18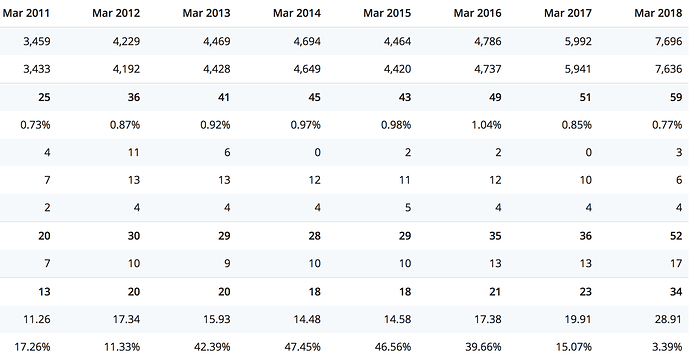 Current stock price is 512. Numbers in Q4FY18 look bad(-86%) but otherwise it has been a consistent grower over the last few quarters.I feel the drop in the last quarter could have been because of the sudden devaluation in rupee and also Q4s have traditionally been low for them. But this needs further investigation.
Average return on equity 5Years: 21.67 %;

Average return on capital employed 5Years: 30.37 %

Debt to equity: 0.64

Sales Growth (3Yrs): 19.90 %

Promoter holding: 74.77 %
It was trading at ~1400s in Jan but it corrected massively now. I read the AR of weizmann… studied their balance sheet and the red flags I see are:
a sudden increase in trade receivables to (5,741.34) in FY18 from (1,258.66) in FY17

Other comprehensive Income increase to 2,012.83 in FY18 from 650.14 in FY17.
Risks:
The company has a few subsidiaries to which it loans out money. One of them being Karma energy, a windmill company, and the other is a windia Infra pvt ltd. There is a possibility of money being siphoned into these if a situation presents itself.
Volatility in forex affects the bottomline.
Otherwise the company seems to be growing quite well over the past few years. As more and more people will start traveling for fun, their sales will surely go up. Millenial generation tends to plan less in advance and do things more implusively. Especially since India has a very young population, the true potential of this is going to be unlocked in the future.
They also recently announced a buyback of 3.77% at price of 702 and got exclusive licenses in the airports of Goa and Hyderabad and non-exclusive licenses in Cochin, Chandigarh and Mumbai.
Looking for comments from other forum members.
Disclosure: Tracking position at 512.