What majority of Indians do with their savings?
Small Savings: Cash, FD/RD, LIC, VPF, Cheat Funds (Chit*) & Beesi*
Big Savings: 2nd Flat, Land, Chit, Co- Op Banks, Invest in Relative/Friend's Business, stash cash in bank locker/ home.
Sometime greed pushes them to invest in Multi-Level Marketing (Ponzi Schemes). Most of the time, the investors are victim of the 'Fraud' or mere returns.
How about investing in legit businesses & create Wealth. Let's understand what constitutes Asset Classes.
Asset Allocation refers to investing the savings in different legit asset classes:
Equity ~ domestic & global stocks
Debt
Gold
Real Estate - land, commercial & residential
Farming
Cash
Bitcoin (now)
Start Investment journey at very young age, continue till we achieve financial freedom. Discipline savings & investment does help to achieve financial independence early or late 40's.
Financial Independence is not Amway - MLM. Financial Ind is ~Time is yours not your employer's.
What should be the allocation percentage, asset class definition, age etc? There are plenty of content available in public domain. Please Read.
While its extremely imp to spread the risk by investing in different asset classes to hedge your portfolio in the scenarios like ~Depression, Pandemic, Political Crises etc.
Not to forget, the above such situation is also an platform to create a big "Wealth" in next 10-12 yrs.
Let me talk about one of the low penetrated asset class in India ~ "EQUITY"
What is Equity?
For standard definition & explanation, just Google it. For me, investing in Equity is an opportunity to partner with successful businesses.
How the math works: If in a growing sector a best stock should give a conservative CAGR of 15-20%.
Let's assume, you partner with a growing & ethical business by investing:
Lumpsum: 2.5 Lac
Add Monthly: 10,000
Add Inflation: 5%
Now, let's see what will happen after 15 years @ 15% CAGR: Rs 1,08,94,936.46
(dividends not added)
and that's the ~ Power of Compounding
How I should invest in Equities? If an individual ready to put efforts during weekends, after office hrs understand the economy, sectors, Capital Cycles & fundamentals invest directly in stocks. Valuepickr is one of the best forum to pick stock ideas. If you don't understand these concepts, simply invest in few good Multicap Mutual Funds. The compounding math still remains the same.
Few List of stocks & MFs identified for education purpose only not investment recommendation:
Sector, Stock & MFs: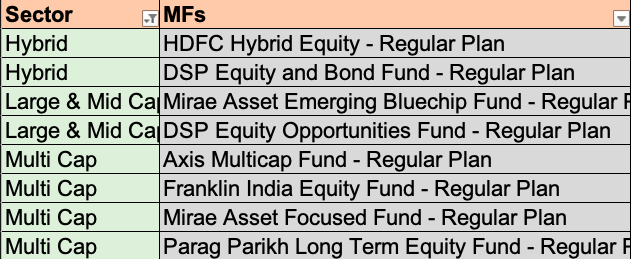 Last but not the least: before you start your investment journey, please do have the following:
Term Insurance
Medical Insurance outside office
Emergency Fund