But isn't this stock still expensive despite this correction
Why isn't anyone concerned that its been exactly one year since their IPO and now according to SEBI rules, promoter can sell some part of their holdings i.e. lock-in expiry. Why did they not mention their "passion" in the DRHP or in the numerous road-shows. A clear avoid for me.
If it is any other business we can have second thoughts but an airline business with a success track record is not so common. So i wish they are successful
It seems post correction in the stock price ; at these levels VRL Logistics ( 260-280) offers high uncertainty with low risk on its existing business. It seems now a value buy with high tail winds and GST play on offer…
why buy VRL when you have other good stocks available in same industries at similar or cheaper valuation.
For ex - TCI have many tailwinds along with GST and demerger of xps divison.
disc- invested in TCI
As an investor, what's important is to understand the underlying soundness of the business. Per chance, I had a chance to meet a VRL guy at an exhibition in chennai and from the stuff I gathered by talking to the people who were visiting the booth, it looks like there is a strong demand to sign up to become a franchisee because of the following reasons
VRL has unparallelled low cost road based network and reach in the 4 southern states - that's very important for SMEs who are looking for low cost every day logistic solutions

VRL is tightly integrated - everything is in sourced - spares, fuel, maintenance etc. which keeps costs low. Of course, the downside of such an operating leverage is if sales heads southwards, this cna be a big squeeze.
3.I have faith in the promoter's capabilities. I believe in patient second level thinking and do not judge people based on just one loose comment - what matters is a 20 year track record not a loose comment. Given the pick up in economy, revival of monsoon and likely implementation of GST, VRL is a surrogate play on the southern economy.
risks : as pointed out, operating leverage cuts both ways. There's always a risk that this is the start of a downward spiral ala tree house but I think it is not - may be I am wrong
I invested
Just to add to the discussion, I saw some good feedback for VRL's bike transport service on my FB feed. Agreed it's an insignificant division to overall revenues, but goes on to say how reliable and appreciated VRL brand is, in the market.
Regarding stock price, the stock fell from 400 levels where it was trading easily after its IPO run. At current price the stock is not valued at industry PE and there is nothing wrong operationally.
Screenshot re first para is attached below.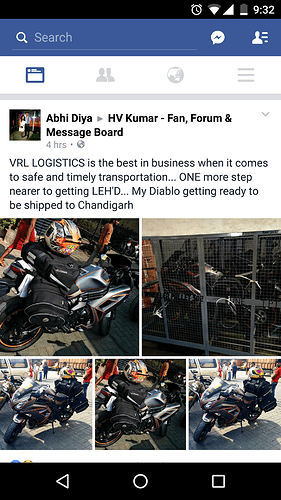 Disc- not invested yet, looking to enter around 250.
3.I have faith in the promoter's capabilities. I believe in patient second level thinking and do not judge people based on just one loose comment - what matters is a 20 year track record not a loose comment. Given the pick up in economy, revival of monsoon and likely implementation of GST, VRL is a surrogate play on the southern economy.
Good point that you bring out - à la 'Thinking Fast and Slow' book - good case of System1 vs System2 thought process.
As pointed elsewhere on the thread, people from N Karnataka, generally, have a sharp tounge - and may-sometimes lack a sauve expression.
I have travelled in VRL coaches; they are quite on time - have defined halting locations (and refuelling points); from a safety aspect, they travel with 2 drivers (one providing relief for the other); do not over load their aisles with 'extra' passengers.
Holding a tracking position for now.
To me, a good measure of moat is the number of people wo are willing to give you free money upfront to enrol as a franchisee just to hang your name board outside. in VRL's case, it is substantial and growing. Infact, if someone can do a scuttle butt and check if this is true (my experience says so ), it will give some conviction to the strength of the underlying network effect.
shaving out costs/efficiencies through a series of small steps like walmart or ikea is often a very tough moat to break as it takes time to do something like this - unlike IP led or prootection led moats that can be broken overnight because of change in regulation/ a better product.
Just my thoughts - that said, always good to be cautious. As howard marks said, who does not know what
Are there any specific growth triggers in the company apart from the macro factors like monsoon, GST etc.?
Such abrupt actions does lead to suspicion of something not being right e.g. Satyam acquisition of Maytas just before the scam exploded or Deccan Chronicle's foray into Aviation esp given that it's immediately post their IPO and accounting implications of an IPO
In any case now the stock will struggle to be marked at 40 PE given that it's no more pristine.
Promoters better come up with super results to turn around the sentiment or perhaps GST announcement will make the market forget.
Is it possible to know the land details owned by the VRL? I checked in AR 2015, I just got the details as Free hold land with a value of 9.2Cr.
I am not sure about the procedure, so I emailed to the IR but with no reply and also I called them up. But got the reply that, they can't give the details over the email and I need to submit a written application to the management with valid reason and if they find its suitable to answer, they will give the details.
I am not sure, if i am allowed to ask the details… this was my first call to a IR of any company
Anyways, I just wanted to calculate the value of the lands owned by them since they operate on a huge land tract.
VRL bus stand around half acres in Anand rao circle in bangalore).Couple of days back, had been to their bus stand, there I checked with a driver and as per him it is owned by VRL. As per market value, it could be around 20Cr.(20k/sqft
More than 3 acres land in Mysore road
Huge tract of land in their Head Office
Land near chitradurga(could be as big as Hubli land) where they use it as pit stop for all their buses.
Anyways, investment should not be based on the land bank only but just wanted to calculate.
If any member has any details, please share.
Disc: Bought One share few days back so that I can ask the question to IR
Not sure if it is relevant for the discussion but VRL conducted 2 sets of investor meetings on 6th and 7th June. I'm sure questions were asked but we don't have any details yet. The stock is up 7% today.
I'd like to highlight one more opportunity and risk that I might have missed earlier.
Opportunity
Significant investment in road infrastructure by the government. NHAI and Gadkari both have been hyper active on their road network achievements and cross-linking of major National Highways. Better roads and connectivity is always good for a company running 4000 trucks.
Risk
Read this article today about startups in logistics business applying Uber like model and using analytical technologies to save on time and cost of transport. Rise of such PE backed startups is always a risk to an established player who cannot sustain long term cash burn. Although even these startups will take years to reach the level of established players, it is a risk for the business in long term.
Hi Prashant,
You can tell the company that Email has same legal validity as written letter and admissible under Indian Evidence act in any court of law therefore they should not insist on any written application. If they are so interested in wasting paper and destroying nature they can take a printout of the email and that will be a written application.
I am quite surprised by the excuse they have given.
I am not sure if company is bound by any law to give details of all assets it hold. You need check the listing requirements for this.
Promoters in a filing have said that they have dropped the regional airlines plan!
I find it quite interesting that within a space of 2 months, the promoters have announced their dream of running an airlines and defied all critics including their investors and 60 days later they find the plan unfeasible. They blame it on the aviation policy.
Are the promoters/ their team so proficient that within weeks of the policy announcement they could alter their projections and dump the plan; the same plan that so dear to them 60 days ago?
Has this sort of thing happened in some other company too recently? Could it be part of a bigger plan to force a particular investor to exit and then bring things back to normal?
This surely looks as a sign to exit for IPO investors like me.
As mentioned about DCB ,when management is interested more in boosting stock price and backtracking from their words.Though in case of DCB it would had been short term pain but meaningful expansion down the line if they had not backtracked.
Though for VRL it might be a healthy sign.But for someone who says its his passion from past 20-30 years to start an airlines and within 2 months start saying now policy has made it unfeasible.Surely there is too uch things one is missing.
Disclosure::IPO Invested.