Hi Ashwini,
First of all thanks for a very informative thread on cement sector. I haven't tracked this sector in past and don't have any knowledge.
As discussed earlier with you, and to carry forward the discussion on Shree Digvijay Cement, you have been highlighting risk on their mining reserves - however, the co keeps mentioning about a high number (reserve) and there were rumors about them bagging some additional mining right (though cost maybe higher than before). So what are the concern here? Do they have RM linkage for next few years only or there is no risk for next 5-7 years?
Personally I used to feel its like a simple side-car investment as TrueNorth fund seems to have acquired the company at a real distress valuation from Brazilian company. Based on the numbers of the company and the youtube talk it seems the company was turning around but the earlier promoters lost patience.
I feel a PE fund will only come in if it believes that it can generate good IRRs from investment till selling off of the company.
The most interesting thing has been that they have roped in Anil Singhvi who has been a veteran in the cement industry and it was interesting to see that he has been incentivised to generate an high IRR. Extract from AR19: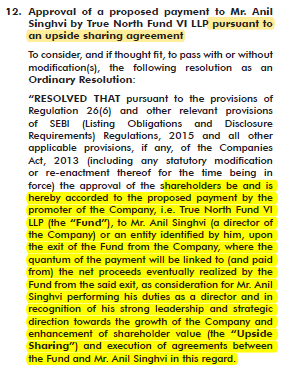 Recently he was buying aggressively from the open market when the market was melting down in Feb and March. I was surprised to see the action but now one can understand seeing the March qtr nos and the liberal dividend.
Co has generated fantastic cash flow in FY20.
Given Covid, H1FY21 maybe really bad for cement cos. So I'm trying to understand more about ShreeDigvijay and if in coming months if the stock falls sharply, will it be an opportunity? What all should we track here? Can you include Shree Digvijay in your peer comparison and share the key metrics?
Thanks,
Ayush
Disc: Invested along with clients