I started investing in 2003 and like everyone else, paid tuition fees in 2008 crash.
Came across The Equity Desk in 2009 and trained myself by reading any books that I can find on Finance, Investment, Economics and Psychology. Apart from that many blogs and online sites, podcasts, videos and Valuepickr forum had been helpful
Current Portfolio :
I was born and raised in Gujarat. I have been in states since 2008 so portfolio also includes US Equities and Crypto Assets.
Indian Equities : 61%
US Equities : 18%
Crypto Assets : 5%
Cash : 16%
Since Valuepickr is Indian dedicated forum, I'll discuss Indian stocks here.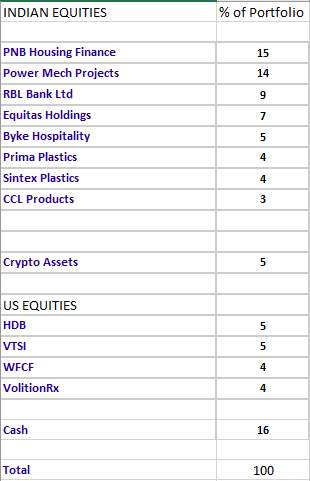 Holding Period :
PNB Housing Finance and Power Mech Projects more than an year
RBL Bank bought after IPO listing
Prima Plastics more than 3 years [Reduced holdings to 1/3rd at around 6 bagger]
Equitas Holdings, Sintex Plastics, CCL Products and Byke are recent buy.
In Recent correction, many stocks corrected and provides good opportunity.
Few Quality stocks that I am researching and interested in :
Acrysil ltd
Thangamayil Thingamob
Sharda CropChem
Kitex Garments
Shilpa Medicare
I was active in Valuepickr earlier but was busy with family and job so had been visitor later.
Any quality views,comments,criticism and thoughts are most welcome