Some reader has asked privately my view on ITC.
Regarding my view I already written on my thread about ITC. I am holding it since 2004

with long term cagr better than superstar MF of those Era.
My expectations is different from majority. I am invested here for capital preservation for next atleast 30 years because this will not go bankrupt nor any greedy promoter is there to siphon the fund.
It is much better than Yes, laxmivilas, DHFL, ILFS, recap, relcomm, penny stocks,… lists are many
I am happily invested in itc as am happily married
Great to see real long term investing in practice, many just speak but admire those who practice. Nothing dwindled your faith in between ups & downs because you knew exactly what you were doing!! Respect! You are already on a 10 bagger in a stock which is battered at rock bottom since last 5 years (not to mention the huge dividends that may have already recovered most of the investment cost)…and when it start rising…in few years or decade, you may very well make a 100 bagger if you still hold it!! Happy to see your conviction & execution!!
Disc: Invested in ITC hence biased. Admire long term investors and wish to learn from their immense experiences!!
@Investor_No_1 Thanks for your kind words.
It is about learning the process along the way is more important than outcome especially in early days of career. It is an art and equally the science of nitty gritty of stock investing, portfolio construct, buying as well as selling. It will bring the real character inside out.
Patience, diversification, quality and staggered bets matter a lot along the way. There aren't shortcut in this field. Oflate I am getting amazing results because of extensive study, research, analysis and patience.
Happy investing.
Since you are investing for 15 years can you tell me your cagr?
@Amritasen22
Sure. Let me pull the latest performance report and will post shortly.
But before that I want to mention that though cagr return is important metric to measure but is not everything if you are falling short of your set goals. I am benchmarking against my retirement goals that how near or far I am. As it stands currently I am more than half way mark in achieving my target corpus for retirement and I hope to meet that in coming 4-5 years timeframe from now with reasonable confidence of 95%. I am maintaining Equity:Debt ratio of 60:40 with 10% of allowed variation either way.
@Amritasen22 Here is the PF performance snapshot dated - 31/May/2021

Please check my portfolio and give feedback
Do you hold alembic pharma
Yes, I hold alembic pharma.
Thanks. I found two pf thread under your name. Which one to review, please guide.
Please review my last post
Have gone through it but before I give my comments please do understand I am not SEBI registered advisor.
Your stock selection broadly looks fine and I do have some of them in my pf. I have not studied in detail about JK paper and Chamanlal because it is not in my investing list universe. I personally avoid cyclical for long term pf. I don't know your investing experience but I hope you know the pros and cons of concentration. I prefer diversification and practicing it for many years. IMO if your experience is less than a decade then go for diversification and consistent business performance. All the best.
What an Year 2021 was! Absolutely fantastic in terms of Stock market upside and scaling new heights during pandemic. The closing quarter Oct-Dec'21 was not so good compared to first 9 months but the Sensex closes handsomely around 58000 which was also a forecast last year during Nov'2020 post.
Wishing all readers a fantastic, Happy and Prosperous New Year 2022 ahead.
Happy investing!
VK
The closing of year 2021 has brought lots of mixed experiences in personal as well as financial life. It has been more than three years that I had taken charge of my financial investing life from the clutches of outsourced and established professional fund managers. The journey was really bumpy, full of doubts and confusion but slowly started yielding good performance and results. With more time of reading, passion and commitment; it has given its edge in terms of performance relative to what it was when done passively. Fantastic forum, great learning experience and became improved investor in due course of time. More to learn and get better…
Below is the snap shot of equity performance for my own reference purpose:
| Year | VK Equity PF Returns | Sensex Returns |
| --- | --- | --- |
| 07/Nov/2018 | 100.00 | 100.00 |
| 31/Dec/2021 | 246.49 | 165.32 |
Last 3-Year XIRR: 33.15% (excluding dividends)
Core PF remains the same.
Happy investing.
VK
Congratulations, that's fantastic IRR along with fact that almost no churn since an year or more! I think I used to consider myself a low churn investor but looking at the way you have managed in last couple years, its amazing to have an inspiration in this aspect. You did not sell single share in the crash and added on to just couple names…no clutter of multiple tracking positions or need to add new names every now and then…that's true simple investing!
Did you add new capital to existing position in last couple of years or the invested capital remains same as before?
Also, would be nice if you can share the percentage on CMV of your holdings so that we can see how the individual holdings have competed among themselves along the months/years you simply held them in ups and downs! Thanks
@Investor_No_1
Thank you for your kind words. I didn't added any fresh capital to my PF, however, there were some changes made w.r.t. capital re-allocation to rising sectors. Below is the snapshot of Top holdings with % allocation (CMV) as on today:
| Company | % Weight |
| --- | --- |
| HDFC Bank | 2.61 |
| Reliance Industries | 2.59 |
| PI Industries | 5.61 |
| HDFC | 1.32 |
| HDFC AMC | 1.13 |
| Asian Paints | 5.38 |
| TCS | 2.08 |
| ITC | 2.01 |
| Natco Pharma | 1.11 |
| Laurus Labs | 1.06 |
| Pidilite Industries | 5.61 |
| Yes Bank | 1.50 |
| Bajaj Finance | 5.40 |
| Avenue Supermarts | 1.95 |
| Relaxo Footwears | 5.80 |
| Alembic Pharma | 1.00 |
| Petronet LNG | 1.00 |
| Divi's Laboratories | 5.34 |
| Nestle India | 1.80 |
| Infosys | 2.30 |
Portfolio Update - 30/Jun/2022
I thought this is the right time to reflect back on the performance of portfolio having completed first half of the calendar year 2022.
The last 8-9 months has been very testing time for investors to see the evaporation of profits fading away in oblivion with the passage of every months. The index and broader market has taken the path of downward spiral with snowballing effect on the portfolio gains made post corona fall of 2020. The entire gains made in 2021 has been sucked away by market in last 6 months leaving very less room of confidence for the new investors.
Shattered, baffled and confused many might be wondering what is the next best strategy to ride the market! In my humble opinion there is hardly a retail investor can do anything in short term to take the bull or bear by horns. A retail investor has only one edge in his arsenal and that is very long term view aka TIME which should not be less than a decade, at least 10 years to reward himself handsomely compared to existing debt instruments return availability at his disposal.
Here is the brief snapshot of my Equity PF performance:
| Year | VK Equity PF Returns | Sensex Value | Sensex Returns |
| --- | --- | --- | --- |
| 07-Nov-18 | 100 | 35237 | 100 |
| 30-Jun-22 | 219.57 | 53018 | 150.46 |
| XIRR | 24.07% | | 11.85% |
Here is the YTD (Jan'2022 - Jun'2022) performance
| YTD Equity Return | YTD Sensex Return |
| --- | --- |
| -10.92% | -8.99% |
The fall from All time High (ATH) also makes sense to anlayze and ponder upon:
| Equity PF Fall from ATH | Sensex Fall from ATH |
| --- | --- |
| -16.28% | -14.16 |
In short, its too early to start getting nervous or euphoric about any metrics because what is more important is not numbers but chances of meeting one's long time goal of his portfolio. My portfolio has been prepared keeping my early retirement and child education in mind. I see that I may be reaching the goal of being financially free earlier than anticipated just because of tight fiscal discipline and systematic long term investing. It took nearly 16 years of slow and staggered investments across asset class to reach a stage where I would be comfortable saying good bye to the drudgery of toxic work environment.
During the GFC crisis of 2008 I wrote in my diary that "Freedom from all forms of toxicity is the ultimate and only thing worth pursuing in ones life time". I am gald I am nearing it
Core PF remains the same. I didn't added any fresh capital to my PF, however, there were some changes made w.r.t. capital re-allocation to rising sectors.
Happy investing.
VK
Disclaimer: I am not a SEBI registered advisor. My thoughts are only for academic and learning purposes.
Portfolio Update - 31/Dec/2022
The time has come to reflect on the year gone by. What an year 2022 was from investing perspective! It was really difficult making money for retail investor portfolio. The larger duration of the year index remained flat and negative. Some rally do happened but was short lived. The index moved in way that look as if it is tightly controlled and manipulated by strong hands. Out of 247 days of trading in 2022, 125 days remained red and 122 days show positive returns for Sensex. The ADR for Sensex for 2022 is 0.98 with YTD return of meager 4.44% only.
My equity portfolio too didn't performed well compared to Sensex. It has been almost four years since Nov-2018 that I am managing and measuring my portfolio actively. I am managing my Retirement corpus. It is a great learning experience while managing my money independently. Many of the good quality stocks in my PF didn't moved or performed as per expectations causing lots of doubt in my mind. Last couple of years it had been very bad for HDFC group of companies like HDFC Bank, HDFC Ltd, HDFC AMC and HDFC Life. I had good exposure towards this group but gradually trimmed down in the second half of 2022. This year has given me an opportunity to add to my existing holdings whereby increased my positions in TCS, Asian Paints, Titan, Deepak Nitrite and Pidilite. Some stocks which pleasantly surprised me this year in my satellite PF are VBL, Butterfly, Uno Minda and Nikhil Adhesive. Planning to increase my holdings in these in coming year.
Brief snapshot of PF performance at the end of year 2022 are as follows:
Asset allocation- Equity:Debt = 82% : 18%
Equity PF return XIRR (Nov/2018-Dec2022) = 24.96%
Sensex fall from ATH = -3.86%
Equity PF fall from ATH = -6.43%
Calendar Year
(Jan-Dec)
2019
2020
2021
2022
Sensex Returns
17.08%
15.75%
21.99%
4.44%
VK Equity PF Returns
42.92%
29.82%
32.85%
2.37%
Rs 100 becomes
142.92
185.54
246.49
252.32
| Date | VK Equity PF Returns | Sensex Returns |
| --- | --- | --- |
| 07-Nov-18 | 100 | 100 |
| 30-Dec-22 | 252.32 | 172.66 |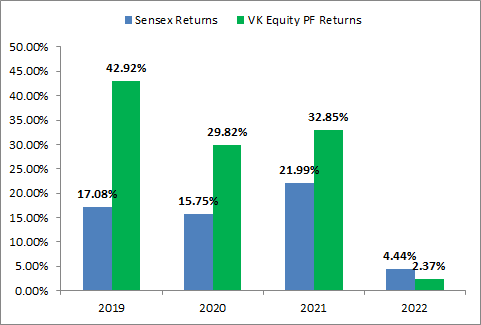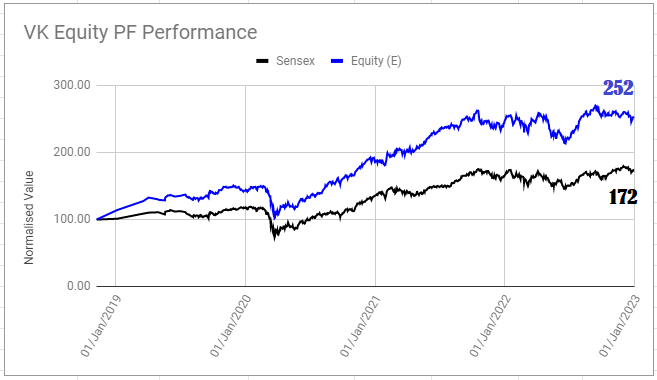 ---
Wishing everyone lots of success and happiness in their investing journey. A very happy and prosperous New Year 2023 to all.
VK
Disclaimer: I am not a SEBI registered advisor. My thoughts are only for academic and learning purposes. I am invested in all the names mentioned above and may exit anytime. Please do your own due diligence, research and homework before investing.