Vedanta Limited, formerly known as Sesa Sterlite/Sesa Goa Limited, a Vedanta Group company is one of the world's largest global diversified natural resource majors, with operations across zinc-lead-silver, oil & gas, iron ore, copper, aluminium and commercial power
Moats:
Low cost Producer
Heavy capex needed which create barrier to entry
Geographic advantage Low Transportation being at Goa
Scalability having sound balance sheet
Unique natural resources company Diversified risk probably one of its kind
Stock: Cyclic; Mining; Metals; Diversified Natural Resource
CMP: 318 P/E: 9 52week+/_ : 205 & 346 Face Value : 1
Risks:


• On the aluminium side, market has been developing very well and there have been some constraints in supply. Mainly in China, there might be some restrictions because of the environment factors
• Recent coal and pollution measures along with coal availability to not improved
• Vedanta had augmented large capacity through acquisitions and capex, which was largely debt funded
• Contribution of metals, minerals and oil and gas in India's GDP is only 2 per cent
• Govt regulations and Chinese competition
for more risk and opportunities one can refer to IPO in the reference

Opportunities:


• Vedanta have a very strong balance sheet. It gives company an edge for immense opportunities to grow.
• Vedanta has a diversified business risk profile spanning iron ore, copper, zinc, lead, silver, aluminium, power, and oil and gas, and will benefit from long-term growth and business opportunities in each segment.
• Assuming Indian growth at plus or minus 7.5 to 9 percent, in ten years' time, the demand for metals will grow to about three to four times the current size of the market (company's version)
• of mining operations in Goa and lower transportation cost,and reducing production cost conversion of 1800-megawatt (MW) to aluminium segment at Vedanta Aluminium, and replacement of old 270 MW power plants with new 600-MW captive power plants at Balco during fiscal 2017
• In the oil and gas sector huge opportunity and as it can scale up with investment to further enhancing its crude production capabilities.
• Geographic advantage: The company has a presence across India, South Africa, Namibia, Australia and Ireland. Vedanta is the Indian subsidiary of Vedanta Resources Plc, a London-listed company
• Future Outperformer: Global investment firm Credit Suisse has initiated coverage with an outperform rating on the stock as it is a leveraged play on aluminium.
Fundamentals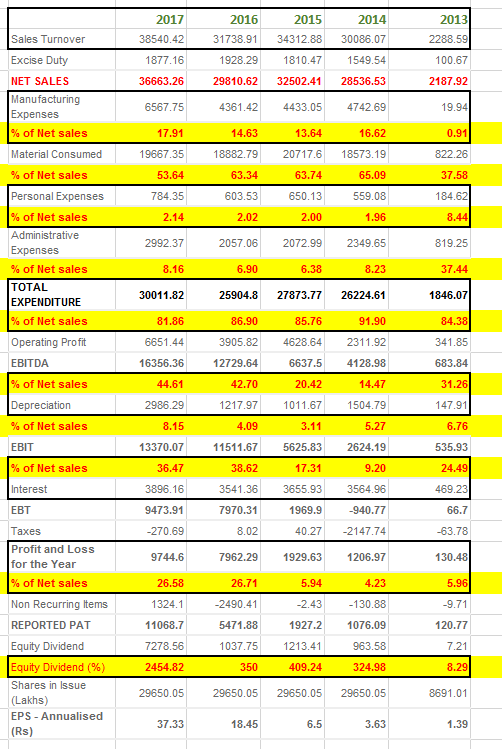 History :


Last 10 years at Glance Major events
2006 : Vedanta Resources plc, a diversified metals and mining group, listed on the London Stock Exchange acquires 51% controlling stake in Sesa Goa Limited from Mitsui & Co. Ltd.
2009 : Sesa Goa Limited acquired all the outstanding common shares of VS Dempo & Co. Private Limited, along with its 100% equity shares of Dempo Mining Corporation Pvt. Ltd and 50% equity shares of Goa Maritime Private Limited.
2011: it has acquired the assets of Bellary Steel & Alloys Limited (BSAL)
2012 : - Sesa Goa Limited has completed the acquisition of Goa Energy Private Limited & Sesa Goa Limited announces that it has acquired the remaining 49% of the outstanding common shares of Western Cluster Limited
2014 : -SSL- Kitchen Waste Producing Cooking Gas and Creating Greenery in Lanjigarh & it Announces Development of Gamsberg-Skorpion Integrated Zinc Project
2015 : -Sesa Sterlite arm gets approval for starting power plant& restarts mining in Karnataka : completed the merger of its subsidiary Sterlite Infra with itself and renamed Vedanta Limited
2016 : -Vedanta Successful bidder of Gold Mine : merger of Cairn India Limited
History credit rating

CSR & Sustainability:


Football club promoted by this company SESA F.A:soccer:
• in 2016 Vedanta recycled 47% of the fly ash
• in 2016 vedanta recycled 23% of the water utilized during its operations
• It has unique Public-Private-Partnership (PPP), with the Ministry of Women and Child Development, Government of India to start Project Nandghar developing Aanganwadi infrastucture
• Continuous improving the life vide community development programme with regular investments
Quality Mutual funds increasing their stack in the company from last 5 years viz HDFC Mutual Fund ;Aditya Birla Sun Life Mutual Fund ;UTI Mutual Fund ;Reliance Mutual Fund ;SBI Mutual Fund ;ICICI Prudential Mutual Fund ;DSP BlackRock Mutual Fund ;Kotak Mahindra Mutual Fund ;Mirae Asset Mutual Fund ;L&T Mutual Fund
Reference:
• IPO at London stock exchange : http://www.vedantaresources.com/media/9402/vedantaprospectusfinal-6december2011.pdf
• Vedanta Limited - Wikipedia
• Old report of MOSL: http://www.motilaloswal.com/site/rreports/636050349622668100.pdf
Disc: Currently not invested looking forward for views and need help to find out additional threats and opportunities that I couldn't documented .It is not investment proposal do your own research before investing looking forward for the views and arguments to negate my rational for investment and reply to my concerns