**SINESS: Varun Beverages
Stock code BSE 540180
Stock code NSE VBL
ABOUT COMPANY
Varun Beverages Limited (VBL or Company) is a key player in beverage industry and one of the largest franchisees of PepsiCo in the world (outside USA). The Company produces and distributes a wide range of carbonated soft drinks (CSDs), as well as a large selection of non-carbonated beverages (NCBs), including packaged drinking water sold under trademarks owned by PepsiCo. PepsiCo CSD brands produced and sold by VBL include Pepsi, Diet Pepsi, Seven-Up, Mirinda Orange, Mirinda Lemon, Mountain Dew, Mountain Dew Ice, Seven-Up Nimbooz Masala Soda, Evervess, Sting, Gatorade and Slice Fizzy Drinks. PepsiCo NCB brands produced and sold by the Company include Tropicana Slice, Tropicana Juices (100%, Delight, Essentials), Nimbooz, as well as packaged drinking water under the brand Aquafina. VBL has been associated with PepsiCo since the 1990s . As on date, VBL has been granted franchises for various PepsiCo products across 27 States and 7 Union Territories in India. VBL has 31 manufacturing plants in India and 6 manufacturing plants in international geographies (two in Nepal and one each in Sri Lanka, Morocco, Zambia and Zimbabwe).
HISTORY
• 1995- Incorporation of our Company as public limited company.
• 1996-VBL started operation at Jaipur in 1996.
• 1999- Started operations in Alwar, Jodhpur and Kosi.
• 2013- Company acquired the business of manufacturing and marketing of soft drink beverages in Delhi, India.
• 2014- Capital infusion of ` 4,500 million by Promoter Group.
• 2015- Business transfer agreement through which our Company acquired Pepsi India's business of manufacturing, marketing, selling and distributing soft drink beverages and syrup mix in the Indian states of Uttar Pradesh, Uttarakhand, Himachal Pradesh, Haryana, Punjab and the Union Territory of Chandigarh.
• 2015- Incorporation of Varun Beverages (Zimbabwe) (Private) Limited
• 2016- Acquired entire shareholding of Arctic International Private Limited in Varun Beverages (Zambia) Limited.
• 2016- VBL was successfully listed on Indian Stock Exchanges – NSE & BSE.
• 2017- Acquired Odisha and parts of Madhya Pradesh along with two manufacturing units at Bargarh.
• 2018- Acquired Chhattisgarh, Bihar and Jharkhand along with two manufacturing units at Cuttack (Odisha) and Jamshedpur (Jharkhand).
• 2018- Entered into a strategic partnership for selling and distribution of the larger Tropicana portfolio that includes Tropicana Juices (100%, Delight, Essentials), Gatorade and Quaker Value-Added Dairy in territories across North and East India
• 2018- Established a green field production facility in Zimbabwe, an untapped market with huge potential.
• 2019- Concluded the acquisition of PepsiCo India's previously franchised sub-territories of the State of Maharashtra (designated parts), Karnataka (designated parts) and Madhya Pradesh (designated parts).
• 2019- Concluded the acquisition of West and South India sub-territories from PepsiCo.
KEY HIGHLIGHTS
• 37state-of-the-art production facilities.
• 90+ depots
• 2,500+ owned vehicles
• 1,500+ primary distributors
• Installed 800,000+ visi-coolers.
• Three division CDS 71%, Water 22% & Juice 7%.
• Auditor M/s. Walker Chandiok & Co. LLP fee is 6.80
PRODUCTS
1.Pepsi
2. Mountain dew
3.Miranda
4. 7 up
5. Nimbooz
6. Sting
7. Lipton ice tea
8. Tropicana
9. Slice
10. Aquafina
PLANT & CAPACITY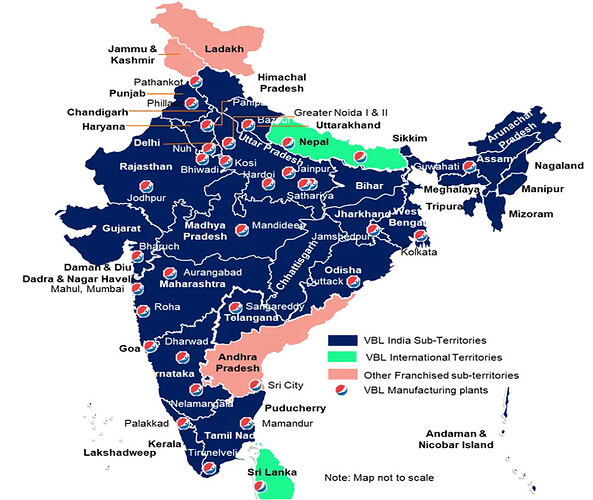 REVENUE BREAKUP
• CSD constituted 73%, JBD 9% and Packaged Drinking Water 18% in Q2 CY2022
RAW MATERIAL
• PET CHIPS – 66000 MT for packaging of finished goods. (Crude derivatives)
• SUGAR- one of the key raw materials.
• PETROLEUM- transportation of finished goods.
• PULP
COMPETITORS
• COCA-COLA
CAPEX PLANS
1200 cr for CY 23
SUBSIDIES
• Varun Beverages (Nepal) Pvt Ltd
• Varun Beverages Morocco SA
• Varun Beverages Lanka (Pvt) Ltd
• Varun Beverages (Zambia) Ltd
• Varun Beverages (Zimbabwe) (Pvt) Ltd
• Ole Springs Bottlers (Pvt) Ltd
• Lunarmech Technologies Pvt Ltd
MOAT
• Barrier to Entry as its mainly duopoly market.
• Brand- Pepsi co brand name
• Distribution channel is very strong 90 depots, 1500+ distributors 2500+ owned vehicle.
MANAGEMENT
I. BOARD OF DIRECTORS
• Ravi Jaipuria (Promoter & Chairman)
• Varun Jaipuria (Whole-time Director)
• Raj Gandhi (Whole-time Director)
• Kapil Agarwal (Whole-time Director and CEO)
• Rajinder Jeet Singh Bagga (Whole-time Director)
• Dr. Naresh Trehan (Independent Director)
• Dr. Ravi Gupta (Independent Director)
• Pradeep Sardana (Independent Director)
• Rashmi Dhariwal (Independent Director)
• Sita Khosla (Independent Director)
WEAKNESS & THREATS
• Duplicate vat bill case in Nepal on company employees.
• Promoters have continuously decreased holdings.
• PET resins is a crude derivatives which effect margins.
• Have acquired almost whole India, so after few years sales growth may be slow.
• Debt of 3000 cr.
• Licensing deal with Pepsi may not materialize in future (very little chance)
STRENTGH & OPPOURTUNITY
• Duopoly sector only two brands in CDS. Juice is also consolidated market.
• Have continuously reduced debt from 1.5 times in CY18 to 0.6 times in CY21.
• Brand of Pepsi.
• Great distribution channel.
• Company can acquire Africa talks going on for Congo.
THESIS.
• Operating leverage – CY22 sales growth will be high due to low base year and acquisitions of south & west territory.
• Deleverage – debt of 3000 cr which will be reduced by 40% in CY22.
Disclosure- Biased invested from lower levels. Not a Sebi registered adviser, views and thesis are mine please contact your financial adviser before taking any action.