Hey there. We have been working on a social media platform (Fintrig) for Investors since few months.
It's a combination of Twitter and StockTwits providing a real time infrastructure to create general or stock specific ideas, follow other prominent investors/traders and interact with the community to keep a tight check on the market.
Current Feature of Fintrig
Personalised Feeds
Maintain a Watchlist.
See what's trending.
Specific Market sentiment towards companies.
Real time price update.
Create Your Ideas
Social Engagement.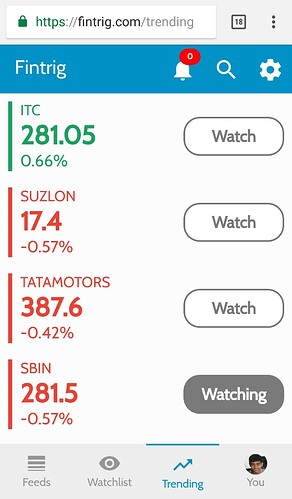 Our Future Endeavour
Parallelly, we are also working on an alerting service of live market updates useful to track the pulse of the market. Users can set alerts for stocks in their watchlist and stay updated with all the corporate actions and what community is talking about XYZ company. Have plans to use machine learning to determine the future market trends.
Our aim is to create a platform where investors can stay updated with all the voluntary acts (like corporate actions and news) and human actions (what people are talking about the market).
Being a daily reader at ValuePickr, I know the mature content being exchanged here and analysis skills all other fellow investors pursue, I'd love to hear any suggestions on viability and usefulness of our initiative. And what we can do to fulfill the need of Investors.
Check out: https://fintrig.com