TRIDENT
Trident Limited is the flagship company of Trident Group, a USD 1 billion,Indian business conglomerate and a global player. Headquartered in Ludhiana, Punjab.
It's a 25 year old company with CAGR of 30 %
Trident's customer base spans over more than 100 countries across 6 continents and comprises of global retail brands like Ralph Lauren, Calvin Klein, JC Penney, IKEA, Target, WalMart,Macy's, Kohl's, Sears, Sam's Club, Burlington, etc. With export turnover accounting for about 50% of total sales of the Company.
Trident is the largest terry towel and wheat straw based paper manufacturer in the world.
TEXTILE:
Fully integrated home-textile operations with terry towel capacity of 360 million pieces of towel per annum
Composite Bed Linen Project is under implementation & expected to be commissioned by second half of FY16
Implemented the world's largest terry towel project at a single facility in Budni (M.P.)
One of the largest cotton yarn spinning capacity in India with 3.66 lac spindles capable of producing 8400 MT/month of cotton and blended yarn
PAPER:
Agro-residue (wheat straw) and ECF pulp used to manufacture paper Customers across 50 countries including India, Middle East, Africa, US, Latin America and UK, among others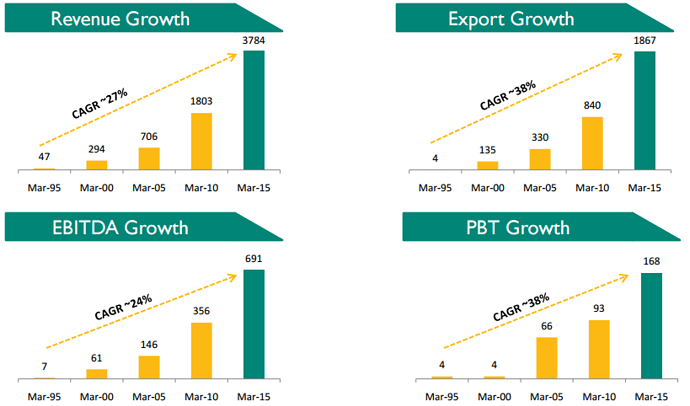 KEY POINTS
Product availability in all major hypermarkets and supermarkets
Expanding sales through e-commerce in domestic and international
market ,Exclusive brand store on Snapdeal
Successfully entered new markets like UK, Italy, France, Japan,
Australia, South Africa and Canada
Energy-saving operations initiated to reduce power consumption
Company also issued first interim dividend recently
TPM Policy has been formulated across the organization to achieve
zero accidents, zero defects and zero breakdowns
Strong management team and strong credit rating (CARE A-)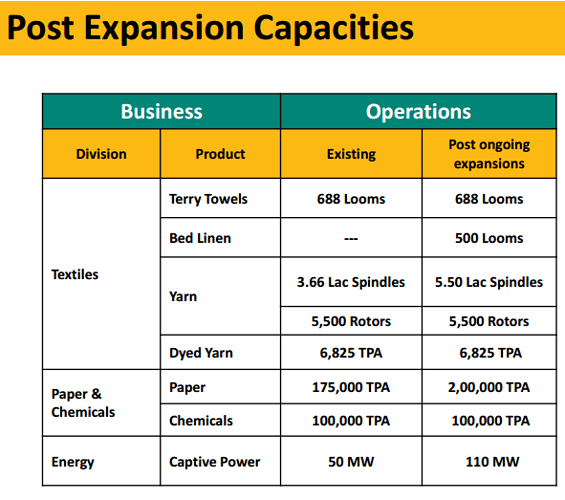 Risks
Debt / Equity Ratio stands at 1.77:1, Debt level increased due to expanded capacities
CMP/BV = 2.29
Composite Bed Linen Project is under implementation & expected to be commissioned only by second half of FY16
Company website: http://www.tridentindia.com/content/home.aspx
India is the second largest producer of cotton, textiles & garments and is the only major textile exporting country with a net cotton surplus - constitutes ~20% to the total cotton cultivation area.
As textile sector is currently doing well, i believe this stock will perform better and i took small exposure at CMP 46 and will hold it for long term.
If anyone come across any other risk/concern about this company please share, Thanks