Torrent pharma (CMP 1470) is a Formulations and API player that manufactures Branded Generics for India, Brazil and Phillipines, and Generic drugs for US, Germany and UK. Below information is mostly taken from AR FY15.
Revenue breakup-
Domestic market 35% revenues in FY15
Torrent has a strong presence with focus and leadership in CVS and CNS segments. India business grew 39% in FY15. It is among the top 15 pharma companies in India, with 9 brands in top 500. It has one of the top 5 brands in cardio and CNS, and one of the top 10 in Neuraceuticals and Gastrointestinal. As per AR FY15, Torrent is growing fast in Derma, Pain and diabetes.

US market 18% revenues FY15
Torrent is among top 3 players for 14 products in US. Management has indicated that they will target 15% market share in most of the US launches ahead. In FY15 it grew 7% on high base(Cymbalta 180 day exclusivity). Torrent got 6 ANDA approvals in FY15, taking total approvals to 53, including 5 tentative. 19 ANDAs are pending approval and 40 are under development. Torrent is ramping up complex products like ointments, injectables, oncology

Other branded markets (Brazil) 20% of revenues FY15
Brazil pharma market expected to grow 14% till 2018. It grew 24% in Brazil currency terms in FY15. Torrent already has 40 approvals, and 20 are under approval. 2 approvals are expected in FY16. Brazil pipeline of 25 products in CVS/CNS category. Launching 9 more therapies including Derma and Gynac

Other generic markets (Germany) 21% revenues in FY15
Torrent is ranked 6th generic player in Brazil with a share of 4.2%. Its Brazil business grew 8% and there is price erosion happening

Others/CRAMS 6% of revenues in FY15
Major portion is manufacture of insulin for Novo Nordisk for their India needs.
Recent acquisitions-
Elder formulations business in India+Nepal strengthens its positioning further. Two of the acquired brands from Elder Pharma (calcium supplement Shelcal and analgesic Chymoral Forte) are the largest selling products for Torrent. They took a price hike of Elder products recently.
Zyg pharma- Dermatological formulations. I request Hitesh to give some insights about this.
Capacity expansion
Doubling capacity with new facility in Dahej. Started process of USFDA approval. Commercialization will happen in FY16. Sikkim expansion will be available after 2 years. Torrent is entering the Oncology segment and their plant is expected to be operational in next 2 years.
R&D
R&D as % of revenue is 4.8%. Torrent is working on several first time novel drug delivery. 467 NCE patents, 224 approved. Most advanced program on diabetes associated heart failure in Phase 2 clinical trials. Benefits derived as a result of the above R & D-
• At the end of the year under review, the Company received 6 ANDA approval and filed 73 ANDAs and 26 DMFs filed in US and 56 new product Dossiers & 24 DMF submitted in the EU.
• 818 patents filed for NDDS technology, drug discovery projects and innovative process of API & formulations for various geographies and 325 have been granted so far.
• New Discovery programmes in Chronic Obstructive Pulmonary Disease & inflammatory Bowel Disease has been initiated.
Other info
Field force increased by 1005 from 4062 in FY14
Promoter holding 71.3%. Managed by Samir Mehta, younger son of founder. Elder brother Sudhir Mehta stepped down and moved to Torrent Power. The transition began by 2009-2010 when Samir, who was the executive vice chairman, starting taking greater interest in the pharma business. Need to work more on understanding the management quality.
Dividend payout 25%
In FY15, long term debt increased from 921cr to 2421cr due to acquisition of formulations business of Elder for 2162cr. Working cap loan was 319cr. Cash=865cr. Cashflow from operations=810cr
Pipeline (I am working on this on lines of VP generic pharma thread. Will post soon)
Expected high impact launches in US
Abilify (unexpected low competition, launched in 1QFY16) Q1 results declared yesterday. US sales have gone up by 231%. Much of it can be attributed to Abilify. Full Q2 and one month in Q3 will form part of 180 days exclusivity period.
Nexium (expect approval anytime). API players-Auro, Cadila, Cipla, Orchid, Glenmark
Detrol (low competition, launch in mid 2015)
Exforge
Last year results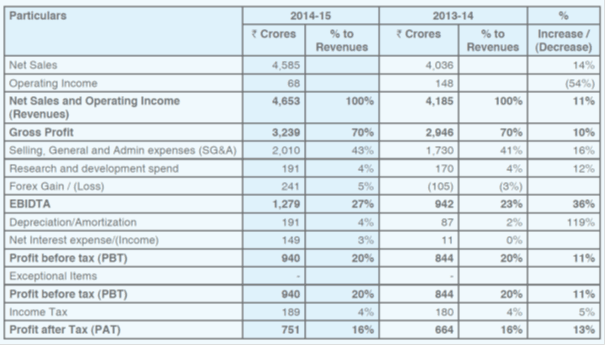 As per screener, last 5 year sales, profit CAGR and RoE are 20, 29 and 33% respectively.
I feel Torrent should do well in coming years, with its recent acquisitions, new launches and capacity expansion. The debt should also come down over next 2-3 years.
I will post more details in a few days.
Discl: Invested