Recognising risk often starts with understanding when investors are paying it too little heed, being too optimistic and paying too much for a given asset as a result. High risk, in other words, comes primarily with high prices.
Controlling Risk in my investments - has been a concern, since 2014. HM says great investing requires both generating returns and controlling risk. And recognising risk is an absolute prerequisite for controlling it.
Whereas the theorist thinks return and risk are two separate things, albeit correlated, the value investor thinks of high risk and low prospective return as nothing but two sides of the same coin, both stemming primarily from high prices.
HM asks us to recognise that just like opportunities to make money, the degree of risk present in a market derives from the behaviour of the participants, not from securities, strategies and institutions.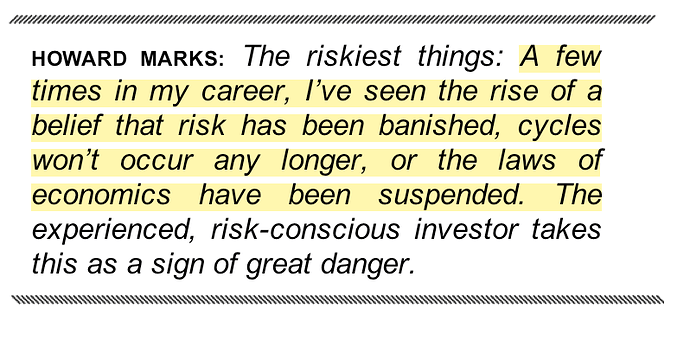 Every active investor in markets goes through this, sooner than later
"It is what it is. We've been living in optimistic times. The cycle has been swinging strongly upward. Prices are elevated and risk premiums are slender. Trust has replaced skepticism, and eagerness has replaced reticence. Do you agree or disagree? That's the key question. Answer it first, and the implications for investing become clear."
He elaborates some more with
"Everything you needed to know in the years leading up to the crash could be discerned through awareness of what was going on in the present."
So, there is very clearly a "Call to Action" from HM when we see those un-ignorable signs of danger. Yet very rarely do we see any prominent Value-Investors advocating taking money off the table (progressively, if you will) as a means of Controlling Risk, when these danger signs are all evident!
In fact, the opposite is probably advocated by Value Investors - Stay put in Quality stocks and sit through the boom and bust. Whereas HM is clearly saying,
No risk is feared, and thus no reward for risk bearing— no "risk premium"— is demanded or provided. That can make the thing that's most esteemed the riskiest. Perversity of Risk. This paradox exists because most investors think quality, as opposed to price, is the determinant of whether something's risky.