Hey everyone,
I feel like this Tata Steel subsidiary needs to be studied, separately.
(Fetched info from Screener.in, researched a bit about tinplate market)
ABOUT
Tinplate Company of India Limited (TCIL) is a producer of tin-coated and tin-free steel sheets in India. It is a subsidiary of Tata Steel Limited. [2]
KEY POINTS
Products
The tinplate manufactured by the co is used for packaging of edible oil, paints & chemicals, processed foods, battery etc. It has categorised its products into:
Electrolytic Tinplate (ETP), Double Reduced Tinplate, Soft Double Reduced Electrolytic Tinplate.
Tin Free Steel (TFS)/Electrolytic Chromium Coated Steel (ECCS) - Single and Double Reduced Tin Free Steel
Value-added/downstream products - Lacquered/Coated ETP, Printed ETP, PAXEL cans etc. [3]
Geographical Split
Exports: 14% in FY21 vs 24% in FY18
Domestic: 86% in FY21 vs 76% in FY18[4][5]
Market Share
The company is the largest producer of tinplate in India. It has 39% of the domestic tinplate market share and 52% of the prime tinplate market share. [6]
Manufacturing Capacity
The Co is the largest manufacturer of tinplate in India with a capacity to produce 0.38 MTPA at its plant in Jamshedpur, Jharkhand. TCIL had doubled its tinplate manufacturing capacity to 0.38 MTPA in 2008-09 and had also implemented a 0.2 MTPA cold rolling mill project in December 2011. [7]
Currently, the tinplate capacity is being expanded by 300,000 tonnes at a capital expenditure of Rs 2,254 crore. After the completion of a three-year project starting this FY23, TCIL's capacity in Jamshedpur will go up to 0.68 MTPA from the present level of 0.38 MTPA.
Tata Steel has set a target of 1 million tonnes tinplate capacity by 2030. [8]
Strong Parentage
The Co is supported by the strong parentage of Tata Steel Ltd (TSL) along with presence of top executives of TSL on the board of TCIL. Moreover, the company has access to the research base, technology and global best practices of Tata Steel Europe Limited (erstwhile Corus), a leading tinplate producer in Europe. [9]
Also, the promoter holding is at the max allowed, 75%
Product Innovation
The company developed India's first branded 15 kg edible oil can, PAXEL, which has made way for opportunities to directly engage with edible oils brands as Service and Solution Partners (SSPs). As pioneers of PAXEL, the firm offers several benefits, including on-time deliveries, maintaining product stocks for peak demand periods and servicing at competitive prices. [10]
Downstream Products
The Co has launched several new stock keeping units under its downstream products division through extensive trials of printed and lacquered products at its Solution Centre. It has also been able to onboard new customers. [11]
Focus
The Co is working with regulatory bodies to develop packaging standards and increase demand of prime tinplate in the country. The Co is advocating the implementation of Steel & Steel Products' Quality Control Order which will significantly reduce imports of cheaper quality tinplate. [12]
Growth triggers
Demand for tinplate and tin-free steel from the domestic industry itself is about 700,000 tonnes annually. Only two domestic companies manufacture the material(TCIL and JSW Steel).
Recent Bureau of India Standards(BIS) order mandates use of certified tinplate and tin-free steel for cans, easy-open ends and peel-off ends for packaging. [14]. TCIL has been an advocate of high-quality tinplate and this may also help them grab market share from unorganized sector.
India imports 35-40% of its requirement of tinplate, much of it of low quality finds its way into food packaging. Nearly 70% of tinplates used in India are for packing foods and 80% of imports by India are non-prime and low quality. Again, TCIL manufactures only high-grade tinplate.[15]
China announced tax rebate cancellation on tinplate.[16] This may lead to stronger positioning of this Indian company.
According to reports, 57% of the market's growth will originate from APAC(Asia Pacific) region during the forecast period. China and India are the key markets for tinplate in APAC. [17] TCIL is already well-positioned in the domestic markets.
Risks
The biggest risk here is cyclicality due to raw material prices(Steel mostly). The material costs as a % of expenses keep fluctuating, making the OPM range from 5% to 20%.


The government of India had sought to prevent the use of low-grade tinplate in food cans through the Steel and Steel Product Quality Control Order (SSPQCO) dated 17 July 2020. The implementation has, however, been deferred twice.[18] This may slow down the expected growth.
Market outlook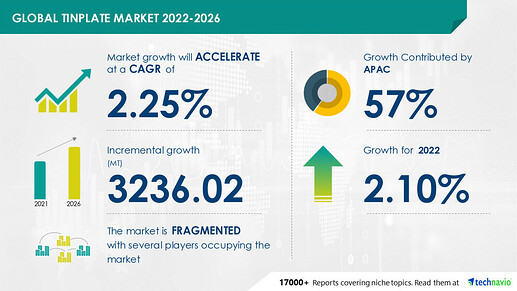 Source:
Technavio
Good articles/summaries I found:
Views may be biased/personal. Also, this is my first topic, feel free to add to or correct my points. I know this lacks much of promoter info and concalls
Disc- Invested ~6% allocation, looking to add more(~370 avg.)