Timex Group (India) Limited (TGIL) was incorporated in 1988-89 as a joint venture between Titan and Timex Corporation, USA – a 150-year-old global watchmaker selling its products worldwide under the Timex (and a few other) brand. The JV with Titan ended in the year 2000 but a sales & distribution arrangement continued. The strategy was that Titan will sell Timex products in the mass market range using its distribution channel, while Titan Watches will cater to the premium end. However, this partnership was also terminated in 2013, with the two players completely parting their ways. Timex took up the design, marketing, sale and service of its own products fully from Titan.
Presently, TGIL's parent company is Timex Group Luxury Watches B.V., Netherlands and Ultimate Holding Company is Eagleville Group B.V., Netherlands. On and from December 21, 2020, BP Horological Group L.L.C became ultimate holding company.
TGIL is now into manufacturing and trading of watches and rendering of related after sales service. The company's primary brand is Timex, but besides this the company also manufactures and markets several other brands (click here). It's manufacturing facility is located at Baddi, Himachal Pradesh. The Company also provides information and technology support services to the Group Companies.
Shares of TGIL are listed on the BSE since 1993. However, the shares are not listed on the NSE.
After the breakup of the JV, the company continued to struggle to grow its sales, notching up losses for several years.
However, its fortunes may now be turning around.
Strong sales growth was logged in FY22 itself and this has continued in the first two quarters of FY2023. Company has also posted all time high margins and returned to profitability.
Product Portfolio:
Timex has a strong portfolio of brands in the Indian watch market, with three core brands Timex, Helix and TMX. It also gets the support of its global organization in design and manufacturing. The portfolio includes luxury timepieces to everyday utilitarian watches as well as tech wearables. The company has also been launching strong fashion brands and the recent launches include Guess, Gc, Furla, Missoni, Ted Baker, to name a few.
Going ahead, the company says it plans to further strengthen the portfolio by launching popular international lifestyle and fashion brands to cater to the high demand in the premium and luxury segments driven by upper middle-class customers and their continued affinity for international brands. It also plans to launch heritage products and trend-based collections from its global portfolio under the Timex brand. It claims these collections such as the Coca Cola Collaboration, the Judith Leiber Collaboration, and the Pac-Man series, have become consumer favourites and it will continue to launch more such collaborations.
Tech Wearables
Timex says it has witnessed strong growth in Tech Wearables across geographies in India. It has a robust product pipeline across the brands Timex and Helix to meet the demands of the fitness conscious Indian consumer at a variety of price points and feature concepts. It will continue to focus on strengthening its technology product road map.
With Gen Z driving digital and market trends, it says it will continue to expand its youth portfolio with on-trend seasonal launches backed by social media marketing for the digital native young consumers.
Tier-2 and smaller towns are emerging as the new centres of economic growth. The Company recognizes this reducing urban rural divide and is poised to grow its mass brand TMX with exciting new launches.
Marketing
TGIL has 5 Regional Sales offices at Noida, Mumbai, Kolkata, Bangalore and Chennai. The products are sold through a large network of physical channels such as MBOs, large format stores, exclusive showrooms etc. as well as through tie-ups with e-commerce players Amazon, Flipkart, Myntra, Nykaa etc.
It also has more than 200 authorized service centres across the country.
Manufacturing
As mentioned earlier, the company has an advanced and well-equipped manufacturing facility at Baddi in Himachal Pradesh which is fully capable of fulfilling all its product requirements. The facility has well experienced watch makers and advanced state of the art technology and equipment to produce high quality watches. It can assemble all sorts of watches including digital, Analogue, Ana- Digi, Indiglo® and Smart-bands / watches**. The facility also manufactures watches for other OEMs** which has improved capacity utilization in recent years. The OEM business has now grown to a "sizeable level", says the Annual Report.
Turnaround
After running losses for several years, what has driven the company's turnaround is a general revival of wrist watches as a product category, several new initiatives undertaken by the company in the recent quarters, and the recent appointment of a new CEO Mr. Deepak Chhabra.
New CEO:
Mr. Deepak Chhabra joined Timex in March '22 as MD and made the CEO in May, when the incumbent CEO Ms. Sharmila Sahai abruptly resigned a few months before the end of her term. Mr. Chhabra is a Footwear Technologist and Marketeer by qualification, and started his career in 1996 with Phoenix International. Before Timex, Mr. Chhabra worked with Tupperware India as MD. He also worked with Crocs India as MD for 3 years before moving to Tupperware.
New marketing initiatives:
In recent times, the company undertook several new initiatives such as new product launches, developing innovative new product lines and introduction of new international brands into the Indian market. It has continuously launched products at higher price points thereby increasing ASPs.
For example, it launched 'Timex Ceramics' with two unique products with ceramic bracelets and impeccable stainless- steel supported by marketing initiatives during the year. The Helix Analog Collection was given a new minimal look with accents of colours to sprinkle class and fashion in the everyday go-to look. Helix smart watches were also well received by the market.
A new addition to the women's portfolio, the Fria collection was launched in the period leading up to the festive season. Feminine and organic shapes exploring new crystal cuts, bracelet designs, balancing a watch and a jewellery piece to create the perfect statement collection, Fria was received with overwhelming positive response from the market.
In collaboration with Coca-Cola, three commemorative styles were launched to celebrate Coca-Cola's time-honoured 1971 'Hilltop' commercial. A luxury brand Judith Leiber was launched with two limited-edition watch designs, the T80 digital and Q analog.
Legendary Italian fashion brand Missoni was launched which is well known for its colourful knitwear designs, as well as its unmistakable zigzag motif. Italian heritage brand Furla was launched in the fashion segment.
Ted Baker watches with stainless steel bracelets, mesh bands, and leather straps with British fashion style were launched for women.
The United Colors of Benetton Timewear range was launched as part of a licensing deal with Benetton India. Popular actors Sanjana Sanghi and Abhishek Verma were brought on board to break the announcement on social media, alongside a seeding activation resulting in huge social media chatter.
In a significant move, the Company got the manufacturing and distribution rights of Guess and Gc branded watches in India.
The Company is also launching the Adidas Originals watch collection, as well as brands from German luxury fashion house Philipp Plein.
New products in tech wearables were launched such as Timex Fit and Timex Fit 2.0 smart watches with various smart features such as activity tracker, telemedicine features, high resolution, Bluetooth calling and many more. New smartwatches under the brand Helix namely, Helix Metalfit and Helix Metalfit 2.0 were introduced with various smart features such as heart rate monitor, SpO2 sensor, sleep and activity tracker, mobile notifications and music control. The company also launched its first Made in India smartwatch, the Helix Smart 2.0.
Social media influencer campaigns were undertaken for key launches such as the Timex Fit, Q Timex Colour Series, Helix Smartwatch, Timex Fit 2.0, Timex X Coca-Cola, Helix Metalfit, Versace Greca Sport.
Promoter and governance
Globally, Timex is a closely held unlisted firm, so information is scarce. But past actions show the company has consistently received solid support from the foreign parent. Working capital borrowings from banks are guaranteed by the parent. Despite past losses, the promoter has constantly funded the business through Preference Shares, and even waived off preference dividends. Due to this there has been no equity dilution or debt restructuring in the past. The company also gets support from the parent to bring international brands into India. I checked more than 10 years of past Annual Reports but have not noticed anything which may point to governance issues.
However due to a history of past losses, the company has not paid any dividends since 2014.
Industry Overview
Size of the opportunity is huge, and growing.
For a detailed understanding of the Indian watch market, latest data is present in the DRHP of Ethos Limited which went public in May 2022. Please refer to pages 168 to 179 of the same. The document is attached at the end of this post.
Valuation
The current market capitalization of the company is around Rs. 1600 crore. On a price to sales basis, the share is trading at 4.5X compared to 3.4X of Ethos. However, Timex is an MNC, owns brands and does it is own manufacturing. Ceteris paribus, I would therefore value Timex higher than Ethos which is just a retailer. In fact, Timex's business is more comparable to Titan's watch segment. In H1 of this year, Timex notched up higher margins than even Titan watches.
Valuation on a P/E basis is tricky. The headline TTM P/E of 57 times. However, this P/E is misleading due to losses in some quarters last year and a tax shield available to the company on account of accumulated losses in previous years.
For a proper perspective, a normalized P/E can be arrived as under: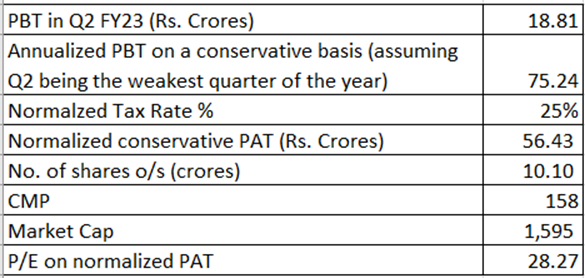 Thus, we get P/E of 28, assuming Q2 FY23 performance holds in future. This is a conservative zero-growth scenario with company paying full tax @ 25 %. Presently company pays no tax due to past accumulated losses. (Note: I know this method may not be very scientific, but my thesis is mainly qualitative, not quantitative anyway)
Risks & Concerns
The main risk in investing here is the possibility that recent strong performance is just a flash in the pan and the company goes back to its old loss-making ways in future quarters. However, a new CEO with new energy, new ideas, new incentive plan and industry tailwinds may mean the past may not be indicative of the future. Early signed of a turnaround are visible. My wishful thinking, if you may call it that!

Also note that the stock is listed only on the BSE, not on the NSE, which may keep institutional investors away. The company does not hold quarterly concalls, hence getting information is difficult. Investor presentations however are published.
And of course, this is a fiercely competitive business – with both organized and unorganized players competing tooth & nail for the customer wallet.
Concluding Remarks
With the advent of mobile phones, wrist watches were considered a dying category since their main purpose had become redundant. However, the emergence of wrist watches as a fashion accessory, technology innovation in the form of smart watches, health trackers etc. is causing a revival of the product.
Timex is a well-known brand which I feel has significantly underperformed its potential in the country, until now. However, a confluence of factors – that includes emerging fashion trends, technological developments, a revival of consumer spending and a new CEO - may just be the medicine the company needs.
Looks like an idea whose time has come.
Sources:
Information sourced from:
Company Annual Report FY22 - Timex AR FY2022.pdf (1.0 MB)
Investor Presentation - Timex Presentation Q2 FY23.pdf (3.9 MB)
DRHP of Ethos Limited (for industry data - refer to pages 168 to 179) - Ethos DRHP.pdf (4.1 MB)
Website of the company
(Disc.: I am invested. No recommendations. This is a high-risk bet, do your own research.)