What an analysis of time techno. No wonder it trades cheap.
Disclosure: Invested
@shreyasnevatia I'm not really agree entirely with what he is saying in tweets,
his calculations are flawed and he did not even calculate maintenance capex when entire thread is written around it


and clearly he did not even calculate owners earnings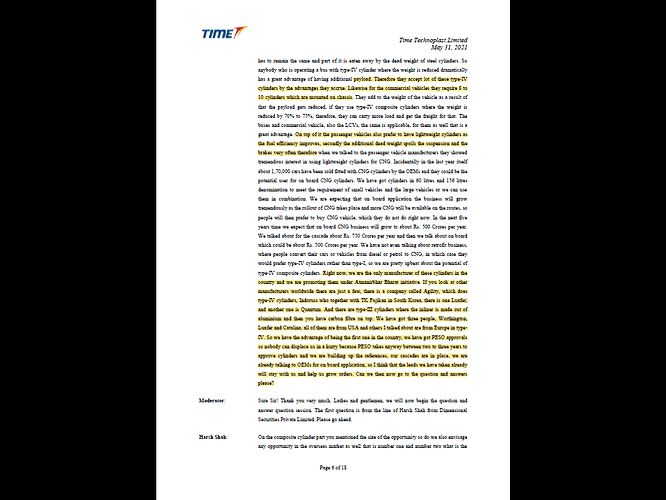 (From Q4 earnings concal)
The CNG cascade buisness for the company appears to be:
i. Monopolisitc.
ii High entry barrier (in terms of time as PESO approval takes atleast 3 years plus product approval time of around 12 months from vendor institutions.) So any new entrant will be at least 4 years behind TTL).The slower the product approval from vendors the higher will be the entry barrier.
iii. Oppertunity size is very large.
iv. Government has focus and priority on CNG.
v. CNG is environmental friendly and has a long run way.
Recipes seems to be perfect but now it all depends on the Cheff(Management).
Disclosure: invested
It seems that there is food for thought here. With high metal prices, cost of LPG metal cylinders now cost twice the price in 2019. With right alternative in place, Company has a God sent opportunity to grab market share and take lead. It will be a big game changer, provided TT is able to deliver.
AR21 notes
Value added products (20% contribution): Composite IBCs (10%), composite cylinders (6%), MOX films or techpaulin (4%). EBITDA margin stood at 15.9%.
Hi-tech products: DEF (Urea) Tanks, CNG Cascade, CNG (On Board Application), Composite Air Tanks
R&D team comprises team of 30
Has manufacturing facilities at 30 locations across the globe (including 20 within India)
Present in 11 countries (India, UAE, Bahrain, Egypt, Thailand, Vietnam, Malaysia, Saudi Arabia, Indonesia, Taiwan, and USA)
Supplying Composite Cylinders to Private LPG Distributors in India and creating more and more awareness in order to penetrate the Indian market
Macro
o Global plastic industry was estimated at $579.7bn in 2020 and was dominated by the Asia Pacific Region which accounted for over 44.0% of the global revenue in 2020
o During FY2021, India exported plastics worth $9.85mn against $10mn during FY2020, reporting a negative growth of 1.40%
o The Indian packaging market is forecasted to grow at a CAGR of 26.70% between 2021 and 2026
Total capex incurred 103.5 cr (67 cr. for established products, 36.5 cr. for value added products)
KMP and director remuneration: 1.64 cr.
Reduced dividend from 0.95 to 0.7 per share
Number of employees: 2'423 (no increase in salary of employees or key managerial personnel)
Statutory auditor fee: 45 lakhs
Number of shareholders: 37'672, price (low): 23.05, price (high): 64.55
Disclosure: Invested (position size here)
The SMART new age state-of-the-art #indane Composite Cylinder was launched in Patna by Mr Vibhash Kumar, ED&SH, BSO. A delight for us to hand over the translucent body,aesthetically designed Cylinder to Dr P K Singh, Director, AIIMS Patna.Thank you for being our valued customer.
Sorry for my ignorance, I am not able to find any mention of Time Technoplast. Can you please let me know how did you confirm?
Thanks in advance!
Any idea if this cylinders are made by time technoplast ?
Director's residence is on AIIMS Campus, the entire colony has piped gas supply since 2 years. Entire city will get piped gas soon.
Disc: not invested
My channel checks suggest, it is by Time Tech…
Thanks
It will take considerable time for pipe gas to replace cylinders in Tier1 , Tier 2 ,Tier 3 City and then you also have cylinder coverage in village area through Ujjawala scheme where probably piped gas will never reach.
Presently there is almost nil market for Typed IV cylinders in India and therefore Time Technoplast has nothing to loose.However, the opportunity size is humongous but cost is the biggest challenge in replacement of metal cylinders.
(Around 30 Cr house hold and around 35 Cr metal cylinders is the size of opportunity)
It has been mentioned in some articles that there is no expiry period for cylinders and that there should be inspection after every 5 years. However, for simple calculation if I conservatively take average life of a cylinder as 35 years, we can have replacement opportunity of around 1 cr cylinders per year.
My bet however on Time Technoplast is on account of future demand for Type IV CNG cascade and cylinders for which they are the only manufacturer in India.
Disclosure : Invested and forms 2% of my portfolio
Its good that Customers have been given the choice of selecting the cylinder by paying security deposit and as such there will not be any load on Oil marketing Company and also for Customer its a refundable deposit which anybody would like to pay in lieu of security.
Where is the Indane composite cylinder available?
Presently, the composite cylinders are available at select distributors in Delhi, Gurgaon, Hyderabad, Faridabad & Ludhiana in 5 kg and 10 kg sizes.
Is there a security deposit for the Indane composite cylinder?
Yes. The security deposit for domestic non-subsidized category, is Rs. 3350 for the 10 kg variant and Rs. 2150 for the 5 kg variant
Recently in my area we got pipe gas connection,they are charging 7000 rs per connection ,some of our office workers or lower income group people cant afford to get this connection they have opted out for they still continue to use the cylinders this is tier 1 delhi we are talking about so i don't know how many people will pay to get gas connection in all over india
As you said this is a heads i win and tails i don't loose much kind of situation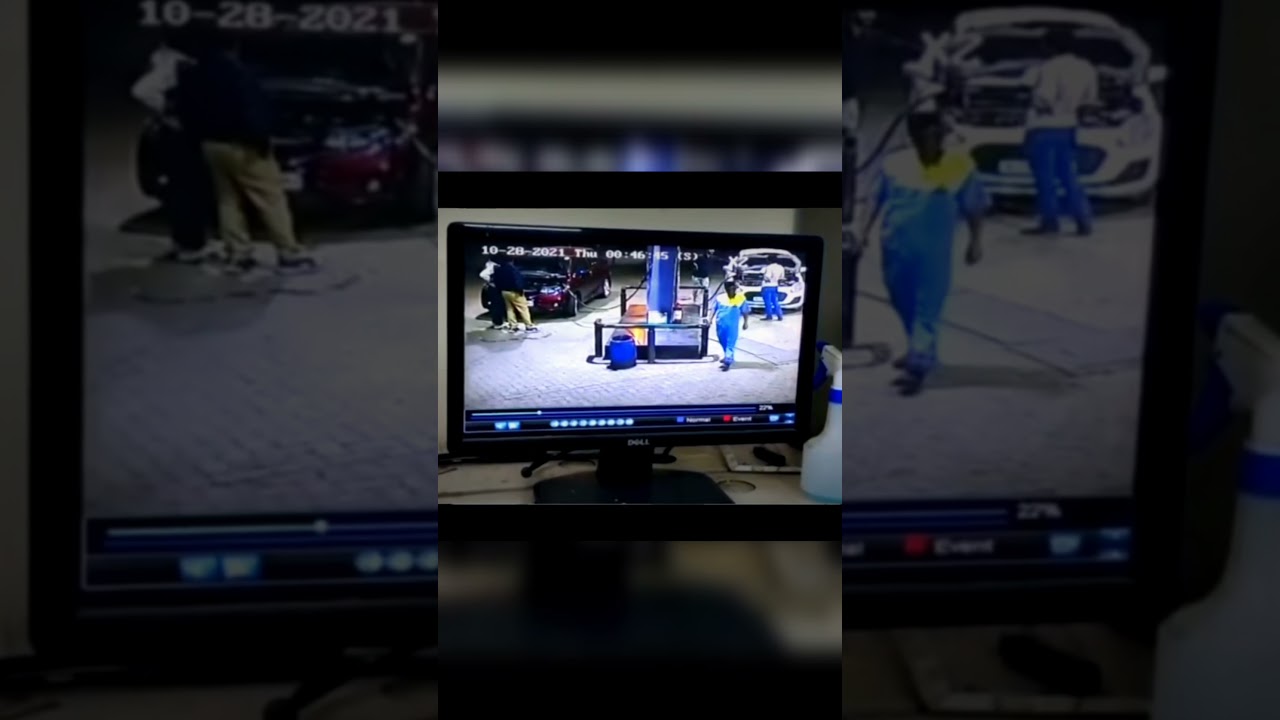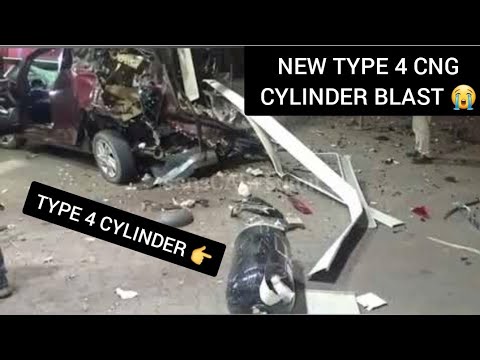 type 4 cng cylinder blast,2nd video confirms that the cylinder might be of time techno not sure.
disclosure sold after the news
It's such a sad incident, good thing is no causality,
It is not yet clear which make cylinder it was, and suppose we consider it was manufactured by Time techno then there will be hardly any impact on revenue or profits.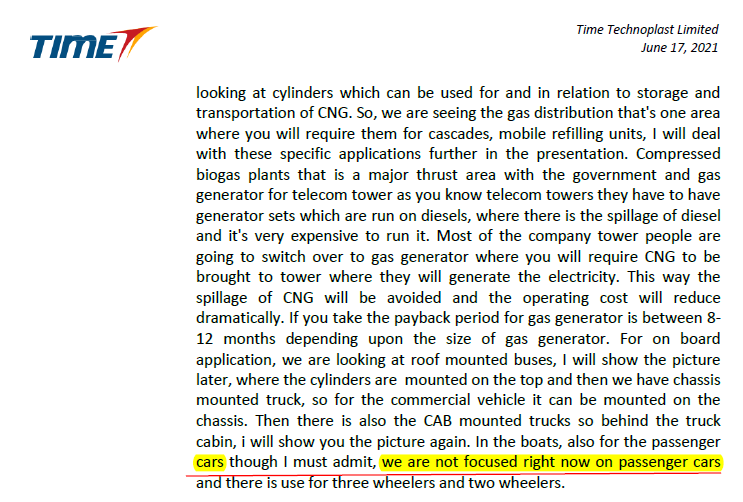 Refer to the above extracted analyst day transcript and note that TTP is not focusing on passenger cars right now. There is high possibility that the exploded cylinder not be from TTP.
However, it is be verified and confirmed.
Discl: Invested.
Time technoplast is selling type 4 cylinder for passenger vehicles,even if the cylinder was not from time techno ,this does have negative implications on future revenue as people would prefer old tried and tested cylinders over new technology.