Below highlighted statement by Dr. Velumani saying that 1) radiology business would create a better business than pathology and 2) radiology business turnover probably much bigger than pathology by 2025…made me do a high-level NPV and IRR analysis.

Below sharing NPV and IRR results using conservative assumptions of revenue from 1 PET CT machine with life of 10 years with straight-line depreciation and residual value of zero. In the first year machine would do 10 scans per day (they are doing 12 per day today) increasing by 15% every year reaching 35 scans per day in year 10.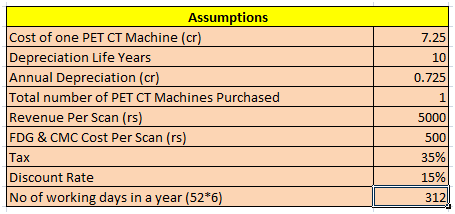 If you want to access the spreadsheet, here is the link. Radiology IRR_Thyrocare_09172018.xlsx (19.5 KB)
Numbers are pretty impressive. Get positive NPV with discount rate/opportunity cost of 15% and IRR happens to be 20.46%. The best thing is that as scans per day increases to 21-22 per day, it generates almost 30% ROI in after-tax cash flow terms. In first 5 years, business recoups initial investment (in after-tax CF terms) and then generates twice the amount of initial investment in last 5 years when the business is scaled up.
It is high CAPEX and low OPEX business model. With most of the machines managed and operated by franchisee, Thyrocare management can simply focus on adding the PET-CT machines at right locations with right franchisee partners.
All views/comments invited.
Disc: not invested. This is just a first stab and I have a lot of questions to better understand radiology business potential and its possible impact on the overall numbers.