If without data plan with this technology one can use mobile how the future would be ???
I mean this appears something very innovative
All mobile handsets will come with this technology in near future
Members can throw some light on this technology
.
This is the media news screen shot
Saankhya is also demonstrating the industry's first ATSC 3.0-enabled Mark One reference smartphone, developed in association with One Media – Sinclair Broadcast Group.
The Mark One reference smartphone allows consumers to experience live ATSC 3.0 reception without the need for a data plan. To bring Direct-to-Mobile (D2M) capability to market, Saankhya Labs has designed and developed a Broadcast Radio Head (BRH) that enables better signal propagation to mobile smartphones. BRH is a low power, low tower broadcast transmitter that enhances the capacity of television broadcast infrastructure. In partnership with broadcasters, mobile OEMs and service providers, these solutions can unlock unprecedented D2M benefits for consumers.
This is what al were eagerly waiting. The made in India theme and bringing back glory of BSNL
Not sure what this means to TEJAS but BSNL has partnered with Echelon Edge for private 5G networks in India.
Excellent news. Pricing was a contentious issue between TCS and BSNL for the 4G roll out. As per the newsitem, a consensus seems to have emerged. Though there had been a lot of negative reports about the delay on the part of TCS during the trails etc (not sure if this was a motivated campaign by competitors), the minister had been steadfast in his stand that BSNL will only use indigenous technology for its 4G roll out. Looks like, 4G order for TCS led consortium will happen soon which includes Tejas and CDot.
Disc- Largest holding in my PF and nibble around current levels which I consider attractive.
Hi they are private network provider.
Tejas networks is into implementation of All the infrastructure/equipment's required for 4G/ 5G for BSNL.
So the roles Echelon and TEJAS networks are different.
Further more the tie up for usage of BSNL network more benefit is to Tejas networks.
Some forward steps towards semiconductor by Tata group. This news highlights the acquisition of Tejas Networks by Tata group, acquisition of Saankhya lab by Tejas Networks and tie up with Japanese Renesas all point towards something big in the days to come.
Imp points Tejas Q3 concall:
• 15 Crs of charge this quarter is non cash charge of RSU issued to Saankhya employees
• Analog semiconductors lead time is >52 weeks, even digital semiconductor chips supply chain issues are faced. Costs have cooled down in general category for specialized components like in our category cost remains same
• Q4 is historically better & we expect Q4 to be stronger than Q3 this time also
• Wireline business will go next year internationally – this year not closing orders due to supply chain issues as wont be able to commit on orders received
• 70 % order backlog to be executed by next FY
• Should see significant improvement in profitability from as early as next year
• For wireline business expect GM to come to historical levels by next year, wireless being new segment GM will be lower. Volume gains should offset GM loss
• Under design led PLI scheme have potential to reap benefits of 2800CR in next 5 years – subject to achieving terms (Investment commitment 750cr)- have not considered any of these in our guidance- business should be profitable at core level
• Margin pressure in Q3 is due to forex fluctuations on orders booked previously
• Inventory increased by Rs. 95 Cr during Q3-FY23
• With a healthy order book of Rs 1,431 Cr and good visibility of new order pipeline (both in optical as well as 4G), we expect to significantly accelerate our quarterly revenue growth
• We continue to increase our investment in R&D, to accelerate time-to-market for our 4G/5G products
• We have scaled-up our manufacturing capacity and are well geared to execute large pipeline of orders
• Saankhya Labs integration is progressing well
• Our healthy cash position at Rs. 1,221 Cr, with an additional infusion of Rs 300 Cr from Panatone, will further strengthen our balance sheet to execute large opportunities and scale-up our business.
• Net Revenue: Rs. 275 Cr • Loss After Tax: Rs. 11 Cr • Cash and Cash Equivalents at: Rs 1,221 Cr (no debt) • Order book at end of Q3: Rs. 1,431 Cr
• Key highlights • Optical business: strong business momentum continues. We are L1 in a large pan-India backhaul tender, winning against global MNCs, which will have significant revenue potential during next FY
• Wireless business: we are well positioned to win a large 4G project for which firm orders are expected soon.
• R&D focus: We continue to increase our R&D investments, with Increased focus on 4G and 5G. Out of total employees' strength of1250, more than 800 employees are in R&D (YoY 60% headcount increase).
• Supply Chain/Manufacturing: • We continue to be supply-constrained for fulfilling customer orders due to shortage of certain chips
• We have taken advance inventory procurement actions to fulfil current and expected orders, since the lead-time of some of the semiconductor chips continues to be more than 52 weeks.
• We have signed 3 new EMS vendors and have significantly ramped-up our production capacity, so as to ensure timely delivery of large impending orders.
One thing is clearly visible from the earnings call is that from past many quarters management is keeps on over promising and under delivering…They had promised second half of FY23 should be far better… Nothing concrete happening on ground… Definitely testing patience of investors who is eager to see earnings growth
They mentioned during the concall that they will be investing 750crs over a period of 5 yrs under PLI scheme and they will get incentive of 7%, which as per their est. accrue to ~2800crs.
So does that mean they will be doing cumulative turnover of 40k crs over next 5 years?
Anybody with greater understanding on how incentives are calculated?
They have some interesting business apart from 4G/5G. One should listen to the management commentary - last question at 1.04 minutes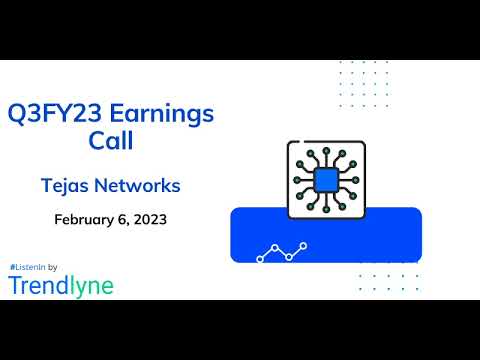 In this deal, TCS would agree to maintain the networks of BSNL for the next 10 years. The total cost of the network equipment that TCS would supply to BSNL would be Rs 13000 crores. There would be other third-party items included as well. Tejas Networks would be manufacturing the equipment, while TCS would act as a systems integrator (SI).
Looks pricey for Telecom equipment manufacturer. It is valued at 1.2 Billion dollar. Just to compare- Commscope at 1.8 B, Ericsson at 20 B and Nokia at 24B.
The telco chose Tejas Network, a part of Tata Group, as a vendor to supply 4G equipment for 1 lakh sites. It would cost a sum of `24,556.37 crore that includes network gear cost of about Rs 13,000 crore
so does that mean Tejas order book will be around 13k crore (network gear cost) from this deal ? need more clarity on this.
In recent concall management was repeatedly speaking about scale first approach which he was referring to BSNL deal. They r L1 for another fibre deal which management said will be materialised in next 3 months.

Total budget allocated for BSNL to upgrade to 4G & 5G is 52k crore. So the order book will be more if we include 5G upgradation as well as it's now confirmed that Tejas will be doing that too.
Thanks for updates.
Also would like to hear more about the last question and answer in the management concall. If available
last q&a is nothing but talking about optionalities apart from hardware product. There is nothing yet. Even without those, I think the revenue would be multifold from current 800 crore yearly run rate. To get the 2800 crore incentive from PLI they need to do how much revenue we need to ask management once they disclose about the deal to the exchange.
We created firms for precision electronics manufacturing, 5G technology stack and digital SuperApp. We are building a world-class airline and an EV battery manufacturing plant. These are the businesses of the future.