I am starting this thread with the analysis of the company, Request fellow members to join in
Incorporated in 1992 as Tasty Dairy Specialities Pvt Ltd and reconstituted as a public limited company in 2004, TDSL is promoted by Mr Atul Mehra. The company manufactures products such as pasteurized liquid milk, skimmed milk powder, butter, ghee , paneer , whole milk powder, and dairy whitener, under the Ujjwal, Shikhar, and Verifresh brands.
Atul Mehra had started the company with the initial capital of 20 Lacs and was handling around 200 lts of milk in his intitial phase. Currently the company is managing capacity of around 3.2 Lac Lts per day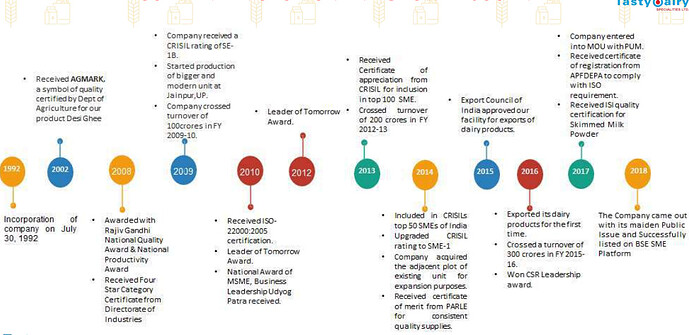 Why Dairy Industry?
There are several tailwinds driving the growth of dairy sector such as increase in demand for value added products, increase in working population, rising income, focus on health & nutrition, growth of organized retail and rapid urbanization. The consumers are shifting towards quality, branded and value added products. The structural changes such GST and tax compliance in the sector are helping the organized market players to grow faster.
PRODUCTS


POINTS
Promoter Holding is 74%

Company has acquired two Spray Dryers and its equipment from NUTRICIA INTERNATIONAL PRIVATE LTD., a company of Group Danone, which has a Capacity to dry milk infant food, nutritional food and other dairy and food products with approximately drying capacity of 300Kg/hour and 1000Kg/hour

has entered into a MOU with Chandra Shekhar Azad University to set up a dairy Farm for training of the Farmers and Upgrading the dairy farm at C.S. Azad, Kanpur,
Company has entered into a MOU with PUM,
Company has recently set up INDUCED (Indo Dutch Centre of Excellence
on Dairying), an organization born out of an MOU between Tasty Dairy Specialities
Limited and PUM Netherlands Senior Experts
the company was nominated for the "Social Enterprise of the Year"
during the financial year 2017-18
Strengths
Established** market position: Presence of more than two decades in the milk processing industry has enabled the promoter to establish strong relationship with customers and suppliers.

Above-average financial risk profile**

Support from the government
Currently the company is getting various benefits from the agriculture related schemes from the government
a.Company gets exemption in payment of monthly electricity duty charges from Electricity Distribution Department of Dakshinachal Vidyut Vitran Nigam Ltd
FUTURE PROSPECTS
Upgraded facilities with latest technology & boilers and installed condensate recovery system for enhancing energy efficiency and reducing cost.

We are increasing our milk processing capacity to five lakh liters of milk per day.

Add new products focusing on fastest growing categories like Cheese, Butter, Yugurt, Lassi, Ice Cream and few others.

Got approval for exports in 2016
The company is strengthening its positioning to improve global exposure
CRISIL Rating : BBB- (Stable)