I know that no one seems interested in this stock, but I am still amazed that it keeps going up (and generally 5% per day) without any end in sight.
Is this some form of scam?
Please check the company performance also … they have shown good profit and growth for last 2 quarters. Stock price seems to be going much beyond the performance.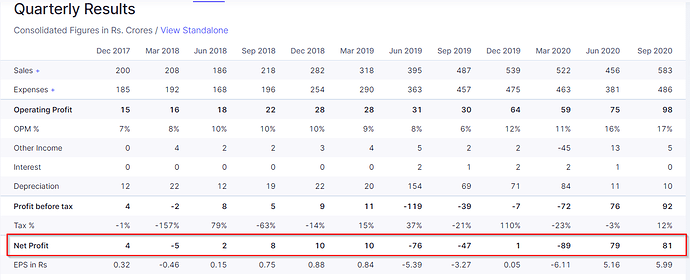 Not sure if this is a good sign or not. Today the price is 480 and I am sure that people want to push it to 500. I am not sure when to get out (started thinking at 230 levels), but with an investment of less than Rs. 3000 and current value of about Rs 97000, I cannot convince myself to sell off yet.
Was not aware there was a thread on Tanla. Copying from Route Mobile and posting here
Another interesting play in the same space is Tanla Platforms. In my write up on Route I had mentioned Karix which got acquired by Tanla Platforms.
Tanla acquired Karix Mobile which is quite similar to Route Mobile https://www.karix.com/
The company also acquired company called Gamooga which is AI powered onmi channel network https://gamooga.com/ (which I am not sure but suspect is somewhat similar to Affle)
The company reportedly processed close to 200bn transactions on its platform during FY20 and serviced over 1500 enterprise customers.
Tanla also operates a blockchain-based solution, deployed by Indian telecom companies to check the flow of spam SMS on their network. The Distributed Ledger Technology (DLT) platform, Trubloq, which went live in September, handled 70% of the total DLT traffic, which is 35 billion
Tanla has attracted four FIIs - MIT, Old Bridge Capital, Capital Group and Amansa Capital within 13 days of the company's inclusion in the MSCI India Domestic Small Cap Index.
Tanla Platforms has net cash balance sheet. Promoters have been increasing stake in the company from 30.63 in Dec2017 to the latest 41.2x
Company has done 160crs profits in 1H. Extrapolating that to FY21 it should be 320csr profits. Company has market cap of 7939crs so trading at 24x FY21. Route should do 120crs profits in FY21 and has a market cap of 5709crs is at 47.6x FY21.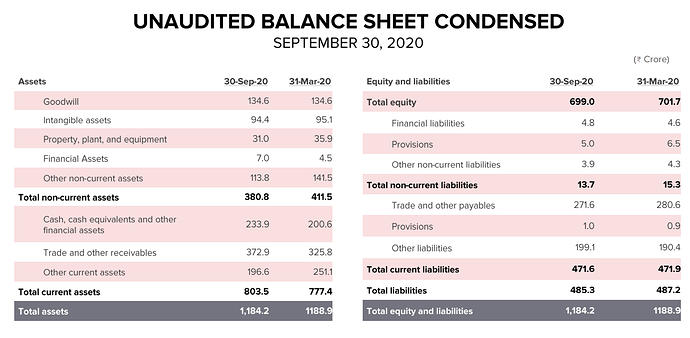 Disclosure: Invested in both Tanla Platforms and Route Mobile
As I am a shareholder, the company has sent me this IIFL report on Tanla
IIFL.pdf (1.0 MB)
Yes. That one paints a rosy picture.
Having said that, I would be really surprised if the stock fails to cross 1000 before Christmas (the way it goes to upper circuit every day.)
Congratulations @vnktshb for being invested i Tanla. I started reading about this since your last post and found really interesting at 670 odd levels.But keeps hitting upper circuit since so many days and could not muster enough courage to get in
Just thinking… is it fair for a company to circulate a third-party positive & bullish report about its company ?
i mean, doesnt it say that company has eyes on its share price ?
Everyone has an eye on the share price. Promoters or managements who get ESOPs are humans not gods or saints.
Are we all buying the shares without an eye on the share price?
Management is expected to have all the eyes on the business. Share price will be the result of that action.
Everyday for past 3 days exactly 5% down. I've been invested in this stock since early days, 2010 & had mentally written off & forgotten this stock. I have no idea why it is booming so much but I'm not complaining. Starting to exit my position little by little now.
What is the reason that stock is down now from 900 to 600?
What was the reason for the stock moved up 30x in 9 months.
If I look back now, there are at least a few piece which I can link: the financial reports and the foreign investments from MIT etc.
True that the meteoric rise is still unjustified, but at least there is something to link the upward movement to.
I could not find any trigger/ news for the drastic 'correction' yet. This is now getting close to the price at which MIT entered, isn't it?
They have entered around Rs 391/-Just I want to convey that the market cap of above Rs 11000/- crores is unjustified considering the past business and figures.
While I wanted to start selling, for the past 3-4 sessions there were no buyers, so sell orders never went through! Looks like today it is up 5% again
Thank you. There are not many reports covering Tanla. Does an expert here have any comments on the report quality and the analysis made by SmartKarma?