I chanced upon this Company named "Swaraj Automotives Ltd." (SAL) . This small company has been listed on the BSE but with almost zero trading values. The Company was established in 1974 and is a manufacturer of Automotive Components, Seats and Agricultural Implements. Some of their clients include M&M, SML Isuzu, Titagarh, Himachal Road Transport Corp, Rajasthan State Road Transport Corp, Maruti, Volvo Eicher, GM, Tata Motors etc.
In the year 2014, company extended its product portfolio with agricultural implements (starting with Rotavators). SAL employs dedicated shop floor workers supported by experienced technical and managerial staff. The works is situated in an area of approx. 1.1 Million Sq. Ft.
I read about their OFS in the month of Aug 2017 and the purpose of this OFS was mainly to reduce the promoter holding in the Company from 81.68% to 75% as per SEBI's directive.
OFS details are available in the link below :
http://www.bseindia.com/corporates/anndet_new.aspx?newsid=7190e35d-75fc-4060-9df7-2f13dfbb77d9
If we look back into the past, this Company was owned by M&M (71.19%) and the entire stake has been sold to a new promoter named "b4s solutions pvt. Ltd" in the month of January 2016 at a price of Rs. 145.5 per share. Balance 10% has been bought by b4s solutions from other shareholders through an open offer, taking the stake to 81%. As mentioned earlier the as per directive from SEBI, the new promoters have been doing a series of OFS to take the stake to 75%.
Details of the purchase from M&M is available in the link below :
The new promoters OFS have managed to get their stake to 75.43% as on date. They might have to do one more OFS shortly to take the number to exact 75%. The OFS has been done in the range of Rs.152 to Rs.160 per share.
http://www.bseindia.com/corporates/shpSecurities.aspx?scripcd=539353&qtrid=94.02
I am not sure of the reason why the promoters went ahead and took the stake beyond 75% in the first place.
Post the take over from M&M, promoter has made many changes in the Company and has brought in
Jeevan Malhaldar as their Executive Director who has experience of turning around loss making company like Tata Ficosa in the capacity of CEO and scaling up operations for Minda Corporation from Rs.175 Cr to Rs. 1100 Cr in a span of 6 years. His linked-In profile & the management team of SAL is given below.
https://www.linkedin.com/in/jeevan-mahaldar-aa5ba512/
https://swarajautomotive.com/management-team/
Financials & valuation :
Positives :
Market cap for the Company at price of 160 Rs. per share will be around 40 Crores
Book value per share is around 121 Rs.
Debt free Company with around 10 Cr. in Fixed assets and 10 Cr in Cash/cash equivalents as per 2017 annual report
Negatives :
Low OPM of 4%
Flat sales growth over last 4 years
The new promoters seems to be ambitious to grow the Company and brought in these visible changes
Introduced a new product "Tractor Trailer" and building up its own dealer network for sales. Details and a video is available in the link below. https://swarajautomotive.com/agriculture-implements/

Approved in May 2017 for setting up of new seat frame manufacturing facilities at Dharwad, Karnataka to serve its clients in the West and South Region. The plant will start its operations in the last quarter of 2017-18. Initially it will manufacture seat frames only and eventually seats & other products manufacturing will also start at this plant.

The annual report for 2017 gives ambitious plans for revenue and profit growth over the next 4 to 5 years. (off course this needs to be considered conservatively by an investor). As per my simple extrapolation of numbers in recent annual report, below is the upside (most optimistic view) and downside (most conservative view) potential on this Company.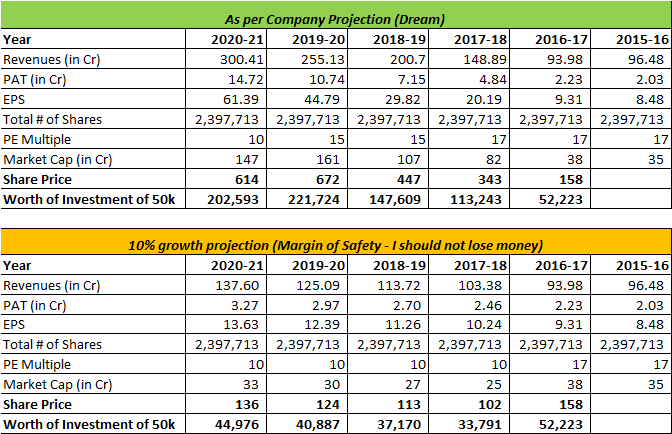 Request views from seasoned investors in this forum for their thoughts and views on this Company. I hope to learn from them. I am invested in this Company through the OFS (about 2% of my portfolio) and its part of my small experiments portfolio.
Regards,
Vinay
PS : This is my first detailed post on this forum, please pardon and add to it, if you find it incomplete.