Purpose of this topic: To record my general thoughts about investing/finance. However, you are most welcome to share your learnings or question my thought process.
Background: During youth, I passed mechanical engineering, relying on the good counsel of well-wishers around me. Post that I worked for 15+ years in the service industry. Most of these times, finance was never in thought and equity investing was an alien concept. With ever evolving interest in this field over the years, I now know a few things about finance in general and equity investing in particular. To reinforce my self-learning of equity investment, I am enrolled in the CFA (US) course and have already have passed CFA Level-1 and Level-2. Result for CFA Level-3 is awaited. As of now, I also create digital courses that are hosted at Udemy.
Let's begin:
#Risk:
What is it? Expected things are just a small subset of many things that can happen.
What are the investor's main risks? Only Two - Loss of own capital and Earning return lower than an alternative risk-free opportunity.
How to measure risk? It can't be neither measured (either before or after) nor eliminated. However, you can control or transfer or spread it. Risk is hidden, subjective and non-quantifiable.
What are the sources of risk? Paying beyond Value | Business quality | High Volatility | High Leverage | Illiquid Asset | Lack of diversification | High Risk Correlation across portfolio positions.
How to handle risk? Be Aware | Analyze | Diversify | Pay right Price.
#InvestmentAdvisorLitmusTest:
2x2 matrix | Tool to use while evaluating an investment advisor | Differentiate b/w a lucky (Top 2 quadrant) investor and skilled investor (Bottom-Right quadrant). In TMIT, Howard Marks illustrated in words and I illustrate pictorially (shown below).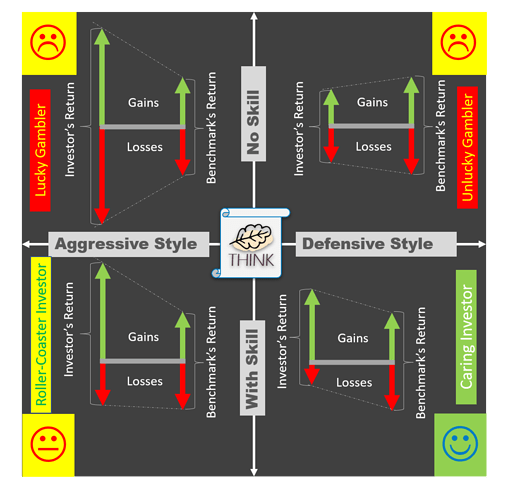 #RiskReturnProbability
Investor: I must earn higher return
1st Level Thinker: Simple. Take higher risk since "Return = Risk"
2nd Level Thinker: Not that simple since "Return =(Probability-To-Win)*Risk"
In Nutshell: Increase both 'Probability-To-Win' & 'Risk' to earn 'higher return'.