Future cash flow Yearly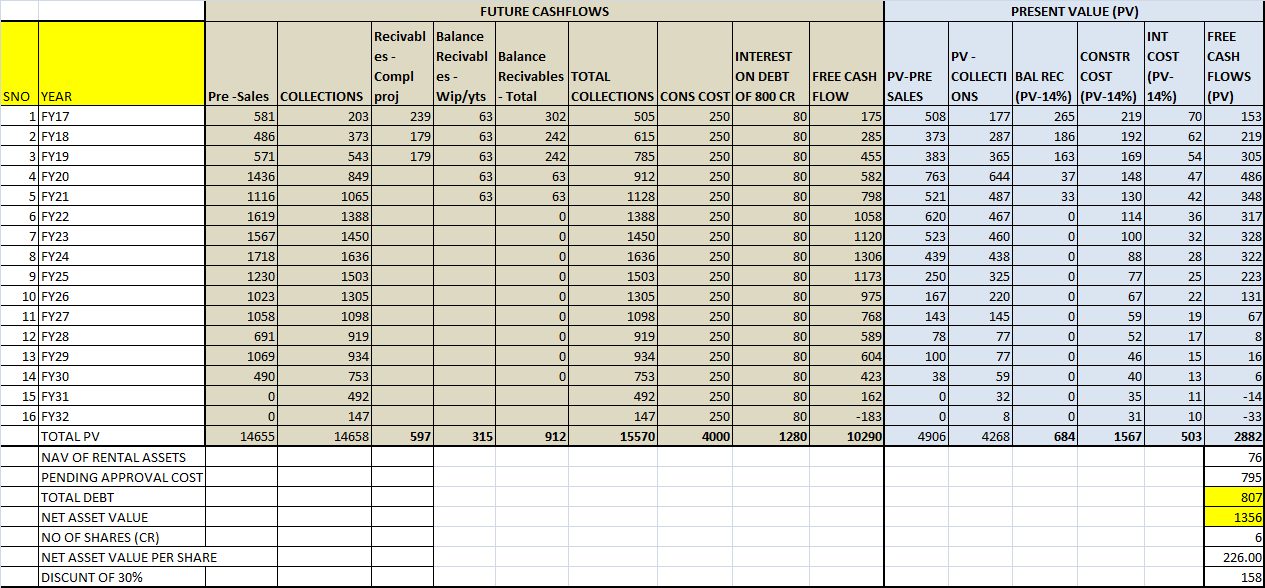 Attached xls for cashflows of each Project
suntech anaysis - oct 2016.xlsx (60.9 KB)
Thanks for sharing the details. My sense is that debt/interest have a major impact on realtors in third & fourth phase of cycle, as cash-flow is tight during these years. A rough estimate of interest rate paid by the company (interest / average debt) and repayment schedule of major long term debt items can also be important pointers.
Disc: Not invested.
Thanks for sharing this.
I will go through and revert but there is a very simple way to put a floor on the valuation of Sunteck. My thinking goes like this - and i'm happy to be corrected by anyone.
Suppose i'm the owner of a real estate business (say Sunteck) and I have spent INR 3,768 cr (value of inventory of Sunteck at the end of FY16) on the purchase of land and construction for some projects. The revenue from these projects is yet to be recognized. At what minimum value would I sell the entire business?
The absolute minimum any business owner would expect for this business is at least the value they have already put into the business. After adding the cash and subtracting the debt this comes to INR 2,617 cr. (3,768+93-1244). Current valuation of Sunteck is INR 1,600 cr. If the owner sells the business at a value below 2,600 cr. it means that they are not even breaking even on their investment and the business is a lemon.
I should also highlight that there are some concerns on Sunteck which i have not been able to resolve and would appreciate any inputs from fellow boarders:
Some people have expressed concerns on the quality of management (apparently they are not respected by other industry players) without giving any specific details. I have already shared whatever i could find but any additional details about the background of the management and their
They have started a project in Dubai on which there is little clarity.
I see one issue with this assumption. Even though owner may not want to sell at lower price, but market situation may force him to do that. Assumption here is that land and inventory prices will not go down.
I think the Goregaon project is a big contributor to cashflows and from what I know, this 'ODC' (as they market it) project is stuck since a really long time. Sunteck bought one parcel of land in 2010, and the second in 2012. To their credit, they got the land cheap. However, the cashflows from that project haven't been as projected for a variety of reasons. You might want to go there, do a site visit, talk to their sales staff, go to nearby projects and talk to a few brokers as well. Also speak to institutional real estate brokers such as Jones Lang, CBRE, for their view etc. At the very basic, do pose as an investor and speak to Sunteck and find out the status of the project and why there is delay. Along side, you might want to research on the management as well. Do they have any subsidiaries/related party, etc. Hope this is useful, happy to exchange notes. Thanks very much for your detailed research.
Thanks for the feedback Anupam. I talked to someone who has bought a flat in the Goregaon Project. He had all the positive things to say about the company which i already knew - like their association with Piramal Group, their land being freehold, acquired at a good valuation, low leverage, the premium image etc. Plus he also mentioned that for Sunteck all the payments are through cheque and ZERO through cash unlike a lot of other real estate companies which insist on cash payments.
Will try to talk to the company as well and update.
There is a gr8 deal of impact of demonetisation on real estate cos. How do you see Suntech among others. Does anyone know if it used to take 20-40% in black? If yes, it would be impacted quite a bit. Also, people are expecting real estate price to go down… Does it impact premium segment like Sunteck?
Real estate as a sector has been in a tight spot for a few years now with record inventory in most cities. Demonetisation could not have come at a worse time. While builders will not publicly accept that prices will come down. They have been putting up this pretence for the past few years. But everyone accepts that real estate will be the worst hit sector due to the demonetisation shock.
My opinion is that there will be a correction in the real estate prices precipitated by the shock. This correction is long overdue in some areas and will pave the way for the ultimate recovery. Secondly, the correction in tier 1 cities will be less than those in tier 2 and 3 cities, which is positive for Sunteck and other companies focused on tier 1 cities. Thirdly, the luxury segment will be affected more than the affordable segment, which is negative for Sunteck. I dont know whether Sunteck used to take money in black. But the question is not that important. Let us assume that Sunteck did not take any money in black. But there are other builders who accepted black money and will be forced to cut prices now. This will affect Sunteck equally as they are part of the same market and will not be able to keep prices elevated in isolation.
Let me also give my personal opinion on the demonetisation as well. While the intentions behind this whole exercise might have been noble, but i think the implementation turned out to be shoddy. Black money is created everytime someone does not pay the taxes to the government - for example when businesses underreport profits or when someone earns money from illicit activities. This tax evasion by various people and businesses through various activities acts as a fuel for building up the stock of black money. This stock of black money in the economy sits in various assets - majority in real estate, gold and foreign deposits and approx. 6% in cash. The current demonetisation will destroy a portion of this stock of black money but it cannot be more than 6%. But if we do not take away the fuel, the stock will again start building up.
Taking away the fuel means building an efficient tax machinery. A lot of people are under the misconception that a cashless economy will automatically eliminate the black money from the country. While India is very far from becoming a cashless economy. But even if it did, unless we build a sophisticated tax department capable of tracking tax evasion, the fuel will continue to fire the black economy. This is painstaking work which requires meticulous planning and effort. This is not something which can be achieved overnight and will take time. The government which has a flair for the dramatic has taken the easy way out. Their hope is that this shock and awe technique will somehow eliminate black money from the economy. Because the alternative is taking lots of small steps the result of which will not be apparent for a few years. There is no glory in that unfortunately.
I think Dr. Rajan was right when he said that rich will find ways around demonetisation. This exercise might provide a one time boost to the RBI (reduction in liabilities) and we will see how the government uses that. It will also increase the deposits at banks and consequently bring down the interest rates. But what will that achieve? The rates are already down and the companies are still not borrowing. I hope the cost of this step is not more than the benefit but i'm not sure of that.
Finally we will have to wait and watch if there are more weapons in the government arsenal. They might specifically target builders and go after them systematically. (There are hints that govt will go after the buiiders and the jewellers.) That will be good for the long term sustainability of the sector but very painful in the short term. It will further prolong the agony of the sector. It is probably a bit early to access the damage caused to real estate as we do not have the full picture at this stage.
What is source behind 6% as black money share in cash? Looking for some info on its distribution
This is the figure which is widely reported in the media, not sure of the source.
Interesting commentary from Management :

Disclaimer : Invested & 7% PF.
Which media reported it? Any link or video?
Don't you feel 'project completion method' is one of the reasons for stock to trade at discount ? So, if I got it right, an investor has to wait for project to complete to reflect in earnings. After years of waiting, if any black-swan event (like DeMo) happens he will be at a complete loss.
@csteja post applicability of IND AS Sunteck has also migrated to Percentage completion Method. I think apart from general negative sentiment around real estate sector, market price of Sunteck also reflects the concern that their high ticket size inventory may not monetise soon.
I met the management recently, and had a question related to their rental incomes…so they said we are building one commercial place in bkc and one in odc which will help them book regular rentals. Which is indeed a good sign. Also they have no plans to open any malls…but might ne interested in opening a food joint.
Are fellow VP members till holding Sunteck after the sharp rise last month? @KUNJ @dhruv1992 @sreedharm
I'm having trouble analysing a fair value exit price
Hi Kashif,
Can you please share which website you got the company data for all these companies in an excel sheet? Thanks.
I have taken all the figures directly from the annual reports of the respective companies. Since i have done cash flow analysis, these figures are not available readily on any website. So i had to use the brute force method