Sun TV Network Limited, which started off as a TV broadcaster, is a media conglomerate with interests in TV broadcasting, DTH, radio, movie distribution and also owns an IPL franchise. Its TV presence is through 33 channels across 4 southern states, with pan India radio network through its partnership with Red FM. Among media companies in general and TV companies in particular, Sun TV network has had stellar financials in last many years –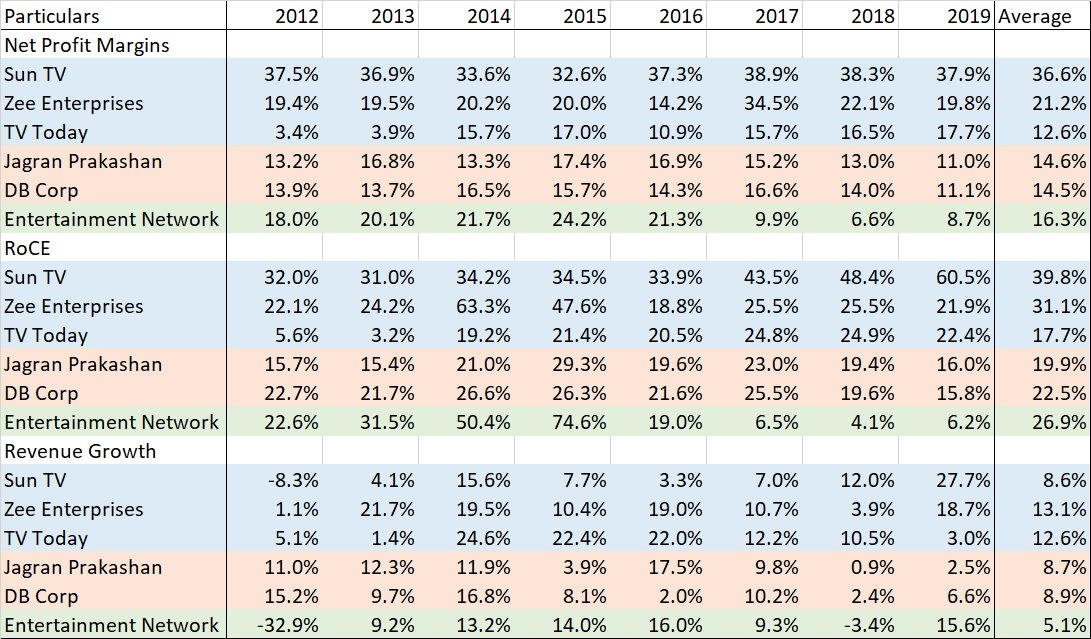 Sun TV offers below bouquet of channels -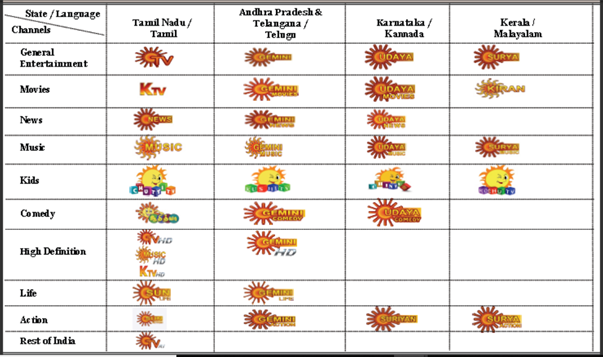 Company has had interesting origins. Its promoter, Kalanithi Maran, is a nephew of M Karunanidhi, the late patriarch of DMK, one of the 2 main regional parties in the state of Tamil Nadu. Sun TV started its operations at the time when channels were broadcasted to viewers through cable TV. Channel broadcasters would give channel feeds to MSOs (the regional cable operators) who further rent these feeds to the local cable operators responsible for connecting individual households.
Cable TV business at the local level in densely populated areas of top cities / towns had largely been an enterprise with criminal aspects like strong arm and meaningful links to the local politicians. Same ingredients made a local operator as profitable as Buffett owned CapitalCities – significant operating leverage. Cost to the local TV operator to add a household was near zero since all he had to do was attach a wire to the existing feed, with MSO having no way to determine the actual number of viewers since cable feeds, like airwaves could be reshared indefinitely. Residents got cheap cable and a cable operator got fat profits, with the loss borne by the preceding value chain – MSOs, broadcasters and content producers. This was the genesis of digitization (set top box essentially tracks channel feeds)
Keeping the above in mind, its only with a sense of wonder that one starts to appreciate how Sun TV upended this model to create wealth. Apart from the listed business, promoters of Sun TV also own Tamil Nadu's largest MSO Sumangali Cable. Although financially not large, Sumangali Cable serves as a critical platform for Sun TV, since through its MSO, not only is the company able to keep a leash on the local cable operators, but it also accords preferential treatment to channels under Sun TV, and is also alleged to have resorted to unfair means for this preference. This resulted in Sun TV, the flagship channel, having a numero uno position in terms of viewership in all of India, since it was the recipient of the best content in Tamil and other south Indian languages along with getting its pick of the regional movies in the form of perpetual licences (11,000 movies in library)
This can further be illustrated by its business model – for the longest, Sun TV was the only network that followed private producer (PP) model, whereby it charged a fixed fee to a content producer for a slot on the network, with the content producer taking the inventory risk as the advertisement revenue went to him (30minutes programming / 3mins ad slot). Its only recently that Sun TV has pivoted to commission model, followed by the industry, where Sun TV buys the rights of a show outright and profits through advertisement revenue. This move is also an indicator of growing competition among TV channels in the south markets.
A cable monopoly cannot function without political backing, and political upheavals have had a major impact on its cable operations (non listed part). Due to a family spat, DMK, heading TN government brought about its own cable company called Arasu Cable in 2008, looking to nationalise cable television (like it did with alcohol distribution) and get even with the promoter family. Arasu Cable was shut after the spat ended but was again revived in 2012 after the AIADMK, the main opposition party came into power and looked to undermine Sun TV cash cow. However, Arasu cable has not been very successful due to factors like high tariffs, low local operator participation and delay in licence from Central Government. Political risk rose to its peak, when in 2015, the Central Government refused to grant security clearance to all Sun channels citing a criminal probe on the promoter on the 2G scam.
Even operationally, with digitisation and DTH, there has been a fillip to the entry of national players in regional TV, Sun TV's market share has been declining over the years.

Source – MOSL report dated 12 Feb 2018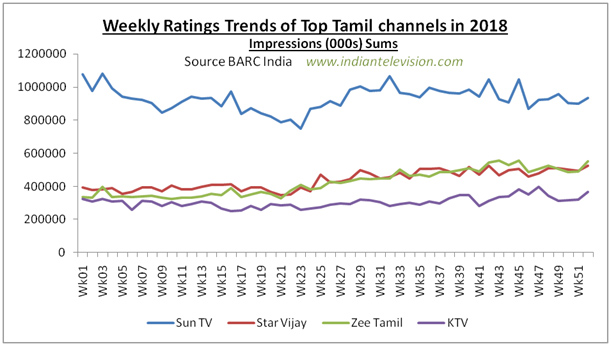 Gemini TV belongs to Sun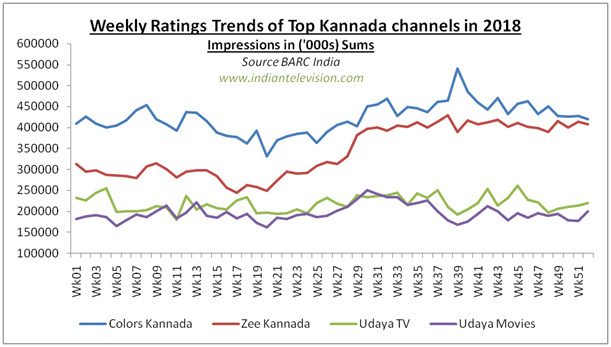 Udaya Channels belong to Sun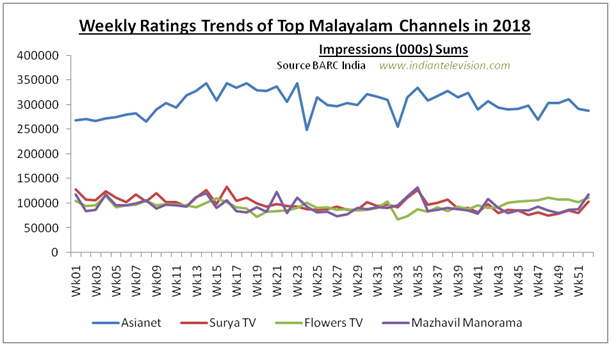 Surya TV belongs to Sun. Source: 2018's most watch South Indian channels | Indian Television Dot Com
As a reader, one might raise a pertinent point – with its presence across 4 states, why do we analyse the TN business in depth? Sun TV does not report state wise or segment wise details, and based on the ad rates and domicile, it appears that Tamil operations bring in much larger share of revenues –

The above are dated charts from an LKP report from Mar 2014 and are added to highlight the differences in ad rates across markets.
Does Sun TV Network have a competitive advantage? TV broadcasters employ economies of scale whereby the largest broadcaster can out bid competitors for quality content (show/movie rights), thereby attracting more eyeballs and larger adspends. The scale kicks in not only in terms of fixed programming costs but also the yield in advertising characterised by increased ad rate per slot. However, more money does not necessarily translate into better content, and since prime time is centered to 8pm – 10 pm slot in India, there are mostly 4 shows that drive channel viewership.
Sun TV, through its own cable, DTH (Sun Direct), movie production as well as political backing had an incredible control over its entire ecosystem / distribution which now seems to be waning with onset of DTH and national competition. The moat of a business is always shifting, and in case of Sun TV, it appears to gear towards erosion owing to its distribution losing relevance. We have not even considered a movement towards streaming where the content becomes more important than distribution, already upending broadcasting businesses world over, since a household in South India watches television for 4 hours and 14 minutes everyday, 77% of which is movies and serials. Further, while advertisement revenues have been lacklustre, subscription revenues are on the rise –
Source – Annual reports, All numbers in INR crores)
The IPL Foray – Unlike diversification in unrelated businesses, Sun TV Network's IPL foray seems to have worked out well when it purchased the Hyderabad franchise in 2012. As per the purchase consideration terms with BCCI, Sun TV paid out 85 crores for the first 5 years, post which the payout is 20% of the franchise income for next 5 years. Based on the renewal of sponsorship –
| Sponsor Name | Rights | Amount | Excess over previous |
| --- | --- | --- | --- |
| Star TV | Telecast and Digital | 16,300 crores | 3x |
| Vivo | Title | 2,200 crores | 4.6x |
A minimum of INR 150 crores (21 mn USD) per franchisee is expected to be shared by BCCI which makes almost all teams profitable. Combined with gate tickets and sponsorship revenue, with no fixed fees, SUN TV's IPL operations have turned profitable from 2018 (loss making for first 5 years). Company has already expensed out the INR 425 crores [85 crores * 5years] (60mn USD) fixed fees, so with no capitalisation of costs (as observed in United Spirits Ltd.)
Sun TV is often called out for the large payroll made to its promoters – 176 crores (25mn USD), which takes out 5% of its sales and 11% of its profits, but the question I grapple with is – can company's current scale help it flourish without its promoter backing? With the realization that its competitive advantage is on the decline, even at the valuation below, I would be very sceptical of owning a stake in the company.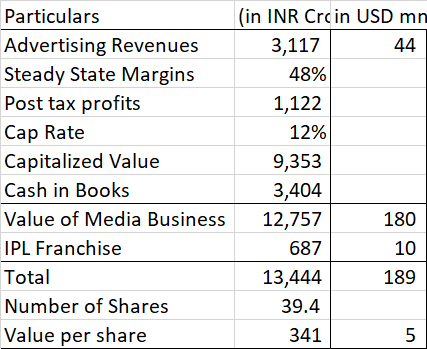 I hope the long read has been rewarding for you. Feel free to get in touch in case of any feedback or data. Happy Investing!
I write thesis like this here -