Hi All,
A quick intro: I am a software engineer working for world's leading fin-tech company. I am learning and investing in stock market from last 3-4 years, started as a mutual-fund investor and now i am in purely stock investment as we have better control here. Due to my work and busy schedule i want a portfolio which don't need much manual interference, a typical coffee can type. However i quarterly review it.
I am only betting on certain sector/theme which i think could be future proof. I believe in concentrated investment.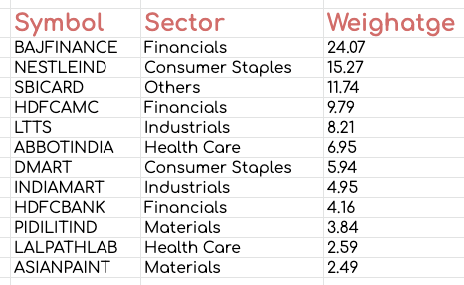 Rational for each stock-
BAJFINANCE - A fintech company which understand retail capital demand for unbanked.
NESTLEIND - Coffee can FMCG play, innovative and market leader products.
SBICARD - consumer spending theme (high growth and SBI backing), only listed player.
HDFCAMC - financialization theme and they are most profitable in that.
LTTS - An upcoming industry what IT was in last decade.
ABBOTINDIA - A domastic pharma play (similar to fmcg). No USFDA issues.
DMART - A retail shift from unorganised to organised.
INDIAMART - Internet company in B2B domain also a market leader.
HDFCBANK - A banks which knows how to manage risk. Fee income is cherry on the cake.
PIDILITIND - Monopoly in adhesive and also they are entering in new segment (some strategic investment like pepperfry)
LALPATHLAB - Healthcare is a necessity and they are playing well with technology.
ASIANPAINT - A well run professional company, entering in new segment while maintaining their position in their core segment.
I would request members to give me their advice/suggestion for the portfolio shared above.