This stock showed up on one of my screens on screener.in (well thanks screener.in founders - it's a lovely website now that I'm playing with it).
What Company Does?
The company is a subsidiary of SPG Prints, Netherlands which is a leading company in textile and graphics printing worldwide. Stovec Industries was established in 1970s. The company manufactures various machine + parts for the textile printing, graphic printing and sugar screens.
The company is leader in India in the sector of Rotary Screen Printing. They also have products that cater to Digital Graphics Printing markets and Sugar Screens. They have a manufacturing and R&D facility in Ahmedabad. In 2014, they acquired Atul Screens Private Limited to augment their market share in Sugar Screens Business.
More on Products
Rotary Printing machines for Textile printing
Rotary Screens and Chemicals for Textile printing.
Both of the above can be found in following videos.
Kitex Garments factory (3.06)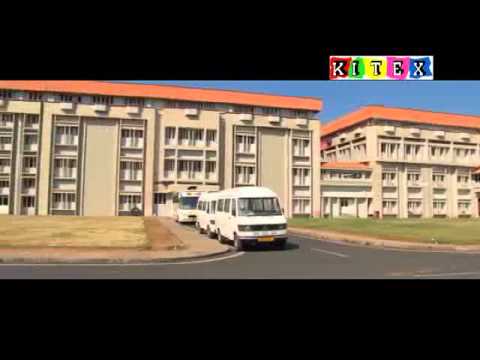 Rotary Printing Process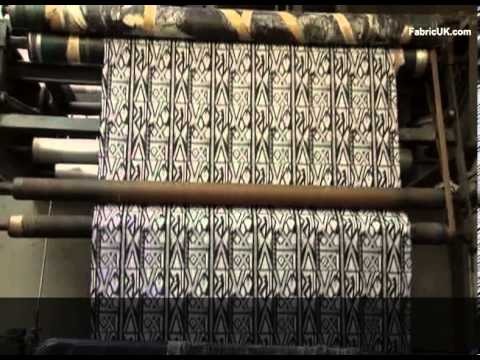 More links can be found upon googling.
Accordingly their major customers are Textile Manufacturing Companies, Packaging/Label Printing, Sugar Mills.
India Center
Ahmedabad centre is mainly involved into manufacturing of rotary screen prints, distribution and after sales support.
Competition
I do not have a clear-cut picture of competition as well as Industry scenario. This is a TODO item in upcoming days and I am looking for inputs from fellow VP members.
Just a quick search on IndiaMart shows up following companies:
Sunshine Engineering, Surat
Jay Shree Shakti Engineering, Ahmedabad
Ganapati Enterprises, Mumbai
Muso Hitech Systems, Ahmedabad
Roopa Engineers, Ahmedabad
I have no idea whether these guys are manufacturer themselves or they just import and distribute in India. If fellow VP members from Ahmedabad, who are interested, can do some scuttlebutt - that would be a great learning.
A Look at Numbers - Standalone
Sales and Profit


Source: Moneycontrol
Very good set of numbers last year.
Cash Flow: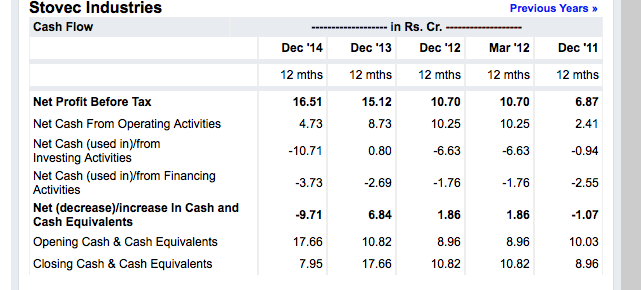 Source: Moneycontrol
Operating Cash flows have declined in Dec'13 and Dec'14 even though net profit has increased and that remains a matter of concern.
Inventory increased from 0.91 Cr to 8.77 Cr from Dec'13 to Dec'14.
Trade receivables increased from 0.95 Cr to 6.52 Cr from Dec'13 to Dec'14.
Both of these are matter of concern as well.
Ratios:

Source: Moneycontrol
Company has been regularly paying out dividends, there is no debt on company. Promoter holding is 71% and No equity dilution in last 10 years.
TTM Net Profit is already 14.85 Cr., a growth of 33% YoY. Stock is trading at 24 TTM P/E (Relatively expensive).
A Look at Numbers - Consolidated

Source: Moneycontrol
The delta between the standalone and consolidated is the contribution of Atul Sugar Screens Pvt. Ltd. Atul's business seems to be of lower quality compared to Stovec's core business.
Consolidated cash flow numbers and capital ratios also take a hit on consolidated basis.
Product Share


A Word on MD
Mr. Shailesh Wani is the non-promoter, managing director of the company.
He is an alumnus of VJTI, Mumbai (which is my alma matter as well) which is a top college in Mumbai.
The company is paying him total compensation of 1.15cr+ and a special resolution was passed this year. He is not directly related to any of the promoters.
This might be interpreted in two ways.
This might be an indication that they have found a good MD who board feels confident that will take the growth forward.
Or some competitor tried to snatch him and board had no option but to raise his compensation.
Views Invited.
Thanks,
Rupesh
Disc: Not invested, might buy on declines.