Sentinel Tea and Exports Ltd (STEL) was incorporated as Public Ltd Company in 1991.The Company is a part of RPG Enterprise-one of the largest business conglomerates in India. The name of the Company was changed to STEL Holdings Ltd in July 2011.
The Company currently has investments in RPG group companies.
Value of holdings in quoted companies are as below -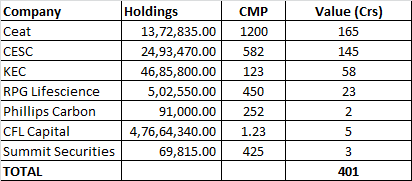 Holding in unquoted companies -
1,70,000 shares of Doon Doars Plantations (Kolkata based) 100% subsidiary of STEL Holdings.

10,57,135 shares of Spencer & Company, 25% stake in Spencer International Hotels like Taj Westend, Taj Connemara, Taj Savoy. (should be at least 100 crs)

30,00,000 shares of Noida Power Company (20% stake) which operates in greater Noida.

375000 shares OffShore India Ltd, which holds some group company shares.
Valuation - Valued of listed + unlisted = 400+100 = 500 crs.
Value per share = 500/1.85 = Rs.270 (O/S Shares 1.85 crs)
Generally, holding companies trade around 30-70% discount to their fair value. In we calculate at even the lowest of the band, the fair value of the share should be around Rs.81.
Trigger - Few of us might be aware that Spencers IPO is in preparation, the company might remain in limelight since it holds a sizable investment. The company has recently touched Rs.69 and is presently quoting around Rs.50 due to overall correction in the market.
Hence I believe its a perfect time to study the company, Rs.33 seems to be the consolidation level for the company.
Disclosure - I have invested 0.40% of my portfolio in this company at Rs.67 and might look to increase exposure to 1-1.25% of my net portfolio around Rs.40-35 level (SIP). Please note this is not a buy recommendation. Would re-evaluate the company once again after 12-18 months or upon Spencer IPO whichever is the earliest