Company came out with encouraging set of numbers. There was not only y-o-y growth but also q-o-q growth during the quarter. The analysis of the same is given below: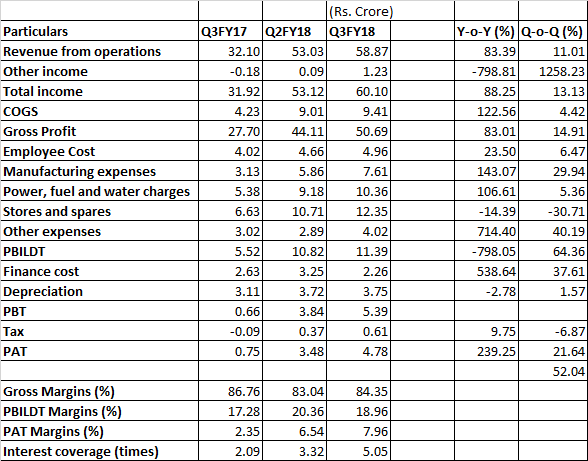 One other surprising announcement was given in the notes of the result:

Disclosure: Invested from lower levels
Rating Upgrade for STEELCAST
Care Ratings just upgraded credit rating of Steelcast Ltd due to robust growth, future outlook visibility, margin improvement and reduction in gearing ratios.
Steelcast Limited-03-07-2018.pdf (402.2 KB)
Disclosure- Holding Steelcast from very lower levels.
STEELCAST is taking part is Defense Expo 2018, Chennai (Source: http://defexpoindia.in/Country-Wise-Search Sr. No. - 613). If anyone planning to attend the expo then please give an update regarding the capability of the company in the defense sector.
Good set of results.
YoY
Revenues up 30.2 percent
Profits up 28.75 percent

Can anyone tell, will this news impact positively or negatively to Steel Cast?
hello @ayushmit / @hitesh2710,
Steelcast emailed their FY21 annual report a few days back. There are some interesting and surprising insights.
First below is the volume and sale breakup on a per ton basis from FY10-22E

I had attended their 2020 AGM, some pointers attached
Steelcast AGM - 2020.pdf (107.3 KB)
Management last year spoke about expected turnaround with progressive quarter to be better than previous and has panned up so far.
This year, surprisingly, the company has provided their guidance on what FY22 would look like on segmental basis.
Annual report FY21 (Page 65)
If they were to achieve the same, it would be their highest topline ever. This is the first time, management has come out with some precise numbers indicating breakup of domestic and export of their businesses.
Also, there has been significant (2% hike) promoter buying in June 2021

i think despite their best expected year in terms of topline for FY22, their capacity utilisation would be ~50% leaving plenty of scope for demand uptick going ahead
EBITDA margins look like they will be able to maintain 20% in FY22 despite hike in raw material costs due to operating leverage benefits.
With mining, construction and earth moving equipments segments expected to do well in both India and abroad over medium term, the company looks to be on a right track for achieving a good performance.
Are you still tracking the company? Any views on the same.
Their 2021 AGM is on 9th August and hopefully the management provides some more updates on these lines.
Regards
Rohan Pinto
Disclosure - I continue to hold Steelcast shares.
Thanks for reviving this thread.Steelcast is definitely fascinating.I don't know of many companies that can do 20% EBITDA margins while operating at only 25% capacity utilisation. Company's gross margins have been consistently north of 70% over the last decade.Again,very few manufacturing companies that can boast of such GMs especially at Steelcast's size.However,they have been able to report sales growth only in 5 out of the last 10 years.This makes sense though given the deep cyclical nature of their business and economy facing companies not exactly having a dream run in the last many,many years barring an odd 2017.
I am very certain that if the company is able to achieve the guided revenues,the EBITDA margins will be much better than the 20% in FY21 purely on account of serious operating leverage.Q1 will be the litmus test but seeing that the AR came out in July,company should've been able to do decent volumes in the first quarter as well.Eagerly awaiting the AGM.
Disc.: Invested.Views are biased.
Company has uploaded this to the exchanges,gives a very good rundown of their processes,plans & capabilities.
This is their first ever investor ppt afaik.
Steelcast AGM was held today at 4 pm.I don't know about others,but my viewing was hampered by lot of lag.This is what I could gather:
→ In their business,as company gains more scale it gains more clients.Company now has 30-35 customers now vs. 10-12 a few years ago.
→ Company faces a lot of competition since India has over 300 foundries.In exports,competition from Brazil,Western Europe.
→ Entered North America railroad biz in order to reduce cyclicality of the business.
→ From prototyping to design takes 12-15 months(or was this for client approvals?)
→ Operating at 50% utilisation currently and can do 500 cr revenue in 3-4 years,if all things remain stable.Will take a call on capex next year.
→ Company has the best available processes in the world and is doing it's best in these tough times.Don't foresee further cost/efficiency improvements from here.Plan to do 100-110 parts over the next few years(couldn't get the current number)
Most investors seemed unhappy at the 'low dividend' in FY21.They said some loss making companies of Mumbai are also paying dividends so a co. like Steelcast should've paid more!
Company reported a good set of results as well today.Revenue has remained largely stable qoq inspite of cyclone impact and large absenteeisms at plants in Q1.Margins have improved.The most interesting part about these results is the 80% fall in interest cost on a quarterly basis.Company re-iterated today that they will be net debt free in FY22.
If anyone else attended the AGM please feel free to add/correct.
Steelcast has reported strong set of results:
Revenue: 77 cr. vs. 35.5 cr,yoy
EBITDA: ~18 cr. vs 8.1cr,yoy
PAT: 10 cr. vs. 3.5 cr,yoy(FY21 PAT was 12 cr.!)
Interim dividend of 1.35/sh is a pleasant surprise.Given the company's guidance of 300 cr+ revenue in FY22,Steelcast will need to do ~170 cr. in H2 or a run rate of 85 cr.+ in the upcoming quarters.It doesn't seem like too much of a stretch.One interesting aspect in the B/S is a significantly higher CWIP.Since company already has enough idle capacity,I don't think any of this would be going into new capex.Maybe the investor ppt will give some details.OCF has taken a big knock,however the same trend is visible in multiple larger companies so it doesn't seem to be a company specific issue.Stock has been rock solid in the current turbulent markets and is trading almost at ATH.The results justify the move imho but stock might trade sideways in the short term.
Disc.: Invested.Views are biased.
This is big,though still sometime away:
Steelcast ltd has reported good set of Q3 results.
Revenue 79 cr vs 44cr YoY increase of 80%.
EBITDA 11.4cr vs 4.7cr up by 142%.
Ebitda margins at 14% for Q3.
Operating profit margins around 20%
PAT increased to 8.5cr vs 3.7cr yoy.
company has been reporting good set of results during last few quarters and maintaining operating profit margins around 20% despite increase in input cost.
Notes to results mentions margins may improve in following quarters as price variation provision already in place with customers.
Discl: not invested, under watchlist.
Steelcast held it's first investor call yesterday. Some highlights:
→ Company ended the year with 302 cr revenue vs. 158 cr,almost in-line with their AR guidance.This was inspite of an adversely affected Q1.
→ Volumes of 13,800 T vs. 7,100 T in Fy21. Thus all growth in Fy22 was on account of volume growth.Company is now at 46-49% util.
→ Company has pass through clauses but there is a lag effect. Apart from RM pressure,company has had to bear severe jump in logistic/freight related cost. In the process of negotiating some hikes related to this as well(may or may not happen)
→ LT debt is now 0,ST debt is only on account of working capital.Will stay this way.
→ All production is custom based designing. Only 5-6 plants globally doing the kind of work Steelcast does.Company is a beneficiary of China+1 and see the trend continuing.
→ Global market size is 400,000 T and including North Am railroad it's at 510,000 T.The North American OEM railroad order will start to ramp up from Fy24,minor contribution in Fy23.Global opp for Steelcast is very big.
→ Sitting on an order book of 200 cr.Order pipeline is so strong that orders keep coming and keep being executed so net net company expects this order book will stay constant through the year.
→ Mr. Rushil Tamboli wants to start his own venture & thus resigned.Mr. Chetan Tamboli is the only family member handling day to day activities.His daughter is a passive member.
→ Since the production is custom based and mostly exports,there is a lag effect between finished inventory and when it's shipped.Thus inventory is on the higher side when demand is good.Company expects reduction in WC by 20% and strong cash flows in Fy23.
→ Investing via SPV in a renewable power project.For an investment of 4.5 cr,guaranteed savings=6 cr.Company expects savings to be north of 7 cr/annum.18 cr power plant coming up for capitve consumption which will help reduce power cost substantially.Some spending in Fy23 also for balancing equipment.
→ Greenfield will take 2 years from time of development.So if conception starts from end CY22 then by CY24 the plant will come up.Company mentioned that they expect 85% kind of cap utilisation by FY24.
→ While there is no seasonality in the business,every quarter shows an uptrend.So revenues rise with every passing quarter.Company expects a better Q1 vs. Q4.
→ The operations are labour intensive,company has 1450 employees.
Overall,Mr. Tamboli seemed very upbeat on Fy23 and repeatedly said that Fy23 will be "substantially better" than Fy22.While they didn't mention any concrete numbers,85% utilisation in Fy24 implies solid 25-30% volume CAGR.Some participants also asked about previous times when mgt was similarly confident but things didn't materialize.Mgt said they now have orders in hand so current confidence is based on actual visibility.If one notes then inspite of serious volume growth,the benefits have not flowed to the bottomline(only 100 bps EBITDA margin expansion) Fy23 could be the year when this happens.
Disc.: Invested.Views are biased.
Thanks @sharemarketgen_ for notes and spotting opportunity.
Good presentation by company along with concall, appreciate efforts on company part.
This is a proxy to capex cycle as capital good play. Given good notes above on upside and potential , will focus on how company has evolved and better equipped and risks side.
A quick look on last 10+ years history shows two key attributes- cyclical pattren in end industries and impact on Steelcast, lookmat 2014, 2015 time frame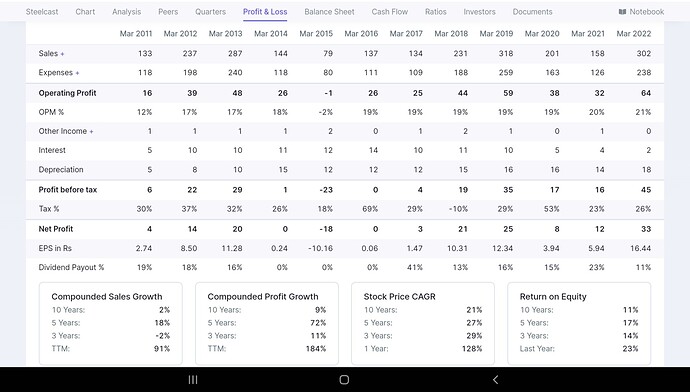 And AR from same period and management commentary when businnes nearly colapsed, rish when capacity was expanded as well. Double whammy.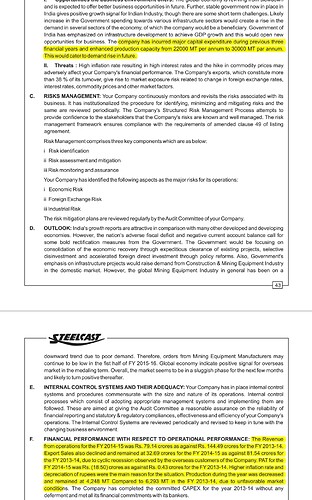 Here is another view depicting cyclical extremes over last decade, as well as current stage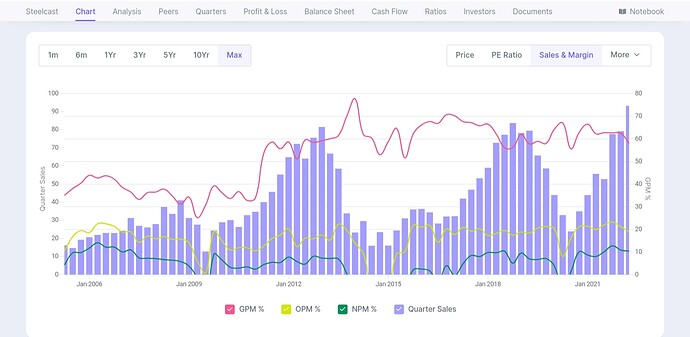 Now coming to what has changed as we look ahead from here
Key aspect being much stronger balance sheet, debt free outside short term WC borrowing
Sitting on huge operating leverage with sub 50% utilization and strong 200 cr order book, which will stay at similar levels per mgmt as new orders keep getting added, a good lead indicator
Protected margins despite RM inflation, one interesting aspect mgmt called was - qtrly contract reviews and price revisions, even though end clients are giants. Though not discussed in call, their plant location being in vicinity of India's largest shipyard salvage region likely helps, as RM is scrap.
Both opportunity size expansion and risk Mitigation by securing US railroad annuity contract.
While mgmt hasnt included any defense projects( India) but believe some traction in future.
One interesting aspect is sales realization has been stable over last many years( no gains/hit if metal prices move either side ), broadly 2L per ton to 2.25 L per ton.
FY 14 6300 MT, 144 cr
FY 15 4250 MT , 80 cr
FY 20 8600 MT , 201 cr
FY 21 7600 MT, 160 cr
FY 22 13800 MT, 302 cr
Captive power investment 4.5MW( park based), 5MW( captive), with Extremely high payback, power being a key cost, one can imagine savings when these go live in FY23. Per mgmt can cater to 40% capacity needs.( other exp very high in current Qtr)

Prudent capital allocation by being in wait and watch mode, has enough room now and plan is to near fully utilize current capacities by FY 26. If robust demand, End of CY 22 - call on any expansion to be taken.

China+1 has helped steelcast as primary supplier in many clients.

Orders are mostly customized, heavy labour driven, 6-9 months projects.

Market size is not large enough to make it attractive for big guys, niche players with good balance sheet stands to gain from current cycle. A new factory takes 2 yrs to come live, opportunity Steelcast.

Margin expansion likely with topline growth due to operating leverage
Not so good / other parts
Cyclical history- unless proven otherwise in future, healthy indication with US contract win
High working capital cycle with uptick, mgmt expect it to stabilize soon
Orders going dry abruptly like last cycle in FY 14 , 200 cr order book per mgmt is high quality and demand is robust, diversification efforts on
Next gen of promoter moved out of biz - mgmt was upfront on different preferences and focus.
Steelcast has competition from Indian players ( named in concall simplex casting, bhilai engg etc),
Small opportunity size has both pros and cons (4L ton+ 1L ton Railroad)
Invested
Thanks for the comprehensive overview as usual.
The company had mentioned in it's AGM that India is a very competitive market.On the other hand they said that only 5-6 plants globally do the kind of work Steelcast does.This is very evident in their GMs that have constantly stayed north of 75% over the last decade.So the competitors named might manufacture the same product as Steelcast but not in a similar manner.Thus,the actual competition may be very limited.So global market size of 4 lk+1.1 lk,growing at even low single digits offers a huge opportunity.
One aspect that I couldn't totally understand was the realization part.Any company that passes on costs in an inflationary environment should be seeing higher & higher realizations.Yet that has not happened in Steelcast's case.Note that all revenue growth in FY22 has come via volume growth alone.So it seems realizations are yet to inch higher.I got the sense that this could happen this FY and thus,this should mean volume growth+value growth in Fy23.
Steelcast has reported excellent results-
Revenue 116 cr vs. 52 cr,qoq 93 cr.
EBITDA 24 cr. vs 12 cr.,qoq 18 cr.
margins have expanded to ~21%
Concall was held today. Some highlights:
→ Q1 capacity utilization improved to 53% vs. 49% in fy22.Current order book is 300 cr. and should continue to stay in this range.Expect to end FY23 with 57% utilization.
→ Seeing some slowness in offtake from Caterpillar.Q1 was inspite of that,would've done much better otherwise.
→ Expect margins to improve with op leverage kicking in more.RM has cooled off,EBITDA/kg is constant and won't get hit.Realisations vs. fy22 could drop 3-4% in fy23.All supplies were on ex-work basis so logistic cost had 0 impact.
→ Have enough visibility to continue with quarterly growth.So every quarter should be better on volumes vs. Q1.
→ Being very cautious on new capex,since previous experience has been bad.Greenfield plant will take 2 years to commission.Will decide in March '23.
→ Company has concrete plans to reduce dependence on earth moving,mining segments…expect dependence to fall to 60% vs. 85% currently in 3-4 years.
→ Average selling price is 25-30% lower than competition in Europe & America.Globally,only a handful plants like Steelcast.
→ Seeing good demand in most segments but not chasing just volume growth,focus is on getting good margins as well.
→ Customer engagements are suggesting that Fy24 capacity utilization could be 70-75%.
→ Putting up 2 power plants which will take care of 80-90% of the requirement while co will purchase rest from SEB. This will result in significant power cost savings from FY24.
→ RM inventory at 40 days,total inventory at 143 days.
For probably the first time,Steelcast paid an interim dividend and wishes to continue doing so.Overall company seems to be in a sweet spot with little pinch from US/EU slowdown so far.
Disc.: Invested.Views are biased.
Steelcast came with good nos. Tracking position