Hi Value Pickers,
Thanks for all of the members here. Due to all of you only i am able to put this thread here. Request you all to read patiently(Just treat me as a little crawling baby learning to walk)
I am 31 years old working in IT industry in delhi. I am single now(divorced) and plan to spend my rest of life like that only.
I started my investment journey in 2018(due to hype) and burned my hands as most of us who started in 2018(Reason being my investments were news tip based). Thank god i started with (<5% of my networth), so not a lot of damage.
The loss made me more attracted towards market and i started studying more about markets(investment blogs, various valuation models, annual reports, concalls bla bla bla and of course valuepickr). Resulting in information paralysis and not able to invest anymore. For last 1 year i have only got rid of all my 2018 junk holdings.
My investment target is:
Keep the principal safe even if returns are subdued.
Better returns then FD (target between 15-20 %)
My current investments are:
30% in own_house+own_car
65% in FD
5% in mutual funds (large cap 60% and multicap 20% and smallcap 20%) with continuous sip
My investment theme now is(After whatever i have gained knowledge and all):
Wait for a market crash/deep correction and then only buy. (Most important for me)
Keep sitting on cash however tempted you are unless there starts a sale and everyone runs out of market.
Invest in companies with good financials and good cash flows.
Invest in no debt companies with good corporate governance.
Never invest in high PE companies.
Don't put too much effort in exact valuation (If i do that much i am never able to convince myself to buy that)
Never invest in lumpsum (invest in sip mode)
My plan is to convert my half of FD investments (Not in a hurry), only when sale is there else cash in FD is better. Based on my above investment theme following is the list of companies i have started putting money. Request your valuable feedback here.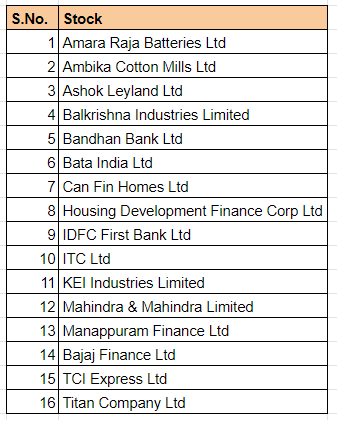 -Sonia