I came here to find out if someone knows the answer. I suspect this has something to do with Blackrock.
Blackrock exited at a healthy profit and wanted to share a part of the profit with a few key employees, as a thank you gesture. Its not a negative or a positive for the stock and probably doesn't impact price action at all. This is my understanding.
One reason for price correction may be because of Europe/US slowdown. They have 5 customers in Europe and 4 customers in US and the orders may get delayed due to the slowdown.
Ive been invested patiently, in Sonacom but today's further Dip just got me to exit my position for now. Shifted my amt to Sandhar, which also an Auto Ancillary… going to track Sona and look at how things pan out from here…
Do we know who those 9 customers are? I see that they claim that top 3 customers give 45% revenues and their top 10 customers 75%+ revenues.
"Company's global OEM customer portfolio includes a Global OEM of EVs, a North American OEM of PVs and CVs, Ampere Vehicles, an Indian OEM of PVs, CVs and EVs, Ashok Leyland, CNH, Daimler, Escorts, Escorts Kubota, Geely, Jaguar Land Rover, John Deere, Mahindra and Mahindra, Mahindra Electric, Maruti Suzuki, Renault Nissan, Revolt Intellicorp, TAFE, Volvo Cars and Volvo Eicher. They also serve selected leading Tier 1 automotive system suppliers such as Carraro, Dana, Jing-Jin Electric, Linamar and Maschio."
Found this from their IPO note: https://www.lkpsec.com/Admin/Research/637590324079590621_Sona-BLW-Precision-Forgings-IPO-Note_LKP.pdf
I have simple question, how reliable if order book as a metric. Can a company today show that it has received orders but in future say orders got cancelled? This is a general question, Can management of any company be trusted to reveal the right order book size?
One thing which makes me skeptical is having close to 664crs of intangible assets out of which 175cr is goodwill…common sizing the balance sheet says 25% of the assets are intangible.
Another thing witnessed in independent auditor report is they capitalised technology development cost(rnd exp.)which shows aggressive accounting.
Ps: screener and actual balance sheet of the co. differs in figures of intangible assets
One way of investing is to find out themes which are successful in western countries, sooner and later come to developing market such as India. India many times pick up trend better then developed world, such as telecom/data revolution/consumption.
I estimate, same will be true for EV trend, once EV is at par with ICE in terms of price, there is no looking back.
Disclosure: Invested
Was Going through the Craftsman Automation Q2FY23 Earning call and there is an interesting observation by the MD and I am sharing Verbatim here as i couldnt find the Craftsman Automation thread ( Mods please move to appropriate Thread if needed or delete )

Since they are into Aluminium Die casting business , i am not sure if Sona is also operating in this Particular segment but still its insightful observation on the overall EV theme ,hence sharing :
Craftsman Automation --Q2FY23–Earning Call Snippet on EV Aluminium parts mfring --17th Oct22 :
Q : How are we looking at Aluminum business for EV 2Wheelers? –
'Early this year, we got orders from start-ups in EV --some are under development, some are under trial production now but overall the no.s are not very appealing for financial results, so its a long way off from Minimum economic scale of this business to be fruitful as a co. so whatever revenue in Q2 for 190Cr in Aluminum business doesnt carry any EV portion for it. We have factored in EV sales from Next Fiscal even though we will start from Q3FY23 onwards.
–We are aggressive to take critical parts , not interested to take simple parts on commodity pricing & at automotive pricing we need automotive no.s so volumes. if the volumes are getting split up in 10/20 players & the same automotive price we stand to loose so we have to pick out the winners, we have to pick out the volume & we have to get the pricing also right which needs to be much higher because of the lower volumes so there is a challenge there.
–We are not in big development cycle, we have developed lot of EV parts but all parts put together looking at the volume , it doesnt change the topline too much so we are very careful about how much focus we are giving towards the current state.
–Also, the models are evolving as these models been designed in a way in the beginning and now when it comes to cost many models are getting redesigned for the cost effectiveness by the start-ups , I think the mature cos will do very good design to start with itself & you can see the cost sheet approach which we appreciate & I think the market will mature in the coming years.'
How to check any companies order book .plz guide me.
You can check in investor presentation or annual report
In annual report not showing order book.
Where i got invester presentation.pls guide sir.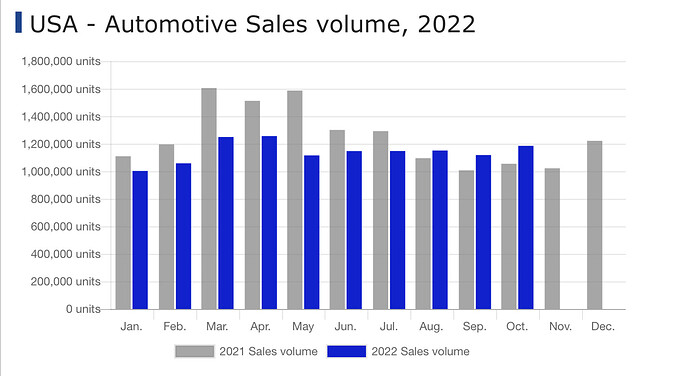 US Automotive sales increased by 11.5% in October wherein both Passenger cars and SUVs and trucks saw good growth.
And even the various European and UK markets are seeing double digit growth. Although in last concall Management highlighted that though Europe sales have recovered back but somehow Automakers are not optimistic on demand scenario but seems demand is coming back gradually.
YoY Growth in October
UK: 26%
Germany: 16.8%
Italy: 14.6%
Spain: 11.7%
While India is going through phenomenal ride as YoY sales has grown by 29% due to festive season.
Things start to look gloomy but would have to see if this trend persist as December is a holiday season in US and Europe so demand may go down.
Disc: Invested and tracking this story for long term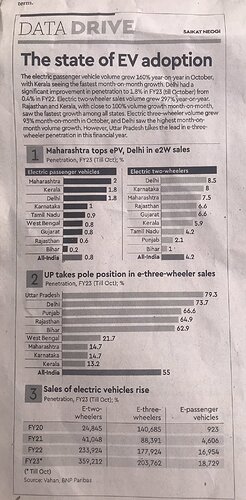 EV adoption has been growing in India in all segments. However, growth is more rapid in Electric 2W over the E-Passenger cars.
Electric 2W adoption is now 4% in India but the interesting point is to note is the growth in absolute numbers which has grown from 24,845 to 359,212 in span of 3 years. Growth is very fast.
Electric PV has grown significantly but on a low base but with the automakers adding new EVs into their list and with the government incentives once it's available at comparatively reasonable price it will be a story of masses.
Electric 3Ws adoption is quite significant. North India being the major contributor although the adoption is in low double digits in South but it will grow with time.
But the good thing is Sona has strong customer base and brand name in all the segments be it 2W, 3W, PV or even CVs which will be beneficial in the long run as this EV story plays out more and more.
Source: FE, Vahan
Disc: Invested, views are biased. I'm optimistic about this EV story and Sona's growth given the Order book size and EV adoption worldwide.
I would say that Sona will still be a low cost producer because they are out of India.
This will be a game changer if executed well!
This has top management of Sona + Novelic