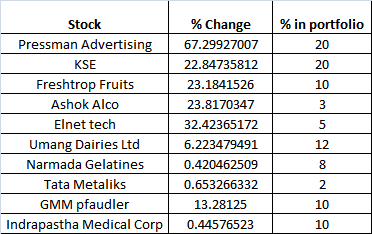 Any particular reason why Tata Metaliks has been included? Also, while Indraprastha Medical Corp is a good business, what is the potential upside and why?
CFO for last three years in excess of 400 Crs, OPM improving…Promoter TATAs…Over hang of merger with Tata steel to get sorted out in near future ( next year may be). As a whole, my gut says i will be able to get decent tax free return. Thats why allocated only 2% ( rounded off) of my portfolio.
About Indraprastha, New hospital in Noida is up and running…nice stable business. EV/Sales lowest in category with nice FCF.
Regards
Why you have posted a photo here? In your profile you have no photo. Looks strange.
Yes, with the huge Chinese overcapacity in steel, I am doubtful if Tata Metaliks will have a decent upside. I quite liked the company, but maybe one can wait till signs of revival in the industry.
I get your point about IMC. Makes sense. However, this rating rationale by ICRA has some red flags.
http://icra.in/Files/Reports/Rationale/Indraprastha%20Medical_R_11032015.pdf
Any idea about number of beds added vs. capacity at Delhi? As per ICRA rationale, its not substantial (just 46 added out of existing 705 beds)
Thanks arallan for the input. Will monitor more closely. Will have to check up capacity addition.
Regards
Hi arallan !
Seems Tata Metalik is on its way up now