Smart Contracts are the bricks using which the internet of tomorrow, Web3 will be built. A decentralized internet owned by the users and builders, running solely on the collaboration of communities that power it. The idea of Smart Contracts was pioneered by American Cryptographer Nick Szabo in his 1996 paper and popularized as Ethereum gained traction.
Ethereum was launched by Vitalik Buterin in 2015 and became the dominant SCP. Its rise began with the 2017 ICO boom and it continued to shine brighter as it served as the cradle of DeFi (Decentralized Finance) and NFT mania. All SCPs are bound by Blockchain Trilemma and cannot be decentralized, massively scalable and secure at the same time.
Ethereum has prioritized Decentralization and Security over Scalibility and has been a playground for whales and institutions as small investors cannot afford to use the platform due to high transaction costs (Gas Fees). This created opportunities for other players to step in and fill the void. Soon EVM clones started to emerge promising faster transaction execution with low gas fees and started gaining prominance as they delivered on it. Ethereum killers were becoming a phenonmenon as innovative chains started developing their protocols such that they are EVM compatible making it easier to deploy DApps and attract developers to build in their ecosystems.
DeFi became huge on Binance Smart Chain as Total Value Locked was surging exponentially. The BNB token, went to the moon as it did a 20x after Pancakeswap and other Dapps were launched in it.
Ethereum was still growing but the newer chains were more attractive for investors as their growth rates were stellar, starting from a low base.
The biggest winners of 2021 turned out to be Solana, Luna and Avalanche (trio called Sol-Lun-Avax) as their TVL exploded and they made their foray into the top 10 cryptocurrencies by marketcap.
Ethereum co-founders Gavin Wood and Charles Hoskinson built their own blockchains each comprising of their own visions for a decentralized future. Polkadot plans to be the interoperable base layer of Web3 while Cardano wants to fulfil its vision of becoming an Ethereum killer.
Ethereum Virtual Machine (EVM) continues to dominate Web3, however that's not everything. Cosmos happens to be another powerful ecosystem that acts as the internet of Blockchains and threats to disrupt Monolihtic EVM architecture with its Modular architecture
Algorand, Near, Tezos, Fantom are also among major Layer 1 blockchains that have made respectable strides in pushing DeFi adoption.
By Q3 of 2022, Ethereum will become a Proof of Stake Blockchain which will improve its scaling by a large margin. The future is multichain, can Ethereum continue to dominate or will it be pushed to the sidelines as Web3 wars heat up.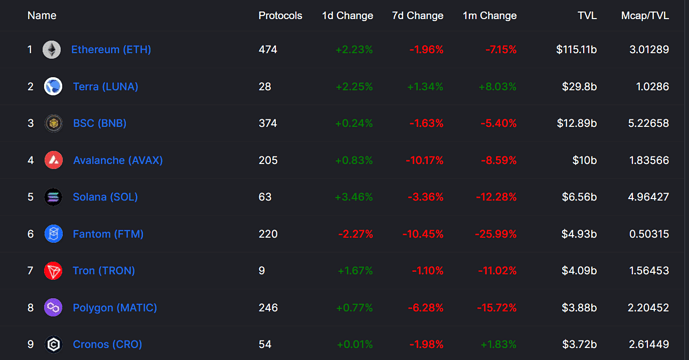 Starting this thread because DeFi and Web3 are too big to confine them to general Cryptocurrencies thread. There's too much instituational and VC money in this sector which presents lots of investment opportunities. I've covered very little here in my summary. Lets use this thread for discussion on the tech, adoption, innovations, regulations, tokenomics and markets as Web3 evolves.
Discl: I have small tracking positions on ETH, AVAX, ALGO and NEAR. More than the money, I'm it for the tech and Decentralization.