Overview:
SKF India Limited, incorporated in 1961, is one of India's leading automotive and industrial products and solutions' provider. This is a subsidiary of SKF AB - parent company brings 110+ years of its experience to the Indian entity.
Has in-depth knowledge in manufacturing a wide range of products and solutions, for various 40+ industries, which include bearings, seals, and lubrication systems, as well as rotating shaft services and solutions for machine health assessment, reliability engineering and re-manufacturing.
• Has 3 manufacturing locations Pune, Bangalore and Haridwar
• Strong network of 440+ distributors
• Promoter Holding of 52% & enjoys commitment of MNC parent

Positives:
Debt free and enjoys healthy ROCE ~>20% 10 years. Spl dividend given so reduced cash balance however has enough reserves and borrowing capacity for any capex

Current Drivers : Industrials & automotives. Both OEM & After sales. Sales Mix : H1FY21: Auto - 40%, Industrial - 53%, Exports - 7%

Future Drivers: REP, Remanufacturing, Railways, Home automation, aerospace, etc.

Well positioned for EV transition (Parent co has proven potential) as well

Recent news show 100% utilisation of capacity ##

Management team seems professional and has been in news recently for good reasons (won few awards)

• Bearing - The Indian automotive bearing market in 2019, was valued at INR 70 billion, and is estimated to reach INR 156.8 billion by 2024, registering a CAGR of ~18%, between 2020 and 2024 .( AR - MDA). SKF India has ~25% market share and is a trusted as quality brand. (So much that its counterfeits is a risk)
• Rotating Equipment Performance (REP) – SKF offers extensive solutions that enable customers to improve their rotating equipment performance, driving business success
• Remanufacturing, a process of returning a used product to its original performance. SKF has deep experience and knowledge to increase average age of bearings and this could grow as a vertical.
• Railways - Indian Railways is entering a high-speed era, reducing logistical
costs and spearheading advanced manufacturing. Several upcoming Metro Rail projects across major cities have piloted and this can open up opportunities for the company.
Financials:
Snapshot of key financial metrics below from latest AR - Given the cyclical nature of Autos and other Industries that the company operates, believe this is well poised for sales and profit growth in the coming years. Also, the fact that most companies are looking for China + 1 supplier can help drive growth in Indian manufacturing that can have a positive impact for company's growth.
Overall increasing trend in EPS although cyclical in nature
Steady operating margins
Healthy return ratios (ROE & ROCE)
List item
Special dividend of Rs. 130 /s ha re in July 20 entailing cash outflow of 641 crore, depleting cash reserves. reflects in drop in Other income as well.
Risks:
• Threat of cheaper imports and counterfeit products eating into market share of the company
• Tepid Auto sector and Industrial manufacturing growth, due to muted economic activity, can lead to subdued demand for products and eventually can lead to underutilization of capacities and decline in revenues
• Prolonged COVID impact with lockdowns can delay future investments of its customers (modernization of Railways, infra investment, etc)
Valuations:
Valuations looks bit stretched compared to peers but in comparison with broader index and auto stocks is bit lagging so can add in dips. Also, commands a premium for MNC parentage IMO.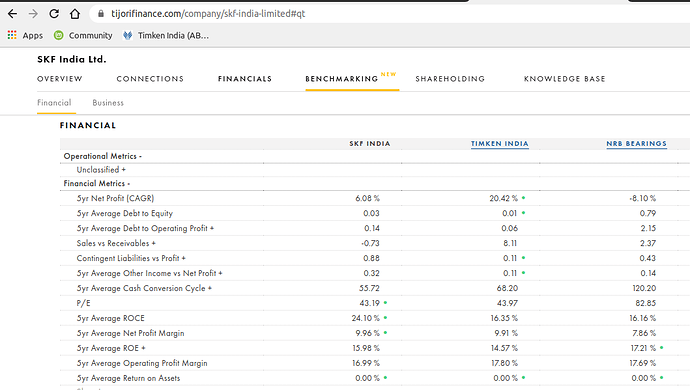 Disclosure : Invested (less than 2% of overall portfolio)
Sources:
recent news on utilization
ICICI Direct report -
https://trendlyne-media-mumbai-new.s3.amazonaws.com/reportPDF/2020-10-29/43937-2435898793ba4037b9e690ed3307335e.pdf?
P.S. This is my very first attempt in publishing analysis of company in VP. Please feel free to add your views to topic. Thanks!