Business Overview:
Sirca Paints India Limited was incorporated in 2006. The company has come a long way since then and has emerged as a premium wood finish brand, which is the leader in northern India. Sirca Paints India Limited has the exclusive tie-up with Sirca S.p.A (Italy) for manufacturing and distributing rights of Sirca products in India, Nepal, Bangladesh, Sri Lanka. The Sirca range includes everything needed to protect and paint the wood and alternative supports used in the furniture industry and its accessories. Due to the premium brand positioning of Sirca Wood Coatings in the market, they compete primarily with high-end wood coating brands like ICA-Pidilite and Asian Paints. Sirca came out with IPO on BSE SME exchange in 2018.
It has entered into a Manufacturing License Agreement with SIRCA S.P.A. Italy for manufacturing the some products in India, under the mark "SIRCA".
Sirca Paints India Limited has successfully commissioned its wall paint manufacturing unit in February 2019, with an annual manufacturing capacity of 24,00,000 Liters, at Rai, Sonipat (NCR). They are also in the process of commissioning manufacturing facility for the production of Melamine, Economical PU, NC Products, and Thinners. This manufacturing facility has been commissioned and management expects meaningful contribution to topline from the facilities in Q4, 2020.
Financials:
Financials of the company has been improving for last many years;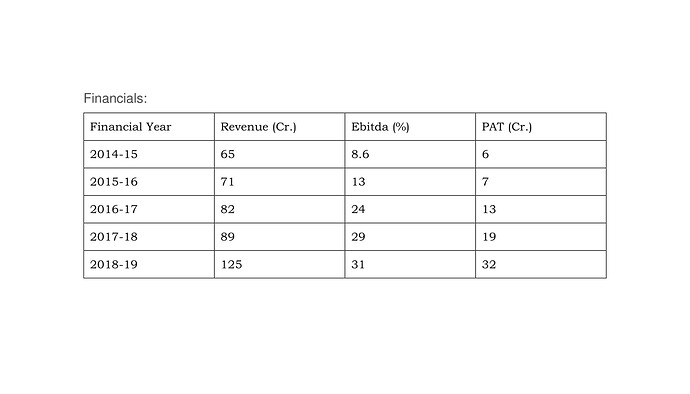 The company is debt-free.
The company has also a good retail/OEM ratio of 70:30.
Investment Theme:
The company is involved in distributing and selling wood coating/finishing products. Earlier the company was an importer and seller of products, imported from Sirca SRL Italy. Sirca SRL is also a minority shareholder in Sirca Paints India Limited.
The company has a 2-decade-old relationship with Sirca, Italy. The company has entered into a Manufacturing License Agreement, in 2018, with Sirca S.p.A pursuant to which the company is setting up a manufacturing plant to manufacture paints in India, under the mark "SIRCA". Sirca S.p.A is also providing the technical know-how for the upcoming manufacturing facility. The company has also entered into a Distributorship agreement pursuant to which they have received exclusive selling rights for Sirca products in India, Sri Lanka, Bangladesh, and Nepal.
In 2019, the company made a sale of 131 crores with a net profit of 22 crores. The story continues in 2020, and in H1 the company has made a sale of 75 crores with a profit of 15 crores. In Q3,2020 sales have gone up by 27%.
The manufacturing facility was expected to start in September 2019. Management has guided that on full capacity, it shall add around 225 crores to the topline. Further, the company is increasing its sales and distribution reach from North India to other parts. Some new products are also being added. The manufacturing facility will not replace the sale of imported products, it shall add new product line.
Trial run for the new facility has started. In H2 results, we may see some addition in topline through the manufacturing facility. On a 30% capacility utilization, in next financial year the new facility can add substantially to top line. The company expects the Sonipat facility to contribute meaningfully from Q4, 2020 onwards.
Opportunity:
-Sirca, being a small niche player has substantial opportunity to grow as the niche market size is increasing.
Geographical expansion out of north India to other parts of India is also a nice opportunity.
-With diversification in product portfolio, growth opportunity is there.
-Though not much is known to me about management, the management looks fair with detailed disclosures about the company, prompt reporting, issuance of bonus shares last year etc.
Valuation:
The company is valued around 850 Cr. Market Cap. With manufacturing facilities coming in operation, I expect [my view only] the company to do 250 crores in sales and around 40 crores in profit. For a company growing profitably at this rate, forward PE of 21 is reasonable; though not cheap.
Risk:
-Increase in sales and marketing cost. Recently they have set up additional stock depot and branch offices. With addition in dealership, working capital days/inventory level in increasing. It may affect the margins.
-How will new products be accepted in the market is not known.
[Disclosure- Invested]