Dear friends
I came across the below video which explains the current situation quite clearly. Hope it helps.
This was there in the result.


Then this of around USD 5-6 mn has happened. So now should be around $ 28-29 mn has left i guess.
The valuations are attractive, however, any upside will be met with heavy selling from FCCBs. Has the company shared any timeline for outstanding conversions yet?
This bull market got lots of legs … I can see in this video comments.
How is the rising oil prices going to affect this company?
what is the conversion price for FCCB? I mean if a FCCB will be converted to equity…what will be price of this conversion…or
FCCB will be just converted in equity and they will get shares in their dmat in place of bonds…
i am asking because in video Mr Vats saying Foreigners were selling after converting FCCB in Equity as they were making 25% money by selling equity…
if their FCCBs are just converting into shares then how they are making 25% when they dont have the conversion price…
Or 25% is the difference between interest on FCCB and Selling equity in market…
Hope I am clear
The conversion price is Rs. 93.8125 for which the FCCBs are getting share of Sintex Industries and Sintex Plastics (Rs. 85 + Rs. 25)…as the price of both the shares has fallen the gain for them is around 15-20% now, but on earlier conversions it was around 25%
Regards
SJ
In last con call they mentioned that crude price does not hv much direct impact on their input cost. Primarily due to complex chemical Derivatives used by them as compared to input cost dependent on crude for other conventional plastic products suppliers.
Released from pledge. BVM finance is part of the promoters.
I think the promoters increased stake by 0.17%.
Regards
SJ
I think as equity is getting diluted due to FCCB conversion, promoters are trying to maintain their shareholding.
Promoters(Kolon Investment Pvt Ltd) have bought 30 Lakh shares from Market between Nov 9-14 th.
like @dheegarg pointed out it seems they are trying to maintain % shareholding , seems positive
they added 10 L each in three different days in a way that the down fall is not affected suggesting many more in their cards
If you see the data of last one month, last three days have seen the highest % Delivery Qty to the traded quantity. This may be due to promoters buying 10L each on those three days. Even without that the delivery % are normally above 70.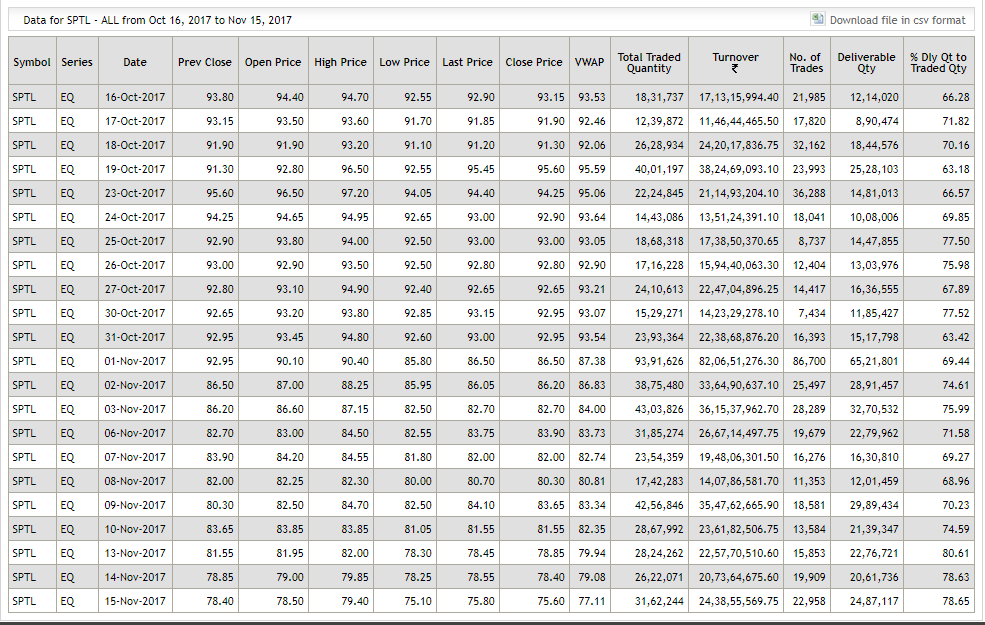 Source: NSE
Regards,
Suhag
Due to FCCB conversion their holding has got diluted , They might be just trying to maintain their low equity holding otherwise they might slip below 30% …