Hello Everyone,
It's great being a part of the ValuePickr Forum, Let me give a brief introduction about myself before moving on to my portfolio.
I'm Shubham, I'm 19 years old and currently pursuing my studies in commerce stream. I've been interested in stock market for an year now, but I've only started observing markets very closely from the last 6 months now. So this will be my first portfolio as this is the first time I'm investing in the stock market. I'm also not a genius at tracking and analysing the fundamentals of companies but I do have some basic knowledge of the same. I've also referred to a few books like 'The Intelligent Investor' by Benjamin Graham & 'The Motley Fool Investment Guide' by David &Tom Gardner for some extra knowledge but majority of it is from reading ValuePickr especially posts of Hitesh Sir overtime.
My Portfolio which you'll see below is having 2 columns (For already invested & Planning to Invest). I plan to fulfill my investment in these stocks over the next 3-4 months. The basic rationale for choosing all these stocks in my portfolio is that I want a defensive or passive portfolio which can provide me stable returns over time with minimum risk. I've also invested in only 2 small cap companies because I prefer to follow the quote "Put all your eggs in one basket and then watch that basket" for small caps.
The rest of the large cap companies I've chosen don't really need to be tracked all the time, So I plan to watch and concentrate on these companies more actively than rest of the companies. As far as the time period is concerned I'm willing to keep my money invested in this over the course of next 5-7 years with bare minimum changes in the stocks. So the stocks I've chosen are on the safer and passive side. Also one line rationale for each stock has been provided below the portfolio.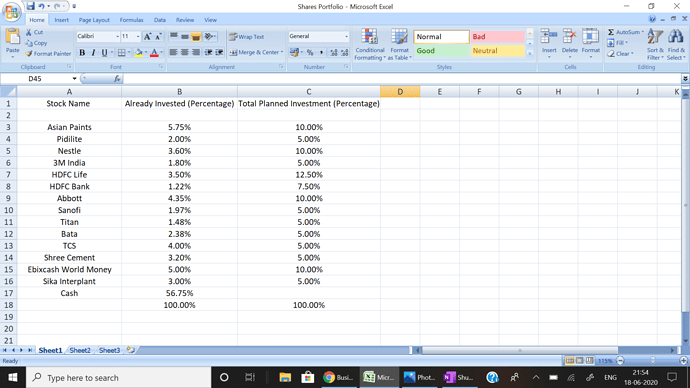 Asian Paints - The company operates in more than 65 countries, is the largest paint producer and one of the fastest wealth creator of India. Company is also debt free and the brand value is quite attractive too.
Pidilite - Pioneer in consumer and speciality chemicals in India and has a monopoly in sealants and adhesives. The brand equity is also very high with a great product distribution channel.
Nestle - The company has sustained market leadership in 85% of its portfolio with 11% real internal growth.
3M India - The company has a strong balance sheet with zero debt and great brand value.
HDFC Life- One of the top 3 Private Life Insurance Companies in India & Part of India's most reliable HDFC group and Life Insurance sector having a great potential in the future.
HDFC Bank - Best Bank from one of the best groups of India and continues to deliver sustainable growth with stable asset quality.
Abbott - A debt free company & the Pharma Industry in the future having great potential too.
Sanofi - It is a cash rich company & one of the fastest growing companies in India in Anti-Diabetic Therapy.
Titan - A subsidiary of the Tata Group and fifth largest integrated watch manufacturer in the world.
Bata - India's largest footwear with retail network of more than 1400 stores. Bata is far ahead of peers at national level and serves as a one stop footwear destination.
TCS - The largest IT Sector Company in India & having robust business structure with strong digital competences, ability to execute multi year multi service deals.
Shree Cement - Leadership position in the north and strengthening steps in the east and entry in the southern region and expansion in the west will make it the best picks in the portfolio
EbixCash World Money - Number of acquisitions by the holding company in India and planning of IPO in the near future by the holding company. Although the parent company is listed on Nasdaq but more than 50% of their business share comes from India.
Sika Interplant - With tiny equity of 4.24 cr. And having 72% promoter holding seems like share has a good future ahead as the company is engaged in defence production.
P.S - I've invested about 43% cash in these stocks since the last 2 days and I plan to complete to my investment by the end of next month. Would love to hear any suggestions, comments or improvements