Dear SQ, Good analytical projection of price.
Fundamental of International sugar are improving now with ICE Future No.11 making new 52 week high and sustaining above 15 C/lb. At the same time London sugar has also come above 400 and making new high of 439 USD. In line with this fundamentals of our ingenious market are also improving with talks of surplus replacing deficit all over the world.
As far as Shree renuka is concerned now it has already started turning around by arresting losses as seen from last quarterly result. It is offering best entry point at this juncture since lots of investors are still not ready to look at its balance sheet. This is beauty of turn around case. Benjamin Graham who is considered as Guru of non other than Warren Buffett has said when stock is lying in corner and no body is even looking at it, is best time to enter.
I only want to convey here that recommendations will pour in coming time by the time stock start reporting positive figures in balance sheet.
This is accumulation time for Shree renuka.
One of the characteristic feature of the Sugar Rally is its volatility. Rally in sugar stocks is marked by very rapid rise and very sharp falls. Its like a rodeo bull, trying to throw off its rider. This makes it very difficult for us retail investors to ride the rally fully, even after getting the entry correctly.
To overcome the above problem, I suggest retail investors to monitor and ride the rally using the technical too Andrews Pitchfork on weekly charts and watch out for reversals near the upper median line.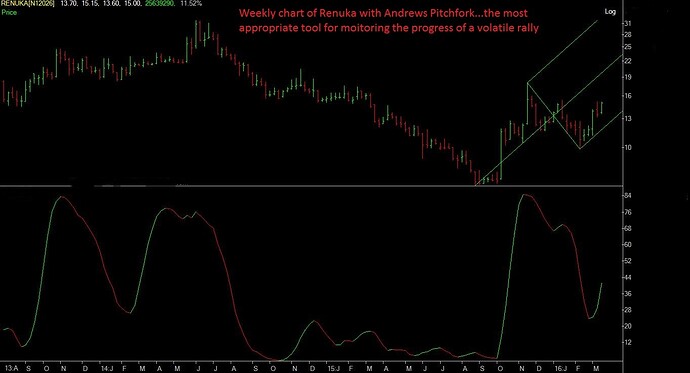 Thanks. So, the earlier stop loss of 13.20 should be followed or it should be revised upwards with price movement. Regards
Renuka is now in uptrend. Its first target is around 17 on daily charts and then around 22 - 23 on weekly charts. So its time to sit back and relax. And try to ride the sugar rally.
Dear Fatimaji,
Please let me know if Andrew Pitchcock Tool is available free/at a cost with database for analysis. Can you share more details. Secondly, we have seen a downward trend in Renuka recently. By when (timelines), do we expect RS to cross 17/-. Can you please reply based on your analysis.
Sanjay
Dear friends this is my first post on valuepickr to put my views on sugar industry, recent news of 20% export duty . this is welcome step by government to stop export of sugar showing their concern about country.so scarcity in sugar is confirmed and sugar is trading around 36.5 to 37 .govt have given sealing at 40 rs .breakeven point for sugar is 27 rs. in their recent quarter ranuka have posted profit of 200 cr aprox and sugar was trading 27.5 ex mill that time .today sugar prize is 10 rs up .so we can expect huge rise to profit . company should get profit no matter by export or domestic selling .
YOUR VIEWS INVITED
This is beauty of any turn around company. Stock prices remain depressed
for long time and when sector is picking up, you get such stocks at
discounted price because of prolonged negative bias. Hence when sector is
at pick, return is in high multiple.
While everybody agrees with the bumper Q1 for all sugar stocks, at what level do you believe this profit will get factored-in in the stock price? Sugar stocks have run up quite a bit and there is always a risk of catching the falling knife.
Dear Ashish G thank you for your input. I have talked to some cane crushing Miller .they told me that turnaround breakeven price for sugar is 27 rupees .but as far as the factoring in of price in stock is concern ,it is same as timeing the market which is not possible for investor .
Discloser invested at 15.25 in Renuka sugar 20000 .
Dear Aashishji: True, sugar sector has good run up. But Renuka's prices are still not taking its future in to account. It has not joined the rally in sugar stock. Also with its huge capacity it is going to benefit most out of this bull run. Now ICE future has made bottom and given positive break out. So we are at the beginning of bull run and likely to see much bigger height in 12 to 18 months.
hello mehnazji
whats your view on shree renuka now.its falling continoulsy
i am holding from 18.5/- levels…waiting for your major breakout value 19.6/- as u suggested in your earlier post that it is major resistance…
it is far from there …what we can expect now??
your kind views will be highly appreciated
yes thats y i am holding…bcoz when leader will roar peolpe can watch only…!!once it enters 20s then it will enter Bullish mode…!!luckily also today i bougth UGAR at LC…!!to be part of sugar rally in case miss in renuka…!!how much profit you are expecting in shree renuka in Q1…!!last Q it was 220crore( with some tax back of 110cc so effectively it is 110 crore)
Wish renuka sells it brazilian unit…!!that was the reason of fall of SRS…!!:(…!!
otherwise renuka would have been leading the rally from front
Sugar can be an intersting space for next 6-10 months…!!!but as a renuka investor we are more intereted in SRS stock price performance which is very poor as off now…!!holding patiently
Shree Renuka has successfully turn around the books and in coming quarters we are likely to see increasing revenue with better realisation. Once debt is wiped out, we can see faster growth because of its huge capacity. And in coming time it is likely to over take its peers in terms of return on investment.
a good read for sugar investors: