Few main points from the q3 concall -
Chinese players have started production from Jan. Mgmt isn't worried. Impact seen - minimal… as the change there is structural in nature (these Chinese players were very competitive earlier as they were not following environmental norms. This will not be happening in future.). he expects major shift happening in this industry with manufacturing coming to India from China and from other developed nations in next 2-3 years.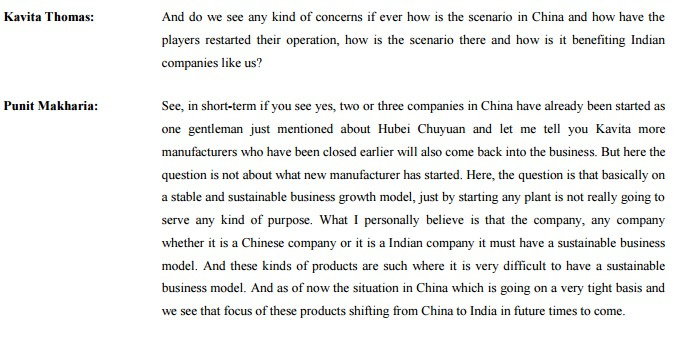 2.On slower q3 - Due to lower dye intermediate price realization (H acid, vinyl sulphone) and also demonetization impact on their clients. But they said there is nothing to worry, as the dye intermediate prices are now in stable and more rational zone, and because they are even maintaining their guidance despite these lower realization levels. Lots of the intermediates are being consumed internally, and this ratio is going to increase big time going forward with additional dyestuff capacity coming online.
3.Next set of growth in q4 will come from H acid plant (750 tonne)
4.3000 ton of new dyestuff capacity will come online by q4-q1. So will start contributing from q1 probably, but more meaningfully from q2.
5.Business is really doing well and demand is picking up.Market efforts for gaining new clients on full swing. Have reaped good results.
6.Next big trigger will be the foray into textile chemical business. Plant has been built and they are int he process of importing the machines. They will be able to tell about it in more detail in next concall. Though they hinted that this plant should start contributing starting q1-q2 2018.
7.Incremental net contribution on selling of Dye Stuff versus Intermediates - 10%
8.Tax gains from MAT starting q4. 11% gains… from 33% to 22%…big bottomline booster.
9.Revenue for Q4 will be between 95-105 cr. (around 100 cr).
10.Confident of maintaining 25%+ CAGR growth next year. Margins around 17%.
Overall, mgmt sounded very bullish. Said key to business is stable business model, which these guys do have imho. Very forthcoming mgmt. Pleasure to hear Mr. Makharia answering the questions.