Hi everyone,
I have been a huge fan of valuepickr from the time I was introduced to it. It has helped me a lot in my investing journey. I also try to contribute here in whatever small way I can. In this post, I will discuss about my portfolio allocation and investing strategy. I would love your feedback.
Old investment strategy
Till now, most of my investment was in special situation stocks like CG power, Forbes and company, GMR infrastructure etc. It was a very concentrated portfolio which did give good returns during this bull market. I still have Forbes and company + Shalimar Paints in this concentrated portfolio. I am now going to change my strategy a bit. Going forward, I am not going to do any additional investments in my concentrated portfolio. I have already taken out decent profits from this portfolio.
New investment strategy
I have created a new Demat account and will be following my new strategy in this account. All my new investments will be made here. I am neither going to take any money out of my concentrated portfolio nor going to add any money there.
My new strategy is to invest most of my money I have at present in REIT/InvIT. I am expecting around 7-8% dividend yield for this portfolio + 5% stock price CAGR in long-term. I will be using these dividends and my salary to invest directly in India and US stocks.
Below is a summary of how I will be putting the money I have at present in REIT/InvIT. Investment in these stocks will be done in the next 4-5 months.
| REIT/InvIT name | Allocation(%) | Dividend yield(%) |
| --- | --- | --- |
| IRB InvIT | 30 | 14 |
| Brookefield REIT | 20 | 8 |
| India grid InvIT | 20 | 8.6 |
| Embassy REIT | 15 | 6 |
| Powergrid InvIT | 15 | 7 |
I am waiting for the NHAI InvIT and DLF REIT IPO. I would diversify this portfolio when new InvIT/REIT comes in the market.
SIP in India and US stocks
I will be using these dividends earned from my REIT/InvIT portfolio and my salary to invest directly in India and US stocks. If I have around 1 lakhs(dividends + salary) to invest in a month, I will be allocating 50k to SIP in Indian stocks and other 50k to SIP in US stocks. I am aiming for around 15% CAGR from this portfolio of stocks over long-term.
India stock portfolio
I would be doing SIP in companies having:
Good promoters
Huge opportunity size
Profit CAGR potential > 15%
Reasonably valued
Special situations which are going to evolve over next 1-2 years.
Here is the list of 20 stocks which I will be doing SIP using dividends from REIT/InvIT and my salary. All stocks will have equal weightage.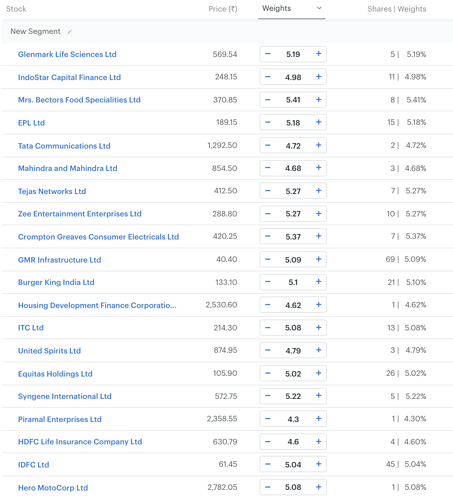 Smallcase portfolio link - https://link.smallcase.com/cCcK9L0lbnb
50% of my portfolio consist of large cap stocks which can potentially deliver 15% CAGR returns over long-term. Rest of the money is invested in mid cap and small cap stocks.
SIP in US stocks
For tech stocks, I will be investing in US stock market. This also helps me in diversify my portfolio and take advantage of the rupee depreciation. These tech stocks are still growing their profits at around 20% CAGR.
Google
Microsoft
Amazon
Adobe
Netflix
I would love your feedback on my investment strategy and portfolio stocks.