Introduction - http://www.shivamautotech.com
Shivam Autotech is one of the largest manufacturers of transmission gears and shafts in India. It has served a large number of automobile manufacturers as their principal component partner for over 16 years with 5 facilities employing 3000+ people. It manufactures a comprehensive range of auto components and accessories including transmission gears, transmission shafts, alternator components, starter motor components, magneto components and steering components that are produced through cold, warm and hot forging employing near net shape technology.
Clients - Hero MotoCorp Limited (HMCL) is the major customer of the Company and continues to maintain its growth at a constant rate. Other customers of the Company like BOSCH, DENSO etc. have increased their sales/business share marginally as compared to last year.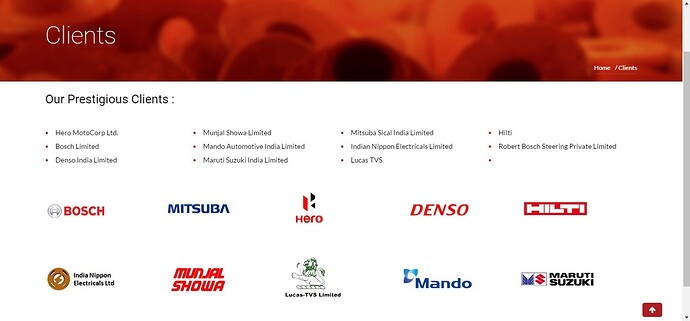 Awards and Accolades for FY 15-16
Award for Supplier of the year (2015-16) by Mando Automotive India Pvt Limited
Certificate of Supplier Quality awarded for fulfilling Quality Assurance Compliance by Hyundai Motor India Limited, (2015-16)
Certificate of Appreciation for superior performance in the field of Development, Maruti Suzuki India Limited, (2015-16)
Award for Excellence in Running SAP operations, (2015-16)
Financial Performance
Reason for exploring the company - 2 New Manufacturing Plants
The Company's real solid growth lies ahead on the back of its newly opened Rs.250 crore state-of-the-art manufacturing plant at Bengaluru in September 2015 to cater to the requirements of companies like Bosch and Mando and to make components for alternators, starter motors and electronic steering systems for other four-wheeler manufacturing companies. Currently, products which are intended to be produced at the Company's Rohtak and Bengaluru plants are imported by customers with no domestic manufacturer/supplier. This enables Shivam to reduce its costs significantly
The Company is planning to make the Rohtak plant operational in last quarter of FY17.
The effect of these major capex affected the profitability in FY 16-17.
Moderation in the financial profile during H1FY17: The financial profile witnessed moderation during FY16 and H1FY17 on account of the two new Greenfield project executed in recent past. Due to initial teething issues and delayed stabilization of the two plants, the fixed cost absorption was lower during the period which led to decline in the PBILDT margin to 13.70% during H1FY17 as against 16.62% during FY16.
The company completed expansion project in Bangalore and Rohtak with total cost of approximately Rs.180 crore funded with debt of approximately Rs.140 crore and internal accruals of Rs.40 crore leading to increase in the overall gearing to 1.56x as on March 31, 2016 (PY:1.09x and further to 1.96x as on September 30, 2016. The Total Debt to GCA increased from 3.57x in FY15 to 6.41x in FY16 and subsequently to 9.20x during H1FY17. Similarly, the interest coverage ratio also witnessed moderation from 4.16x in FY15 to 3.28 in FY16 and subsequently to 2.38 in H1FY17.
However, going forward these capex in new plants will widen Company's product portfolio, enhance further its capability as a niche auto components producer and start contributing substantially to the operation from FY17-18 and beyond.
Comforting Factors -
Company has been paying dividend for the last 4 years at least. Dip in dividend in the last 2 years are due to expansion activity taken by the company in 2015.

Ownership - Promoters (Sunil Munjal - Hero Motor) hold close to 75% stake in the company.

Anil Kumar Goel holds 1.8% stake in the company.

Share is very close to 2 years support/lowest level of Rs.38-40 range.
Risk - SAL derives majority of its revenue from single client: Hero MotoCorp Limited (HML). During FY16, SAL derived 74% of its revenue from HML and 66% in H1FY17. Furthermore, majority of its product manufactured such as gears and shafts find usage in two wheelers. As a result, SAL is exposed to customer concentration as well as segment concentration risk.
Disclosure - Had bought tracking position in Nov-16 and increased more on 30th March. Currently it constitutes 0.50% of my invested money. Will look to increase exposure if the stock comes around Rs.40 or at better Q4 results whichever comes earliest. Looking to hold for 3 years at the minimum to let the story unfold itself if things go as per the company's plan.
Would love to hear from members if they happen to track this company.