Finding the new investments by proven and veteran investors (like Jhunjhunwala/ Dolly Khanna/ Porinju etc etc) can lead to a new investment opportunity for small investors.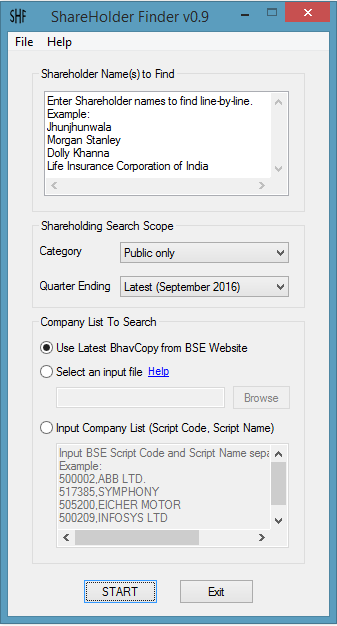 The software can search through the shareholding pattern of entire BSE listed companies and filter out the stocks owned by particular shareholders. It directly gets the information from BSE website, So NO DELAYS (delay for updating the local web database when a company submits shareholding patterns to exchange etc) and NO ERRORS are expected.
Please see more details here - ShareHolder Finder Software for Indian Companies
Please try this software and give us your valuable feedback and suggestions.
We are very eager to hear the feedback from all. It will definitely help us deciding future plans on further development of this software and also other softwares in plan.
Thank you very much
Alice