Shalby Q3 concall updates - 4 feb 2022
Topline improved by 23%. One of its best quarter. 6,000 surgeries done.
Additional 40% of current bed capacity is ready for patients. AI chatbot launched this year.
Inpatient count in Q3Fy22 was 10,432 vs 8,945 Q3Fy21
Occupancy rates – 42% - This figure looks low on the following reasons
Discharge rates up this quarter
More number of beds added
We should see the growth in Inpatient rates to see that even if the occupancy levels stayed low, patient count and surgery count has risen in big numbers.
This quarter margin came down a little. This year they did lots of vaccinations. Vaccines has a low margin of Rs.150 out of the Rs.1000, this pulled down margins. That's why cost of goods sold is 85-90% of topline. Going forward margin will increase and will be in the high end of this range.
Consensus – Doing 2,500 components per month (50% capability). Working towards achieving 100% capability by next year. Expected Revenue in FY23 from this division is 100 cr with positive EBITDA from USA markets alone. All necessary formality to launch this in India is in place now. Will enter Japan, India, Latin America and Middle East market with this product next. Leadership hiring here is completed.
Shalby should end this year with 50% growth in topline. Rs.650 revenue from hospital business this FY. EBITDA margin is still at 20% (aiming for 26% going forward), highest in industry. In this occupancy with this margin, they have capacity to grow 2x in coming years without any capex.
35% revenue from knee and hip replacement, they are world leaders in this field.
No new hiring or heavy capex is required to achieve guided targets for FY23.
YOY sales is on decreasing trend and I see that this quarter their tax rate is way to below.
If they are operating on 40% capacity wonder where the overalls sales are increasing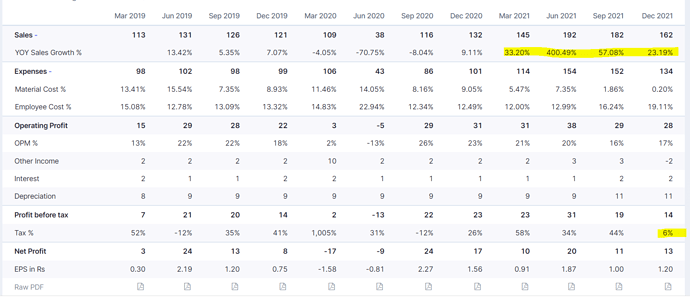 Jun 21 quarter was a outlier in terms of sales due to covid wave to related hospitalization & in home treatments for same. Utilization is 40% as capacity has been added this quarter. Ideal metric to track should be patient or surgery count as mentioned even by Narayana.
Hi,
The big concern in Shalby's financials is its high receivables, which is very non standard for a hospital company. Whats your take?
Disclosure: have a tracking quantity.
Imp points Shalby Q4 FY22 Earnings call:
• Shalby registered Highest ever Annual Revenue and Net Profits in FY22
• First half of the year was driven by Covid-19 patients and second half was driven by strong increase in elective surgeries
• Shalby continues to deliver one of the highest EBITDA margins in the Industry
All hospitals contribute positively to EBITDA
• Net Profit was up by 63% y-o-y
• Generated strong cash flows of Rs. 1,010 mn, an increase of 31% y-o-y ,driven by higher contribution from Self Pay patients
• Realized Returned on Capital Employed increased from 8% in FY21 to 14% in FY22
• Home Care revenue was Rs. 70 mn with homecare visit of 61,250 and cases of 20,342
• International patients resumed, generated Rs. 40 mn of revenue
Shalby Consensus performance:
• In FY22, recorded total revenues of USD 4 mn (May 15, to March 31, 2022)
• Sales driven by United States with Knee and Hip segment contributing ~60% and ~40% respectively Production was ramped up from 300 components to ~3000 components monthly in FY22 and is expected to increase to ~5000 components soon.
• Focus is on enhancing operational efficiency and optimizing available capacity
• Shalby received approval to import Consensus implant in India which is expected to drive sales in the coming year
• Launch of new knee implant product called TUKS (Tahoe Unicondylar Knee System) for US market recently and initial response has been encouraging
• Applied for product registration for Argentina to foray into South America
• Concluding stages for growing business in Indonesia
• On track to deliver USD 13 mn sales in FY23
Points from Q&A:
• Should grow at 20% as is CAGR over last 12-13 years
• Group level CAPEX planned for this year 27CR. 17CR will be for non-flagship hospitals in range of 0-5 & 5-10 years, should achieve EBITDA of 23-24% in this in next 2-3 years
• In Shalby Consensus we are observing good traction for product & there is a possibility to exceed 100CR target for FY23. Out of 100CR projected 15-20% will be for internal use & remaining for USA, Japan & targeting Indonesia market
• New product TUKS in Shalby consensus should be flagship product for co in USA & India
• Total beds in co-owned & co-operated structure is 2100 approx, out of which 1235 approx have been operationalised on which average occupancy is calculated. FOFO & FOSO is separate from this. Planned projects of Santacruz & Nashik in this vertical as of now. To make remaining beds operational minimal CAPEX of 15cr is required. In FOFO & FOSO target is 50 franchises.
• Capacity for Shalby Consensus based on 2 shifts calculation is 60K units annually i.e 5k monthly. Currently producing 2.5-3K per month. Aim is to get to 5K mark by end of year.
Capacity can further be increased to 120K by increasing machine & man power.
• Should be breaking even by end of this year for Shalby Consensus.
Q2FY23 Shalby con call Imp points:
Shalby has signed a MOU at Jammu to operate 100 bed multispecialty hospital- available by end of Q3
Brownfield development Nashik to be available in next FY
600 occupied beds -50% occupancy (By year end target is 700+ to reach 60-65%occupancy)
Quarterly production (Implants business) -11,901 & revenue of 24 CR (58% USA)-100 CR annually we should be EBITDA breakeven-Plan is to reach 1000Cr revenue in 5 years from this business at 20% + Margin- Have reached to several plants which will help us build capacity to serve our demands
Upcoming FOSO/ FOSM centres (Asset light model) – Lucknow to start by next month- Focus will be to get more on FOSO model where revenue share is higher (95% approx. revenue share) – FOSM Shalby will get 7-8% management fees
Mumbai project was 2-3 years due to covid, 2-3 years more post approval for Greenfield facility here to be live
2 roles Mr Kedia will look at is investing strategies & improving governance standards for board & thus help build brand value
Lot of operating leverage will come in from hospitals in bucket of 5-10 years as margins will increase from 16% currently to upwards of 20%
Homecare has potential to be 5% of overall revenue going forward in 3 years, for this division pharmacy & diagnosis is doing good, planning to come up with superspecialist treatments in same category
Expect 15-20% growth in International business, has just reached pre covid levels.
40-60 Crore investment to build inventory for implant business over next 6 months is required, before it becomes cash accretive
Why is the company ROE and ROCE so low compared to KIMS and Rainbow Childcare?
Has the management given any guidance for growth
Shalby Ltd. Q3FY23 earnings call notes.
Improving our occupied beds to 544 beds in this quarter 3 from 513 beds in the same quarter of last year.

We have conducted more than 270 healthcare camps and provided 105 healthcare talks across various locations and consulted more than 14,000 patients in this quarter.

Very excited about our growing home care services, which grew by 42% year-on-year with revenues of INR 2.65 crores and patient count of over 7,000 in quarter 3.

Additionally, our international revenue grew by more than 50% year-on-year with revenue of INR 2.5 crores, where a majority of the patients came from East African countries in the last quarter. We are actively seeking out for more associations in African and UAE markets to accelerate our growth further.

Shalby also takes immense pride in nurturing young talent through Shalby Academy with more than 1,900 students registered in the various healthcare programs during nine months of 2023. We also felt satisfied providing various job offers to these students across our hospitals.

Implant Business

Our knee and hip implant manufacturing business under Shalby Advanced Technologies or SAT, in California, US, has made some steady progress during the last quarter and nine months of full year '23, clocking revenues of INR 23 crores in the last quarter, of which sales in the US and India contributed 60% and 40%, respectively. Our revenues of over INR 73 crores at the end of nine months positions us well to finish the year around INR 100 crores sales with positive EBITDA as per our commitment given at the beginning of the year.

we are now producing average 4,500 components per month from the 3,000 components that we produced during the first quarter of this year and versus 2,100 components per month same time last year, and we are very soon expected to reach 5,000-plus components production per month soon.

We have strengthened our senior leadership team in the US by onboarding two very senior talent in the last quarter. Mr. Garrett Kiesle has joined us as President and Chief Operating Officer from Smith & Nephew; and Dr. Japheth Noah has joined us as Vice President for Quality Assurance and Regulatory Affairs. Both of them are highly successful and experienced leaders, and we expect them to bolster our leadership drive for accelerated profitable growth.

We successfully navigated through our ISO 13485 audit for Shalby Advanced Technologies in November 2022.

We are receiving very positive responses from the consumption of our Shalby Consensus implants from our surgeons at our Shalby hospitals. And I'm very glad to mention that we have now launched such high-quality knee and hip implants to other surgeons and hospital groups in India as per our plan and initial response have been supremely encouraging.

We will soon be receiving register and approvals to launch our implant production in Indonesia, Argentina and Colombia in this quarter.

the monthly revenues have reached the $1 million mark in the current quarter. The entity is near breakeven in Q3 '23.

We earned an EBITDA of negative INR 30 lakhs in the current quarter, same was a positive EBITDA of INR 28 lakhs in the same quarter previous year. With significant ramping up of operations, we are expecting a strong turnaround by the end of FY '23.

the contribution level for the implant business in US is in the range of 40% to 45%. And then we have fixed cost in the range of $4.5 a month.

So most important part is patents because if you don't have patents, if you don't have products, to develop these patents and have it in US FDA, it takes 3 to 5 years, the entire process. So we are 3 to 5 years ahead because we have 50 patents. That is the most important part in this. Margins of United States, margins of Japan are fabulous. Indian margins and Indonesian margins are on the lower side, but then the volume is very high.

March '23 to April '24, we plan to double ourselves from $12 million. So it will be, say, $25 million or $26 million or $27 million, like this.

From next year onwards, the journey starts, with a lot of new products coming in and with a lot of new markets that we are getting in, we will be getting into a high single-digit EBITDA in the following year and then getting into double digit going forward

our plant is located in El Dorado Hills in California, which is near Sacramento, which is the capital of California.

We acquired the assets of the company in May 2021 at $11.45 million.

this company has also done more than 1,10,000 knees and hips over the last 20 years with zero product recalls.

this is a low capex business, but you need working capital to service any particular knee or hip surgery. So we will have to build inventory for that. And which is why we have kind of, put a capital, working capital outlay of between $5 million to $8 million for the next 12 months.

the total capacity right at this moment, with the current situation that we have, is around 80,000 to 85,000. So we are at 60,000 p.a. utilization.

Lucknow SOCE unit has been fully operationalized from November 2022, and Gwalior SOCE unit will be entirely operationalized soon. Let me tell you, Lucknow is under Shalby operated, and Gwalior should be under Shalby managed model. I'm also glad to inform that we have signed an MOU with Aurangabad under SOCE franchisee. We are in continuous process of taking over all operations in our brand name with whom we have signed MOU

The ARPOB and ALOS were recorded at INR 38,491 and 3.7 days respectively, in Q3 FY '23 vis-a-vis INR 32,049 and 4.02 days in the same quarter previous year.

we are clocking occupancies in the months ranging between 500 to 700 beds. And this is the nighttime occupancy that we show you. So the daytime occupancy is often 15% higher than that. Now for this kind of occupancy level, we have 1,260 beds operational as we talk, which is sufficient to kind of handle this kind of patient flow and also a 15% to 20% growth at any point of time.

we do not need to add a lot of capital expenditure to operationalize the bed from 1,260 to 2,000. The estimated budget to kind of get there is close to INR 15 crores, which is a very small amount in terms of the capital expenditure required.

Franchise model. Now we are planning to open around 50 hospitals in three to five years. So far we have, for the four units, we have operational, it's a 50-50 split between Shalby Operated & Shalby Managed.

the occupancy at between 65% to 75%, which you should consider very healthy for the hospital business, especially tertiary and quaternary care hospitals.

Guidance for various verticals
Hospital: 20% sales cagr growth for next 3 years.
Implant: 100mn$ revenue in next 5 years.
SOCE: 50 hospitals in next 5 years.

we expect that $100 million, out of that $100 million, $60 million will come out of the US and $40 million will be coming from the rest of the world. However, from a volume perspective, we expect more than 60% coming out from the rest of the world and 40% or less coming from the US. That's our plan.

the average length of stay has come down significantly, which is why we see that the occupancy, absolute occupancy numbers are on the lower side. But if you factor in that, it would be 10% higher than what you actually see was what I was trying to say. Having said that, we consider that when the occupancy levels of the unit are between 65%, 70%, we are operating at an optimal level. And some of these other ones, which are catching up, would be between the 40% to 50% level at the moment.

Shalby managed model, as we have outlined in the presentation as well, it is the capex and the opex is from the franchisee. We help the franchisee run the business. We promote the business. We along with our expertise in the hospital, in orthopedics as a specialty, and we get a management fee for all the services.

Shalby operated model, we run the hospital, it's a capex-light model. And the opex is us, the marketing is us, and we recognize the revenue and the cost as well. And that's where we give our franchisee a share of our revenue, it's largely revenue share or a lease model, which we follow there.

Nashik Project: Handover to us in next 6-12 months.

the Mumbai project, the trustee, it's a trust which basically is governed under the Bombay Public Trust Act. So essentially there we are waiting for certain regulatory permissions before they can hand over the premises to us. So it is again at their end. And once they hand over the premises to us, we will be getting the right permission from the Bombay Municipal Corporation and starting the project. Likely 24-30 months.

The Nashik project and the Mumbai projects, both put together, are going to cost us anywhere between INR 190 crores to INR 200 crores.

We have earmarked another INR 30 crores to INR 40 crores for Franchise business.

this company is founded and promoted by Dr. Shah and he is the Head for the Orthopedic Department. Having said that, as we talk today, about 35% to 40% of the work we are doing is orthopedics, the balance comes in from other specialty where other super-specialist doctors have a role to play. The other part is that within the orthopedic space, his direct contribution in terms of the surgeries that he does is about 15% to 20% of the 35% to 40%. So it would be about 10% to 15% would be his direct contribution, which means that this occupancy of 550 to 700 beds that we talk about, about, say, 10% to 15% of the beds would be occupied through his patients and the balance would be coming in from all the other specialist doctors at all the locations.

The hip and the knee business, the implant business, the size of the implant business today all over the world is around $17 billion. So that is the size of the market. Out of that, the US. is around $8 billion to $9 billion and the rest is for the rest of the world. When you look at the market growth, the US. is growing at around 2% to 3%. The rest of the world, especially in Asia, is growing at double digits. It's a high, say, around 11% to 12%. In places like India it's growing at around 12%, 13% to 14%. In places in Indonesia or in Thailand, it's growing at around 7% to 8%.