Shaily Engineering Plastic
(Scrip Code – 501423).
CMP: 346 Rs. – Face Value: 10
Shaily providing end to end solutions in plastic products and services
Company Over View
Shaily Engineering Plastics Limited (SEPL) is involved in the manufacture of high precision injection moulded plastic components, assemblies, moulds and dies for OEM (Original Equipment Manufacturer) requirements.
Established in 1987 at Halol, India with 2 molding machines Today – 5 Facilities with 87 Injection Molding Machines (35TON to 800TON) .Market Segments Home Furnishings, Appliances, Medical, Automotive, Consumer Goods, Electrical/Switch gears, and Engineering Applications
Revenue Growth in last 3 Year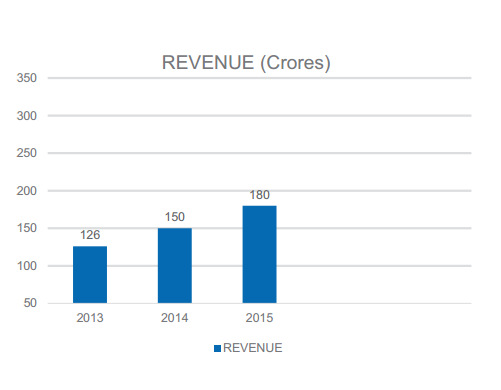 Net profit(in Rs Cr):
2013 – 3.62;
2014- 6.59;
2015-13.01
Client List of Shaily
Consumer: Ikea, Unilever, P&G, MWV-Calmar
Medical : Sanofi, Clearspec , MWV, Sun Pharma, Wockhardt, GE healthcare, Lupin , Dr. Reddys , Zydus Cadila
Appliances: GE, Electrolux, MABE
Switch Gears: Siemens ,Schneider , ABB, L&T, Lucy
Automotive : GE Lighting, Honeywell , Amvian, FAG,Turbo Energy –
Engineering : Emerson, KPT, Phoenix Mecano, IHC , Photoquip
Sales Break up - Segments

Some Interesting Facts Noticed
Promoter holding 54.09% -
Corporate & other biggies – 41.03% (Hardly 5% shares with retailers).
Total Number of the share holders 435 as on 31 March 2015 Report (It was 241 on 31 Dec 2014) Recently started to release some shares to public
Ace Investor Ashish Kacholia Accuired 12% stake in the Company through Preferential Share method
As per Dec 2014 details Company revoked pledge shares and no shares are pledged now
Topline and Bottom Line are growing Continuously.
Outlook on Opportunities
SEPL's domestic as well as overseas business is developing very fast and getting more and more enquiry for capability to manufacture parts for the clients due to its commitment of standard quality of goods to its present customers and therefore sustaining operations and growing in even tough time. If Shaily can Scale up the operation as per the expectation tremendous scope is there.
Outlook on Threats, Risk and Concerns
The Company's business depends on customer requirements as the Company is an OEM supplier and any fluctuation in the customers demand can affect the Company's performance. The Company is also exposed to project risks due to delays in project implementation/cost escalation, risks on account of fluctuation and in FX rates and fluctuation in raw material prices on account of fluctuation in oil prices.
http://www.shaily.com/userfiles/file/Company%20Corporate%20Presentation.pdf
Disc: Invested