Business Breakdown
Aditya Vision is a Brick & mortar retailer of electronics (Televisions, Air conditioners, Refrigerators, Mobile phones)

Primarily based out of Bihar. The way that electronics retail works is as follows:
OEMs move inventory to retailer after retailer purchases.

Part of the inventory in Aditya's showrooms (display models) is on the OEM's books. The salesmen deployed by aditya are the OEM's salesmen. The retailer makes a small margin on the inventory that they sell, how then do they make good profits? Three things:
Inventory turnover. Aditya is extremely good here. A 4.5x inventory turnover (for FY22) puts it in a league of its own.
Scale, Scale Scale. According to the credit rating report Aditya holds 50% market share in Bihar. Think of the value proposition of a large retailer for an OEM. Lesser sales & marketing expenses. Deeper penetration. All the pesky issues of handling last mile of sales taken care by aditya. This is how retailers gain gross margin. And that is what aditya has done.
Compare the gross margin pre covid (10%) to gross margin now (15%)


Customer obsession & focus. How does aditya do this? Through Services (Same day delivery in the hindi heartland where flipkart & amazon do not operate), service call centers (to enable their users to express their queries to 1 touch point: aditya, build loyalty, pull factor), lotteries (Buy & Win 2021 | Aditya Vision | Live - YouTube). All purchases of 10k & above enable each customer to enter a lucky draw with top prizes of houses, cars, motor bikes. This is the aspirational india, which gets rewarded for shopping.
Market size & aditya's strategy to capture it
India's white goods market is 1 lakh crore.

Multiply 2.3 lakh with 45%.
Source:
The World of Consumer Durables: Fast Moving Electrical Goods - YouTube
Aditya started with 1 store in 1999… Today AVL has 50% of organized electronics retail market in bihar. Their stated strategy is to expand in other states of India. Jharkhand is the first among them.

One can see that aditya's scale up has been quite secular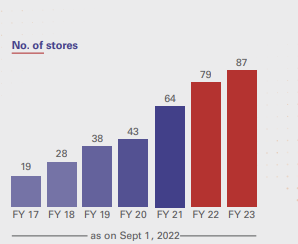 Going forward company will focus on expanding presence in other geographically & culturally similar states. Company remains focused in increasing our store counts further and expanding in other states
in the Hindi heartland such as Uttar Pradesh, Chhattisgarh, Madhya Pradesh and parts of West Bengal.
If they can generate 1000 cr from 1 state of india, one can imagine what the blue sky scenario might look like after they have reasonably penetrated Jharkhand, UP, Chattisgarh, MP & WB.
Unit Economics
When looking at the numbers one would appreciate the fairly high ROE & ROCE that aditya enjoys.

This is powered by what I had alluded to earlier, Aditya has a broadly asset light money. All the properties are on long term lease, lease expenses are also quite low due to the geographies they operate in. By achieving an inventory turn of 4.5 despite low margins (common in retailing sector; Dmart for example has 15% Gross margins), it is able to achieve an ROCE of 37%.
How did Covid impact AVL?
Covid has been brutal for many B&M retailers. Aditya is no exception. However, something interesting has happened. As is visible from graph above, aditya has almost doubled its store count, while its revenue has been flat in last 3 years. Why? Because Due to covid restrictions, they have not had a good normal quarter. Q1FY23 was the first normal quarter after a gap of 2 years. And it shows in the numbers. Aditya's Q1 sale was highest ever & convincingly more than pre-covid levels.
Q1 does have seasonality (marriage season in this part of the world + summers which shoots up demand for compressor products). So one should be careful to not annualize the Q1 numbers. (Q1 is typically 30-35% of sales)
Assuming a normal FY23, AVL can reasonably achieve a 1300-1400 cr sales in FY23.
Competition
Key competitors are mostly unlisted: Reliance Digital, Chroma, Vijay Sales. Vijay sales' analysis reveals similar operating margins as AVL (Data on MCA website). Presence of large efficient organized competition has been mostly restricted in these parts of the world until now.
Risks
Price is up 50x compared to pre-covid levels. Everyone wants to be not anchored to price but this is a risk one has to be aware about.
At 31 time earnings this is not cheap or undervalued by any stretch of imagination. having said that, any efficient scaled up retailer gets good valuations (Trent, Dmart, Vmart).
Until now, competition has largely been not been successful in competing with AVL in Eastern part of India. Patna & Ranchi do have presence of reliance digital, chroma. They havent been able to compete successfully with AVL yet. This remains a key monitorable.
Key advantage of AVL remains the whitespace left by the inability of the populace here to trust & work with e-commerce like Amazon & Flipkart. That whitespace can eventually get bridged like it did in the metro cities. Remains a key monitorable.
Disclaimer: Invested, Biased.