Worked in power sector for 5 years. Not able to understand how a crane rental company can be a
Engineering Solution Provider?
Article quotes "SML's business model is not just about rentals, but also focused on being an engineering solution partner. From project planning, heavy lift engineering, to designing and advising on the appropriate equipment selection for the project"
If Adani or Tata Power wants to put 5000MW Ultra Mega Power Plant, does Sanghavi Mover can provide engineering solution about which are the Boiler, Turbine and Generators are required? how to design, plan and commission these large scale project? Forget about thinking, I don't think management of SML can dream it.
At max what SML can do is they can help EPC contractor to Erect large equipments and THATS ALL.
A Technical view on Sanghvi::
1: A multi year downward descending wedge
2: A multi year ARC setup, with Arc edges being respected (blue circles)
3: a multi year Inverse Head & Shoulder (orange) broken out
4: RSI nearing breakout
@hitesh2710 your views please?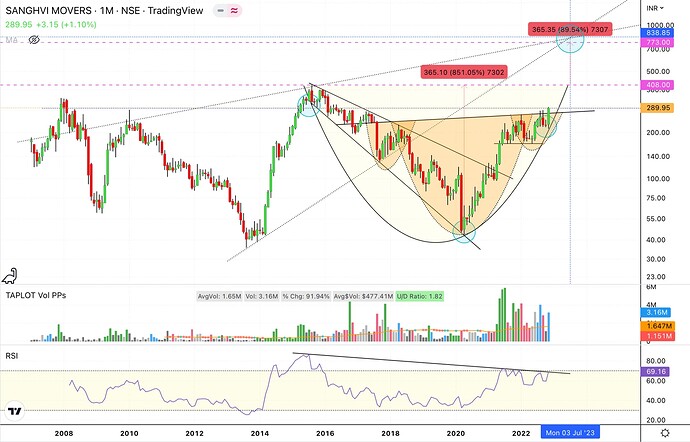 are sanghvis cranes also used across infrastructure projects?
would sanghvi movers be a good proxy play for india's infrastructure growth? roads, bridges, airports, ports, railways etc?
Yes their cranes are used in large infra projects
Is it not a areas of concern? a rental company getting into EPC means debtor cycle will get extended now?
@Mahesh_Agrawal Yes. The % share is quite small currently though.
How to think of Valuations ??
Market Cap = 1500 Crore + Borrowings of 250 Crore = 1750 Crore EV
Gross Block of Cranes in books = 1500 Crore
So technically, undervaluation is over.
We are now playing for scarcity. As in, there will be scarcity so old assets will be able to get higher yields till time new cranes dont come on field ?
Is scarcity really there ?
In my view, if we want to compare gross block with EV for understanding valuation, then we need to take into account the accumulated depreciation adjustment done in FY16.
Accordingly, we should add ~825cr (accumulated depreciation till FY16) back to the current reported gross block, to get a better picture.
As of 30'Sept'22:
Net block reported = Rs. 852cr (vs 766cr in Mar'22)
Reported Accumulated depreciation as of Mar'22 = Rs. 797cr
Adding 6 months depreciation = ~Rs. 55cr
Adding FY16 adjustment = Rs. 825cr
Adjusted gross block (as on Sept'22) = ~2500cr
(compared to current EV of ~1750cr)
Few details of what happened in FY16-17 (annual report):
Opening gross block of plant & machinery for PY was adjusted stating deemed cost as of 1 April 2015 to 839cr, which actually as per the previous annual report was 1637cr.
This was an adjustment done in FY16 for following IndAS and is not at all anything wrongdoing.
But I think, to assess companies value based on its gross block, we need to adjust this in other companies too.
Let me know, if I am thinking along the wrong lines. Happy to be corrected & learn.
Interesting…Didnt know this.very unusual of co to do this, as this is not what INDAS prescribes