Worked in power sector for 5 years. Not able to understand how a crane rental company can be a
Engineering Solution Provider?
Article quotes "SML's business model is not just about rentals, but also focused on being an engineering solution partner. From project planning, heavy lift engineering, to designing and advising on the appropriate equipment selection for the project"
If Adani or Tata Power wants to put 5000MW Ultra Mega Power Plant, does Sanghavi Mover can provide engineering solution about which are the Boiler, Turbine and Generators are required? how to design, plan and commission these large scale project? Forget about thinking, I don't think management of SML can dream it.
At max what SML can do is they can help EPC contractor to Erect large equipments and THATS ALL.
A Technical view on Sanghvi::
1: A multi year downward descending wedge
2: A multi year ARC setup, with Arc edges being respected (blue circles)
3: a multi year Inverse Head & Shoulder (orange) broken out
4: RSI nearing breakout
@hitesh2710 your views please?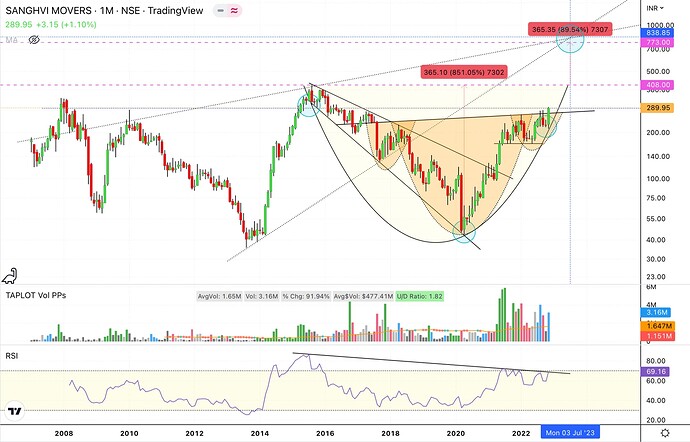 are sanghvis cranes also used across infrastructure projects?
would sanghvi movers be a good proxy play for india's infrastructure growth? roads, bridges, airports, ports, railways etc?
Yes their cranes are used in large infra projects
Is it not a areas of concern? a rental company getting into EPC means debtor cycle will get extended now?
@Mahesh_Agrawal Yes. The % share is quite small currently though.