Sandhar Technologies Ltd and its joint ventures are primarily engaged in the manufacturing and assembling of automotive components for the automotive industry in India.
Product Portfolio
Company's product portfolio includes Proprietary Business (25%), aluminium die-casting components (28%), Sheet-metal components (14%), cabins (12%), Assemblies (8%) and others (13%).
They supply to all 2 wheeler EV players(taken from Q4FY21 conall)

The company saw a revenue growth of 217% when the industry grew by 138% in Q1FY22.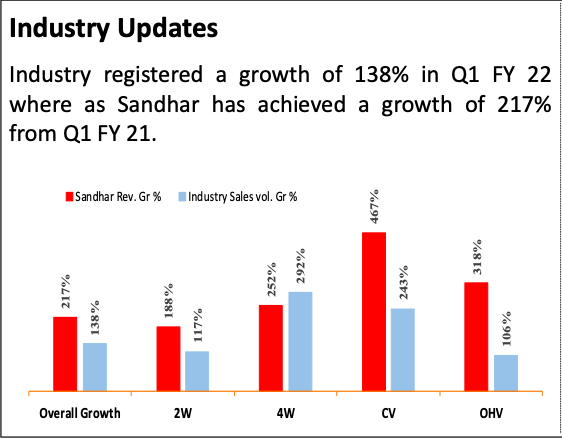 The management has guided on a revenue growth of 30% for the next 2-3 years.
Mr. Jayant Davar, the promoter of Sandar, had been buying shares of the company for a very long time now, and he just bought some more on 11th August 2021!

If you are tracking this company please do add more info in this thread, as I have not covered everything in this post.
Disc: Invested