Does anyone track this company now ? Please shed some light on future prospects.
Thankyou
Some inputs which I have on this company -
Management - Company has promoters from Patel family who are actually having an original business as that of investing i.e., someone in the likes of RJ. Though this also raises a question as to why someone like them, who generally just acts as an HNIs are promoters of this company. Also, to inform you, they have some terrific track record of getting huge returns from the investments they make in
Subsidiary Business - Company had bought a company named - "Premier Tissues" in 2020 which is into paper rolls and tissue papers and has some great plans ahead. This company also has sanitizers, masks, tissue rolls, and paper napkins and is one of the famous brands in the industry.
Future Prospects - Recent board meeting convened also highlights that the board is mulling into getting into the packaging and paper business which is a very good sign for this company since the rubber threads has a limited market to grow
Considering that tissue rolls have high demand in USA, Europe and ROW, and since Rubfila has a great export business, this should help in acquiring more customers for this business and makes sense of the synergies to think about.
Financials - Company is a zero debt company, and has the trend of increased PAT, Reserves, Dividend Yield, and Sales for the last couple of years.
Company had completed the CAPEX last year only for increased production of rubber threads to meet the exports demand.
Discl.-20% Invested in this stock out of the total Portfolio allocation
Just added the Technical View for more backing.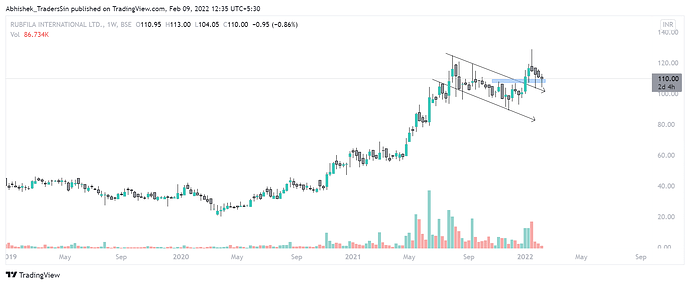 Disc: Invested since 100 levels with 10% allocation.
Currently researching Rubfila. My biggest pain point till now has been the preferential allotment to Patel family. There is a heavy dilution since 2018 with promoters getting 10% preferential every year.
One reason I can think off is to reduce the shareholding of Kerala board and foreign investors who are now down to 5% from 10% in 2017-18. While Patel family has increased their stake from 35% to 45%.
Another problem I think is the dividend policy. Non executive promoter founders are paid through dividends, while the raise of equity is used for capacity expansion.
Liked the business, their acquisition of Premier for almost cost value is appreciable. But might not invest due to equity structure.
There seems to be some large shareholder who's continuously selling, and it's being bought into as well. General question - how does one know if it's a promoter selling or some other non-promoter shareholder? I guess we will know at the end of the quarter, but is there any other reporting that happens when volumes are unusually large for a period of time?
Porinjiu Veliyath's investment in the company drew my attention towards the stock. Sharing what I have observed during my research:
The company is one of the market leaders in rubber threads. It has undertaken capex during the past 2 years increasing its capacity by 1.6x (25000 MT). The business has tail winds like increase in demand for quality inner wear and demand uptick in international market. Headwinds are: commodity inflation, spandex as an alternative to rubber and inverted duty structure (high custom duty on raw material and low custom duty on finished product).
One key question remain: Has the new plant in Tamil Nadu (commissioned in March 2022) reached maximum capacity utilisation? If yes, that would be reflected in Q1 FY 23 results where revenue was 112 crores. Extrapolating it, EPS in FY 25-26 is estimated to be Rs 12. A P/E ratio of 10 gives stock price of Rs 120 in three years (~25% annual returns).
Regarding Spandex threat, it will be worthwhile to read about European plan to go for mono fibre garments by 2030.
Environment cost of Spandex may be its undoing.
It seems to me that Rubfila is in a sweet spot currently - latex prices are quite low (which should boost their margins) and paper/pulp prices continue to be high. I am not sure if that is true for tissue paper too (haven't checked prices recently), but I assume it must be the case. Two things that make me nervous 1) overhang of issuing warrants to promoters at discounted prices, which I hope will not happen again now. 2) Porinju's firm investing in it (maybe in this case, given he is from Kerala, he genuinely thinks its a great opportunity). Disclosure: Invested.
Question - does anyone know who the major customers are for their rubber threads?
Very poor numbers for Dec 22, particularly the margins hit.
The management doesn't do concalls/presentations, and there is trouble collecting the sense of business direction. Anyone here has any idea, please enlighten us all
Disc: Had a tracking qty, was planning to add, yet these results discourage me.
They supply rubber threads, mostly to the textile industry, from what I can make out. Domestically, that sector is not doing well (for e.g. Rupa, Lux etc.) and textile exports have been down significantly too. That seems to have impacted Rubfila's revenues as well which is down 27% yoy. They seem to have controlled costs reasonably well though.
Their paper subsidiary (Premier) has reported losses, which is surprising. I don't understand the reason for that. Similarly, hard to understand why the employee benefit expenses have gone up.
2022-23 AGM Notes:
In 2022-23, Rubfila expanded its production capacity in Tamil Nadu by 2,500 MT per annum, reaching a total of 27,500 MT.
In the fiscal year 2022-23, the world economy faced difficulties, including recessions in the USA and Europe, which had global repercussions.
Despite various challenges such as geopolitical tensions, supply chain disruptions, trade imbalances, and rising energy prices, India remained relatively resilient compared to other economies.
Prices of raw materials and inputs slightly softened, they remained high in comparison to the pre-pandemic period.
International shipping costs decreased by the third quarter, but the overall economic environment remained challenging due to decreased demand.
Many large companies had to resort to mass layoffs, contributing to decreased consumption and economic challenges.
Rubfila, a rubber thread company, faced difficulties as its primary customer, the garment industry, experienced reduced demand.
Tiruppur, known as India's hosiery capital, faced a lack of orders, leading to factory closures and downsizing, resulting in significant job losses.
The decreased demand for garments negatively impacted the demand for rubber threads, forcing Rubfila to scale down production in the second and third quarters.
has set up a 1 MW solar power generating facility at the Tamil Nadu plant which is expected to help the company save on the power charges.
Current year's utilization at 70% compared to 80% in the previous year, due to change in consumption pattern, slowdown in textile industry and global economy challenges
Consumer industry will more 6 to 8 month to improve
increasing footprint in internatinal market (Export as gone up)
Risk Factors
Incresing competition in rubber thread led to pressure on realization (price war)
Increasing Raw Material prices led to pressure on margins
International raw material prices (Latex) lower than the indian raw material (latex) current diffenerce is arround 40% we can manage if gap between 10 to 15%
The potential revenue of a rubber thread manufacturing company operating at full capacity will indeed be influenced by the price of natural latex.
In tissue business Plant Capacity Utilization is (50%) and conversion capacity utilization is 90%
The management's optimism about the Premier Tissues business and their expectation of improving margins with a 20% top line growth guidance
No guidance on latex ruber thread business