I am from IT field and I already see giants like microsoft/amazon using their own tech for route business purposes. The apps that they use are very easy to create and only one time investment is required to make these. This was the main reason I never applied for route's ipo or bought it. Of course, this is just my view and I don't invest in something I don't feel comfortable with , no matter what market rates it. No Moat was also my reasoning. Instead I had invested in another IT ipo that came with it and have been very satisifed with the long term view till now
My understanding of route's business summarized in a few points:
Route of today: looking backward (TTM revenue) route definitely has elements of being a commoditized service.
Opportunity size: There is a huge opportunity for creating value added services. The sector itself is growing at 30%. To take the moat analogy forward, imagine if two castles are present in 2 geographically different locations separated by 1000s of KMs. Then, is there really a need for a moat? There certainly is some probability the castles might end up fighting each other, but there is also some probability that they might look to expand into moon, Mars or the space in general. The opportunity size is huge. There is always space for K large companies to co-exist.
Switching costs based moat: B2B IT always has some switching costs. Going by the logic you are using to describe route, one would conclude that Infosys and tcs have no moat either. But imo, some company having a moat is not a Boolean, moatness is a spectrum and every company has some moat. The fact that route have integrated with 100s of providers and enable their clients to consolidate vendors from 100s to 1 is itself remarkable. 1:1 migration is almost never possible. Route would optimize for their customers. Co-develop. If Google thinks of nigeria as a big opportunity and wants route to integrate with providers in Nigeria, route would happily do that. Once route does that bespoke development, how easy would it be for some new competitor to come and offer exactly same things which route is offering, and at a lower price? In my opinion, this is difficult. The customer relationship is indeed sticky in nature and hence upsell opportunities are going to be massive. Which brings me to my last point.
Build a highway before you build a resort by its side: communication infra is at such a nascent stage that route should currently be thought of as being akin to an infra player. They are building a communication highway that all clients can use. However, there is immense opportunity and optionality for them to forward integrate into the higher layers built on top of the communication layer. When they are able to develop smart customer experience as a service platforms, then the margins would expand, the moat would widen, integration would deepen and replicating route's experience would become much harder for competitors. Valuations are always a forward looking exercise. One has to think about what the picture will look like in the future. The dhandha series videos do a good job of that, specially the second video. The future is going to be CPaaS enabled. The very fact that route is able to compete and win internationally shows the strength of their sales and technical service.
Biggest : For me, the biggest missing piece in the puzzle is as follows: how is route able to win customers when they compete with international competitors like twilio for end user markets such as Europe which are high margin for the clients ? Is it purely based on lower opex (due to labor arbitrage and infra being less expensive)? What is that secret sauce which allows them to win new clients against their competitors? Is it the first mover advantage that they enjoy, their large existing integration with 100s of telecom providers? Is it the management's foresight that led them to build IP based solutions based on what's app and viber?
Disc: have small quantity invested and still learning. My understanding is based on latest interviews, the dhandha interviews, last few concalls. Still learning more. Have not read the rhp yet.
A play on route is a play on the sector imo. If route builds differentiation it would be a bonus.
Could you please elaborate on what product names of Microsoft and Amazon you are referring to. If you are referring to AWS SNS / Connect, then those are for different use cases than what cPaaS companies like Twillio, Route Mobile, Sinch etc. offering.
Route Mobile provides enterprises a complete messaging platform (SMS / RCS Messages, WhatsApp/Viber message etc.). and provides simplified integration API layer on top of telecom providers in every country they operate. So that enterprises do not have to worry about the complexities of each telecom provider technical complexities, regulations in each country and pricing etc.

They also provide security solutions to enterprises like OTP and mobile iaas.

Other than that they are trying to become a complete cPass platform provider and its ancillary services.
Spoke to my friend who is user of Route mobile
Existing customers will stay unless pricing changes a lot. Since, to switch, will have to make a lot of changes in all APIs and might take 2 months.
New clients will seek the cheapest guy, who is price competitive. Route is cheapest vs twilio/yellow messenger.
My opinion : Growth certainity will be only from existing clients. New client wins will be a pricing game.
No wonder Revenue has grown and Profits have stayed muted.
In 9mFY21 sales growth is +52% YoY
Reported profit growth is 124% YoY
Adjusted profit growth is 72% YoY
In which world is that "muted profits growth". It is better one quotes facts in these discussions.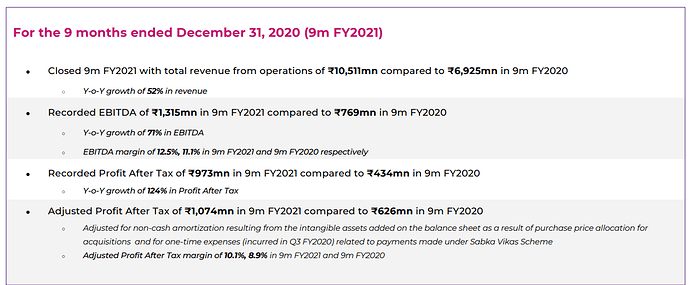 What i meant, was the last 5 years from March, 2016 to March, 2020 :). 0% growth despite good revenue growth.
main reason is the margin collapse from 29% in 2017 to 20% in March, 2020.
Also, to give you a perspective round sms gives transactional messaging at 9paise per transactional message.
Route gives it at 14 paise per transactional message

Disc : no investment but tracking and trying to gauge if it has any competitive advantage.
Trying to make some sense of the employee transactions. I pulled all insider trades since listing in Sep 20', filtered for holders of >10,000 shares to keep it meaningful.
There seems to be two tranches of ESOPs one in Dec 2020 and the other in March 2021.

When looked as a group, the December recipients seem to have sold out much more than those receiving in March who have held on to 67% of their allocations and now entered the quite period starting 1-Apr. The run up in Feb (a missed opportunity for the December recipients in hindsight) may have played on the minds.

Some may have received shares in both tranches & likely held on the second time around. I haven't verified this.

A bit surprised to see the Chief Strategy Officer unloading a big chunk. Could be personal reasons, who knows!
Hope this is helpful.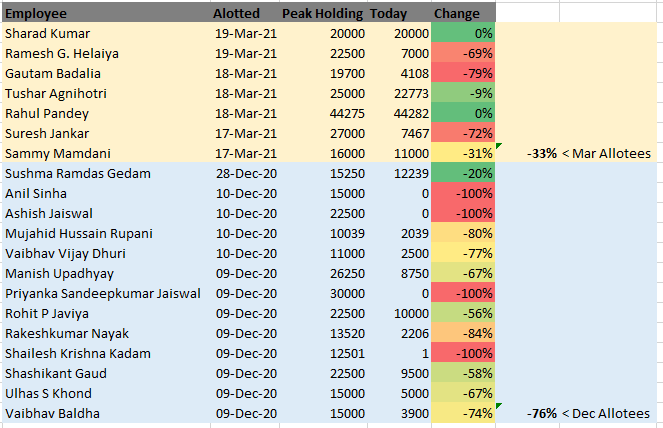 everyone is jumping from the boat , is it sinking , margin dropped , competition from big player , many more are in pipeline with cloud based service , any view
when allottees of supposedly financially aware companies like HDFC AMC or even banks sell in big lots without worrying about future appreciation why should IT guys in Route mobile carry the can of long-term investing? I will tell you some of them might not have expected so much money in such a small time frame. Let them enjoy the wealth and hope that they stick around to contribute more.
From an individuals point of view these are very large sums of money, for e.g. at a price of 1,500 the value of 10,000 shares turns out to be 1.5Cr. It would take a lifetime to save such an amount for people with median salaries in India (even in IT). I think there is nothing wrong if people want to cash out and put the money to some personal use. Delaying gratification is not everyone's cup of tea esp. when stakes are so high. Although a few smart cats seem to be HODLING.
The company is liberal in distributing shares to its employees and has allocated another 3.5 lac to ESOPs recently. This speaks well of the management approach to incentivizing long term commitment to performance (Munger). Promotors cashing out is a different story but we haven't seen that.
If you go through management commentary the margins are expected to go up in the medium term.
Only disappointment has been that the Management went gung ho, perhaps prematurely at multiple media outlets and on the Dec con call about an imminent acquisition (or two) with a time frame of 2 to 3 weeks. It has been over 2 months now without any update or a follow up.
RM has a relatively smaller market cap and a low float at that with only 10% shares with General public, therefore any institutional activity could create big moves, this explains the volatility.
If I am not wrong Twilio ate their lunch by acquiring a local CpaaS player. They were beating the drum but it has gone to their biggest US competitor. This is my hunch and needs to be confirmed.
Yes Twilio might have acquired something that Route was after. I believe there could be one more on the cards.
The Pie is quite big and growing.
same players make the market huge & competitive, that will create a gateway for new trend & pull those stock ahead