Company did a recent IPO for Rs609crs
Primary Issue: Rs244crs
OFS : Rs365crs
Pre IPO Shareholding
Promoters: 96%
Friends: 4%
Post IPO promoters holding 66%
Proceeds of issue ~ 240crs will be used for
Debt Repayment Rs40crs
Acquisition Rs83crs
New Office Premises in Mumbai Rs65crs
Other Rs52crs
ABOUT THE COMPANY
*** Leading cloud-communication platform as a service (CPaaS) company.**:
RM ranked second globally as a tier-1 application-to-peer (A2P) service provider globally in 2017 (Source: ROCCO Report 2017).

Developed a single unified API (omni-channel platform) which incorporates communication modes such as A2P, P2A, 2Way messaging, email, rich communication services (RCS) messaging, voice and OTT business messaging, allowing enterprises to reach customers on both traditional and leading OTT platforms.|

Acquired 365squared in 2017, which operates in SMS analytics, firewall, filtering and monetization. Globally, telecom companies lost > $11 bn in revenues in 2018 due to delivery of messages through grey routes. With the use of RM's analytics based SMS firewall, telecom companies can identify & plug such leakages.

SMS firewall contracts are sticky in nature with tenure of 1 - 3 yrs on an average. Acquired SMSC, MMSC and firewall technology assets from TeleDNA, to augment the telecom suite.

Established relationships with telecom operators: RM had direct relationships with over 240 telecom operators and can access > 800 networks globally.

Client base spans diversified industries including social media companies, e-commerce entities, banks, financial institutions and travel aggregators. Its telecom clients include over 25 operators spread across 4 continents
Key Risks:
Client concentration - Top-5 and top-10 clients constituted 44%, 54% of revenues respectively in FY20.
High attrition - The attrition rate of employees for FY17, FY18 and FY19 was 21.57%, 24.82% and 40.32% respectively, however in FY20 it came down to 18.8%
High competition.
India competitors revenues
Gupshup Rs519crs
Valuefirst Rs470crs
Route Mobile Rs956crs
Karix (A division of Tanla Solutions)
Global Comparable Twilio US$1.4bn with market cap of US$35.2bn making EBITDA and PAT losses.
Red Herring Prospectus of the IPO
Route_mobile.pdf (6.1 MB)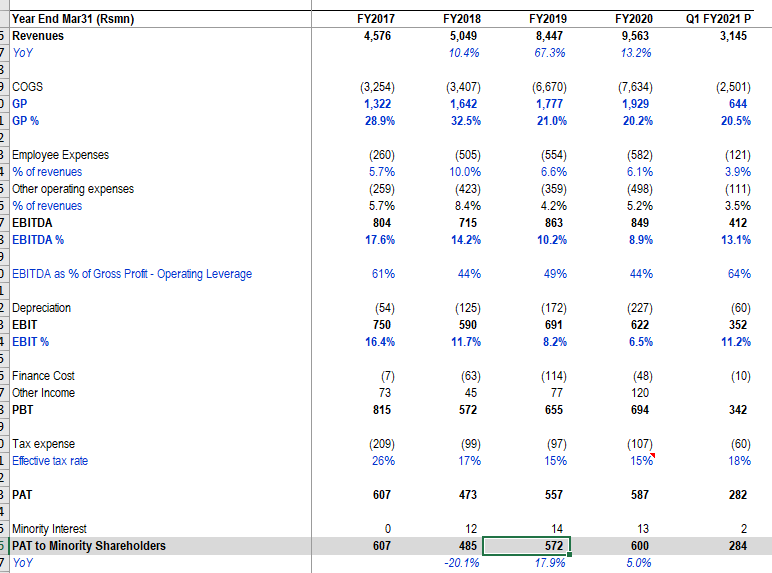 Extrapolating 1Q results full year PAT should be Rs110-120crs At the time of IPO company market cap was Rs2000crs. Current market cap post listing 4440. So Stock trading at 37-40x P/E on FY21E. Indiamart is at 66x and Affle at 86x for FY21E P/E
Facebook and Google contributed Rs180crs and Rs112crs of revenues in FY20.
Interviews

Disclosure: Invested post IPO listing