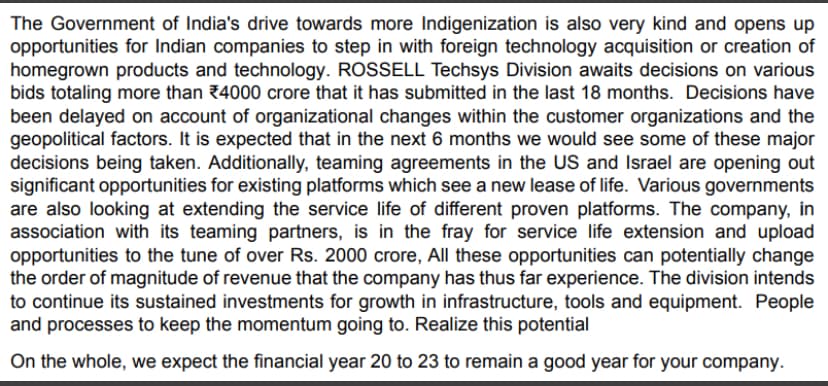 I completely endorse the views of @chetanbharath and expect the management to deliver as per their plan.
Decent Results from Rossell India.
Also considering demerger of Rossell Techsys from Tea Business. Would love to hear your thoughts here @ayushmit sir.
This demerger development comes as a big positive surprise! I feel this sector has lot of tailwinds with manufacturing moving to India and Rossell has been aggressively getting more and more orders. In past many people used to reject the idea because of the tea business being present…perhaps this will now interest more people. On the concern - valuations are not cheap now and the company needs to scale up faster on the aviation segment.
Disc: same as before
With 500 jets, Air India seals mother of all aviation deals
The latest annual report of the company is out and as usual its very optimistic

Anyways given the tailwinds in the sector its good to see the developments…hopefully the co will start delivering the nos also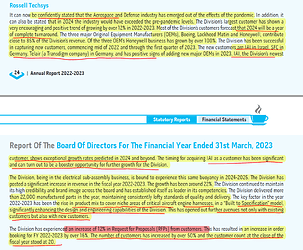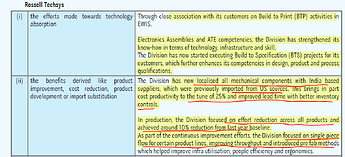 There are few other interesting things too in the annual report. One negative is the increase in remuneration being proposed to 15% of NP…i feel investors should raise objection towards it.
Ayush
Disc: Invested in family and client acs
5 years ago there were the following subdivisions of the company, Rossell tea, Techsys, Aerospace Services, and Hospitality. In 2019, the company's focus became clear that Techsys is the next growth engine and they proceeded to shut off hospitality and aerospace services. In 2019, revenues from Techsys was 98 crs which now has become 185 crs (which is a 13% cagr). Here revenue jumps are possible on the acquisition of new clients/new platforms which is a long business. Along with this, due to the nature of the industry, it had a very long cash conversion cycle due to high inventory levels. The company has been able to cater to this, this year by shifting some inventory purchases to be done locally. How they win contracts is by establishing a relationship with an aerospace company, then they are invited to RFP(request for proposal) by them. Once the company receives all RFPs the price is locked according to their proposal not subjected to be changed for the entirety of the duration. Wire Harness as a market is just under $2 Billion with the Industry going through a consolidation. The company believes in value unlocking due to 2 areas, demerger of both divisions and new business (expectation of Boeing and Lockheed to expand along with adding IAI as a client).
The company has reduced almost all of its long-term borrowing. Hoping to see the efforts end up bettering return rations.
Disclosure: Not invested
Ayush Ji they are not participating in TEJAS program.
What is the recording date for the eligibility to get Russelll Techsys shares, if someone buying Rosell India now still eligible to get the Rusesell Techsys share, or is the time over for that?